The events of this week seem to indicate that precious metals markets have stopped taking their cues from the Federal Reserve and have begun reacting to the weight of evidence that growth in the U.S. economy is slowing.
For many months now, the price of gold and silver have gone up and down in reaction to the latest rumblings from the central bank about whether another round of money printing (aka "QE3") was likely or not, but, this week, metals markets have clearly moved on their own accord as the Fed's policymaking committee offered no new clues about their intentions.
While markets were flat on Wednesday before, during, and after the central bank offered little in the way of new insight about the U.S. economy, the gold price has now risen more than $20 an ounce after the third straight week of sharply higher jobless claims was reported on Thursday and that trend continued this morning following a weaker than expected tally of economic growth during the first quarter.
It would appear that the Fed is either out of touch with emerging signs of slowing growth (as can be seen in the steady stream of disappointing economic reports from the Citigroup Economic Surprise Index via Bloomberg below that just dipped into negative territory for the first time since October), or they just don't want to get involved.
(click to enlarge)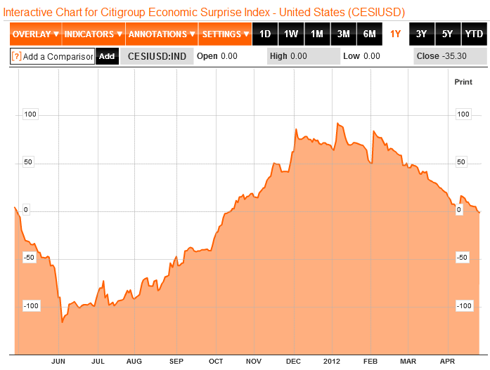 My guess is that it is the latter.
For the moment at least, the central bank probably feels as though it has done enough to support the economy and, while keeping their options for future action open, they don't want to hint strongly at doing more until conditions deteriorate further.
Of course, markets are a lot smarter than the Federal Reserve and, clearly, markets already see the money printing writing on the wall.
The bad news is that, in the weeks and months ahead, the economic data isn't likely to get any better. In fact, things might get much worse as an exceptionally warm, dry winter has pulled demand forward from the spring months and now it could be payback time.
Job creation and consumer spending weren't nearly as good as the economic reports made them out to be during the first quarter and, in the second quarter, they will probably appear worse than they really are - all because of the warm winter.
As has been the case many times before, the central bank may already be "behind the curve", however, gold and silver investors likely are not.
Disclosure: I am long GLD, SLV.
Additional disclosure: I also own gold and silver coins and bars.