As an investor I am always looking for opportunities. In my family there are several people who have a medical background and sometimes you have conversations about biotech investing.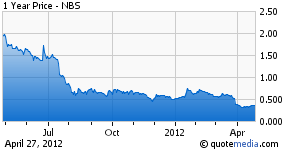 The experts really think stem cell research is the next holy grail, which could lead to multi-billion profit makers due to its ability to transform chronic diseases such as cardiovascular and oncology. That's how I started my journey to do an investigation into biotech companies that are leading the way in stem cell research. From an investor point of view I found a company that has promising prospects for a good return due to current low price. The company is called Neostem (NBS).
Why Stem Cell?
Hematopoietic stem cell transplantation is one of the major medical discoveries of the 20th century. A worldwide survey indicated that in 2006 more than 50,000 HSC transplants were performed (Molecular Genetics of Stem Cells Laboratory, Institute of Research in Immunology and Cancer, University of Montreal), saving tens of thousands of lives every year. Unfortunately, many patients in need of hematopoietic stem cell transplantation are deprived of this life-saving procedure because of an insufficient number of stem cells in the graft, potentially leading to graft failure, a complication associated with a high mortality rate.
According to the MDB Capital Group (10-K, page 4) cell-based therapies utilizing stem cells now represent a market of approximately $50 billion with an expected growth rate of 15% compounded annually, projected to reach an estimated $88 billion by 2014. Experts believe that an increasing portion of healthcare spending in the United States will be directed to cell and tissue based therapies in the coming years, driven both by aging baby boomers and the favorable pharmacoeconomic value proposition of a cell therapy treatment paradigm for chronic disease. The cardiovascular space represents one area where the forecasted burden on society is expected to rise substantially. Adverse consequences associated with severe myocardial infarctions and the progression to congestive heart failure even with current state of the art medical care, represent major unmet medical needs. These adverse consequences associated with MI typically result in an annual cost to society of $50,000 per patient per year on average for five years of life post MI and in those patients who do progress to congestive heart failure the numbers become substantially higher. Cell therapy offers the promise of alleviating much of the burdens of these chronic diseases in a cost-effective way.
2011 A Year To Forget
With approved products currently being sold, the promise of cell therapy is close to becoming a reality. However, in 2011 the industry has faced several crises of investor confidence as industry pioneer Geron Corporation (NASDAQ:GERN) discontinued its embryonic efforts and Osiris Therapeutics, Inc., a leader in investigating the use of allogeneic cells that had signed a robust early partnership with biotechnology giant, Genzyme Corporation (GENZ) saw product rights returned when Genzyme itself was acquired by large pharmaceutical leader Sanofi Aventis (NYSE:SNY). Both companies experienced difficulties in their ability to navigate the regulatory requirements for product approval. Inadequate trial designs was cited in the executive summary of the 2012 New York Stem Cell Summit Report as contributing to the failures.
2012 NeoStem's Comeback
NeoStem, Inc., incorporated in September 1980, is an international biopharmaceutical company with global research and development capabilities and operations in five business units: U.S. adult stem cells, China adult stem cells, PCT (Progenitor cell therapy), stem cells as therapeutic products and China pharmaceuticals, primarily antibiotics. In the United States the company is a provider of adult stem cell collection, processing and storage services enabling healthy individuals to donate and store their stem cells for personal therapeutic use. Similar to the banking of cord blood, pre-donating cells at a younger age helps to ensure a supply of one's own stem cells should they be needed for future medical treatment. The company's network of United States adult stem cell collection centers is focused primarily on the Southern California and Northeast markets.
Its process for collecting adult stem cells for autologous use involves the administration of a mobilizing agent prior to collection, allowing the migration of stem cells from bone marrow to peripheral blood. Once the stem cells have reached the bloodstream, an individual goes through a safe and minimally-invasive procedure called apheresis, similar to donating platelets, at one of the collection centers in its network.
NeoStem is engaged in research and development of new therapies based on very small embryonic-like stem cells technology, with the University of Louisville Research Foundation. It is also engaged in licensing new adult stem cell-based therapies that it plans to use to commercialize therapeutic applications. The company is developing a program that includes products and therapies, including stem cell-based therapies and health supplements that it seeks to offer for wellness, cosmetic and anti-aging applications.
Merger & Acquisitions
On October 30, 2009, NeoStem completed the merger with China Biopharmaceuticals Holdings, Inc. In January 2011, the company completed the merger with Progenitor Cell Therapy LLC. In October 2011, the company acquired Amorcyte Inc. The last two acquisitions are very important for the company . Progenitor Cell Therapy (PCT) is the industry leader in commercial cell therapy and provides the company with direct access to cell therapy manufacturing facilities and cell storage facilities. They also acquired Amorcyte, a leading autologous cell therapy company for the treatment of an acute heart attack.
Amorcyte's lead product candidate, AMR-001, for the prevention of major adverse cardiac events following acute myocardial infarction (AMI), has completed Phase I clinical trials demonstrating feasibility, safety and biologic activity at a threshold dose. This is the first prospective stem cell trial in AMI ever conducted that has established a statistically significant relationship between dose and effect. Last January Amorcyte announced the enrollment of the first patient in the Amorcyte PreSERVE Phase II trial for acute myocardial infarctionl. The trial has been designed to evaluate the potential of AMR-001 to improve perfusion, preserve cardiac function and improve clinical outcomes.
Progenitor's acquisition would prove to be a good complement to Neostem's stem cell work. Not only would this facilitate quicker and cheaper stem cell therapy manufacturing for the company's growing pipeline of stem cell therapy drugs, but it is also proving to be a revenue generator for the company by serving as a third party cell manufacturing facility for several pharmaceutical companies. Recent press releases include a manufacturing contract for a Phase III stem cell therapy being developed by Baxter International (NYSE:BAX), a manufacturing contract for Islet Sciences' microencapsulated insulin-producing pancreatic islet cells, and an October 2011 announcement by ImmunoCellular Therapeutics (NYSEMKT:IMUC) that they will use Progenitor as a second manufacturing facility to produce ICT-107, an immunotherapy agent showing early promise to treat glioblastoma multiforme.
Investment thesis
The sum of the parts is larger than the current market valuation. Especially Neostem's China pharmaceutical business (generics) could lock in around $40 million. Right now the company is valued the half of their book value ($62 million). Neostem's book value (BV P/S) per share in the most recent quarter was $0.57 and their cash per share (Cash P/S) $0.12. On March 12, 2012 there were 114,348,438 shares outstanding. A successful sale could add $0.35 per share to their cash position.
Company
Ticker
Price
BV P/S
Cash P/S
Market Cap (in millions.)
Neostem
NBS
0.36
0.57
0.12
41.17
Geron Corp.
GERN
1.66
1.12
0.92
219.55
Aastrom Biosciences
ASTM
2.55
-0.34
0.14
98.83
Advanced Cell Technology
ACTC.OB
0.08
-0.03
0.01
172.71
There are enough drivers that will lead the way to a more appropriate value:
The expansion of their intellectual property associated with Amorcyte beyond STEMI (Heart attacks) to all Vascular Insufficiency will increase IP-value.
Geostem's new PCT clients on-board such as Immunocellular - (working on a dendritic cell based approach to brain cancer), and Islet BioSciences (microencapsulated insulin-producing, pathogen free swine (pigs) for type 1 diabetes's.
NeoStem actually gets a royalty on commercial sales (utilizing PCT's manufacturing currency to participate in clients downstream revenues).
The enrollment of more patients in Amorcyte's Phase II trial and eventually the success of Phase II will unlock attention of bigger biotech companies.
Disinvestments China
Disinvestments China explained
Neostem's focus on the cell therapy industry will lead to disinvesting. In June 2011 last year the company retained a financial advisor to lead the divestiture of their Chinese pharmaceutical business. Marketing efforts have led to a few non-binding letters of intent.
Neostem has a 51% ownership interest in Suzhou Erye Pharmaceutical Company Ltd. ("Erye"). Erye was founded more than 50 years ago and represents an established, vertically-integrated pharmaceutical business. Historically, Erye has concentrated its efforts on manufacturing and distributing of generic antibiotic products. It has received more than 160 production certificates from the State Food and Drug Administration of China, or SFDA, covering both antibiotic prescription drugs and active pharmaceutical intermediates (APIs).
Also Neostem's adult stem research could be for sale. In 2009, the company began certain adult stem cell initiatives in China, including: (1) constructing a stem cell research and development laboratory and processing and manufacturing facility in Beijing, (2) establishing relationships with hospitals to provide stem cell-based therapies, and (3) obtaining product licenses covering certain adult stem cell therapeutics focused on regenerative medicine.
Final Note
The completion of the sale of the China generic pharmaceutical business will likely to happen this year which will bolster the Neostem's balance sheet and will allow the company to focus their attention and resources on the development of their stem cell applications for heart diseases as well as be a manufacturing base for other biotech products.
A successful sale will also support its stem cell therapeutic programs as well as PCT, the main value drivers over the next 18-24 months. Also would it provide the company with significant capital to fund its operations without any additional dilution of shares.
The current price leaves enough room for fantasy on the upside.
Disclosure: I am long NBS.