Major technology companies have recently paid out really big bucks for intellectual property (IP) assets recently. Microsoft (NASDAQ:MSFT) has acquired 146 companies since going public in 1986. Five of these acquisitions were worth over one billion dollars: Skype (2011), aQuantive (2007), Fast Search & Transfer (2008), Navision (2002), and Visio Corporation (2000).
Although Microsoft did not quantify any intellectual property assets of these assets, I think it is safe to assume in the high-tech arena that these smaller companies had patents that Microsoft could not circumvent so it resorted to buying the entire company.
Most recently, Microsoft acquired a patent portfolio from AOL for $1.06 billion and Bloomberg reports Facebook (NASDAQ:FB) had bid on the same package. The high profile transaction set an average of over $1 million for every patent included in the deal. With prosecution costs ranging from $15K to $50K, it is easy to understand the potential returns possible by building or assembling an attractive intellectual property portfolio.
Google (NASDAQ:GOOG) has been even more aggressive, acquiring 106 companies in the last 11 years. They have been acquiring about one company per week over the last year. The largest acquisition was Motorola Mobility for $12.5 billion in 2011.
So short of starting up a hot shot tech company in Silicon Valley, how does an investor play the patent game? There are a number of small public companies with varying strategies of dealing with intellectual property. All of them have demonstrated trading ranges theoretically capable of rewarding investors with the unique skills and understanding to play the patent game. I classify them as aggregators or implementers depending on whether their strategy is to monetize their IP portfolio by licensing, or building out applications using the patents.
| | | | | | | | |
| --- | --- | --- | --- | --- | --- | --- | --- |
| Company | Symbol | Class | Revenue, $mil LFY | Market Cap, $mil | Price, 4/20/12 | 52 Wk-Hi | 52 Wk-Lo |
| Augme Technologies Inc. | AUGT.OB | Aggregator | 2.8 | 212 | 2.25 | 4.32 | 1.17 |
| Internet Patents Corporation | PTNT | Aggregator | - | 25 | 3.21 | 9.40 | 3.08 |
| VRINGO INC. | VRNG | Aggregator | 0.7 | 54 | 3.93 | 4.51 | 0.68 |
| Innovaro | INV | Implementer | 14.9 | 14 | 0.91 | 3.07 | 0.24 |
| Competitive Technologies Inc. | CTTC.PK | Implementer | 3.4 | 15 | 1.00 | 2.00 | 0.70 |
Augme Technologies (AUGT.OB) has a suite of marketing tools to conduct personalized ad campaigns to all types of social media and the internet. Although it is implementing many new products it is also suing AOL, Yahoo (NASDAQ:YHOO), Pandora (NYSE:P) and others for patent infringement of its seven issued and four pending applications. They identify Microsoft, Yahoo, IBM, Google and AT&T (NYSE:T), among others that are "generating revenue relevant to their ipLandscape." Whether this means it intends to sue these companies is not clear (pdf). Given the P/sales ratio of about 100/1, investors seem to be betting on a patent deal.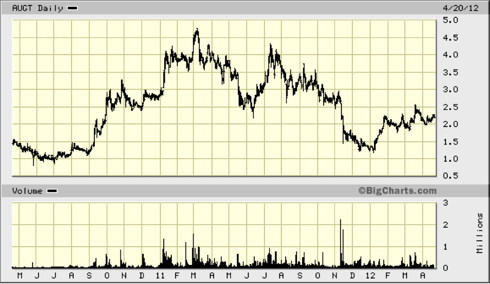 Internet Patents Corp (PTNT). This company was formerly known as InsWeb Corp, which developed an internet-based auction system to generate leads for insurance products. It sold this business to Bankrate, Inc for $65 million in 2011 and then changed its name in January to reflect the new strategy. It distributed $38.7 million to shareholders via a special dividend of $5/share in February, 2012. What it has left is six patents and two applications, which it says it will market. The current market capitalization is $24.9 million, which I estimate is just below the cash on hand of $26.3 million ($65 million received on sales less $38.7 dividend). That means the market is valuing these patents at zero. One has to wonder why it didn't sell them to InsWeb when it had the checkbook out last year. Obviously it was not critical to the web business.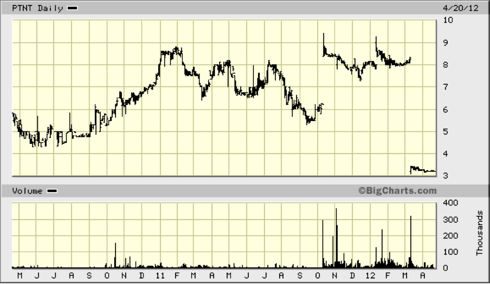 VRINGO, INC (VRNG). This company develops video ring tones that display your Facebook friends' pics as a slide show when they call you. But, in March 2012 the company announced a merger with Innovate/Protect (I/P), whose main assets are eight patents acquired from Lycos, Inc. According to a company presentation (pdf) posted on its web site.
these two patents are a key to Google's search engine ad placement scheme. I/P filed a patent infringement suit in the 'rocket docket' U.S. District Court Eastern District of Virginia, in September 2011, and an initial court date is scheduled for June 2012 and explains the patent and alleged infringement by AOL and Google . To the casual reader it looks like an impressive case. However, the standard infringement defenses include the possibility of invalidating the patent in the first place, usually based on prior art not available to the initial patent examiner. The second defense is to say the patent is not relevant to generating revenue, or is peripheral. The third defense is to delay, delay and delay.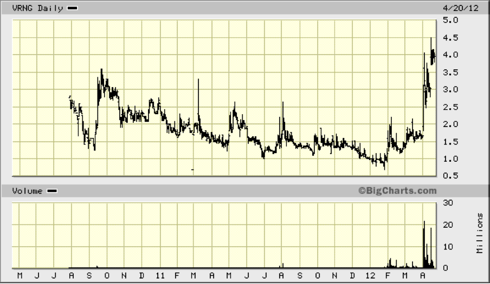 Although VRNG stock shot up on the news, one should be aware of the massive dilution to existing shareholders should the merger go through and all warrants, options and preferred stock is converted. Exercise of these derivatives will dilute current shareholders from 100% to 20%.
| | | | |
| --- | --- | --- | --- |
| VRNG Share Count Post Merger With I/P | | Ex Price,$/sh | VRNG Proceeds |
| outstanding 3/30/12 | 13,861,423 | | |
| newly issued shares to I/P | 16,972,977 | | |
| conversion of preferred stock issued to I/P | 21,026,637 | 1.76 | 37,006,881 |
| warrants to I/P | 15,959,838 | 1.76 | 28,089,315 |
| Current I/P Warrants | 250,000 | | |
| Current I/P Warrants | 850,000 | 1.76 | 1,496,000 |
| Total Fully Diluted Post Merger Shares Fully Diluted | 68,920,875 | | 66,592,196 |
| | | | |
| Current VRNG Shareholder Dilution | 79.9% | | |
| Source: VRNG 10-K 3/30/12 | | | |
Below I show a highly speculative look at possible outcomes of the legal case and impact on shareholders. I think the chance of a loss is greater than zero. These are old patents and one wonders why Lycos never sued AOL (America OnLine) before. Did Lycos/RNG lose any portion of its potential claim by not enforcing its rights when perhaps it knew the patents were being infringed? The company has also recruited a heavy weight team of patent lawyers. It should be noted that the lawyers stand to make a lot of money on fees regardless of the outcome. In addition, almost no one has their own money in the game. The risk of loss (legal fees) has been shifted from the patent owner to shareholders. You also wonder why the patent owner chose this merger/public company route rather than a traditional 'farm out' to a patent attorney specializing in this type business. I understand they normally charge 30% on a success basis and cover all costs. In contrast, VRNG gets to use the warrant/option proceeds for anything it wants.
I have no idea of the outcome but to me it looks like a lottery ticket, not an investment. The market is discounting a $500 billion settlement. So you have a 50% upside ($1B settlement) and 100% downside. I'm ignoring the value of the ring tone business for the sake of argument since it is negligible in proportion to the lawsuit. Not an attractive opportunity from what I see.
| | | | | |
| --- | --- | --- | --- | --- |
| Final Settlement, $mil | 0 | 250 | 500 | 1,000 |
| # Years in Court | 3 | 1 | 2 | 3 |
| $/yr Expenses, $mil | 9 | 9 | 9 | 9 |
| Discount rate | 30% | 30% | 30% | 30% |
| Present Value, $mil | -$16 | $185 | $284 | $439 |
| shares out, fully diluted | 68.9 | 68.9 | 68.9 | 68.9 |
| PV, $/sh | -$0.24 | $2.69 | $4.12 | $6.37 |
An interesting tidbit is Mark Cuban, who made millions selling Broadcast.com years ago, filed a 13-G statement today disclosing that he owns 1.03 million shares. Presumably he purchased the shares in the open market.
Innovaro (INV). This company was formerly known as U-TEK, which acquired patents and placed them into stand-alone businesses. It was one of the more unique business models in the intellectual property monetization business. U-TEK was a Business Development Company, which is basically a mutual fund but is able to control (own more than 25%) of the portfolio companies and pay no tax at the corporate level. This model did not work and it has morphed into a consulting business specializing in innovation and technology/IP consulting. According to its SEC filings its two largest clients provided 57% of revenue in 2011. More importantly, it has very significant debt payments coming due in the next year that might be problematic given its most recent financial statements.
I don't think the current price reflects these financial obligations.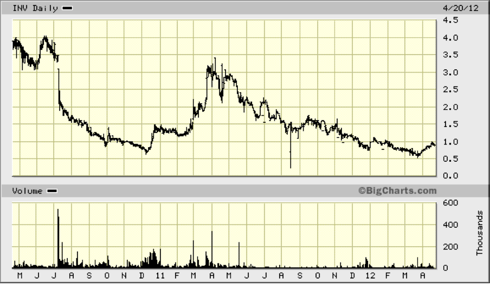 Competitive Technologies, Inc (OTCQB:CTTC). I saved this one for last because it is an old line company that has been in the patent and licensing business for almost 15 years; and actually quite a bit longer that this operating as "University Patents." Historically, it acquired or licensed patents from Universities and then endeavored to promote them to businesses hoping to sell a license to a larger company. The early track record was impressive, including licensing a vitamin used by virtually all pregnant women and licensing a University of Illinois professor's laser diode technology to Spectra Diode Labs, which joined JDS Uniphase before royalties soared. Unfortunately, those patents expired.
So the problem with this model was the need to continually increase the patent holdings and deal flow as a way to sustain the income required to cover overhead and the occasional need to enforce rights. More recently, it has reinvented itself to become a medical device company to manufacture and distribute its lead product, the Calmare Pain Reduction Machine. This device reduces pain using a sophisticated set of electrical impulses applied to the patient. One concern is the reliance on an FDA 510c device approval based on similarity to another device that has already been approved, the "TENS" device, which has been in use for over 30 years. TENS devices typically sell for a mere fraction of what the company is charging for its Calmare Pain Reduction Machine. Perhaps the bigger problem is that it will have to convince doctors that its product is superior to the machines they now use, or address the widespread use of pharmaceutical pain medications. The company has sold a number of units and has a number of distributors.
Finally, the company recently settled a dispute with its former CEO for $750,000 in back pay plus some additional sums, but then revealed in its 10-K Report that it was not able to resolve whistle blower litigation that goes back to 2003, a case which it previously reported as completed. Several years earlier, a company lawyer filed court papers stating that the plaintiff "is seeking $10 million in damages." Given that CTTC has a market capitalization in the $15 million range, the pending claim may pose a problem. You would think the company would take appropriate steps to limit this exposure in order to focus limited resources on building sales of its key device, or to facilitate additional funding to scale the effort, assuming the machine really works as well as the company claims. The company is seeking a shareholder vote to double the number of shares.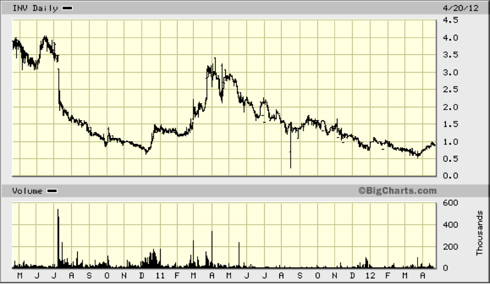 Conclusion. I am negative on each of these stocks; there may be a better revenue/business model that would be attractive to long-term investors.
AUGT.OB Sell
PTNT Sell
VRNG Sell
INV Sell
CTTC.PK Sell
Disclosure: I have no positions in any stocks mentioned, and no plans to initiate any positions within the next 72 hours.