Strategic Mindset: We remain overall Market Neutral with a Bearish Bias. Events in Europe will continue to impact the U.S. market, so we are taking this opportunity to look east.
Target: MGM Resorts (NYSE:MGM), currently trading at $13.06.
Commit Criteria: Earlier this week, Wells Fargo (NYSE:WFC) increased valuation ranges for several casino stocks based on its LVS)+(MGM)+(NASDAQ:WYNN)+(NASDAQ:MPEL)/7367928.html" rel="nofollow">upward revision for revenue growth in Macau, China, to 18% from 11%. This number is still lower than the consensus of the Street. The increased valuation provided some solid footing for casino stocks and identified potential target prices for the folowing: Las Vegas Sands (LVS -1.3%) to $52-$61, MGM Resorts (-0.7%) to $14-$15, Wynn Resorts (WYNN -0.3%) to $114-$136, and Melco Crown (MPEL +0.7%) to $16-$18.
We believe MGM Resorts has established solid support around the $13 level after a nice run-up from $9 late last year. It has moved laterally though the market for the past three months, channeling between $13 and $15.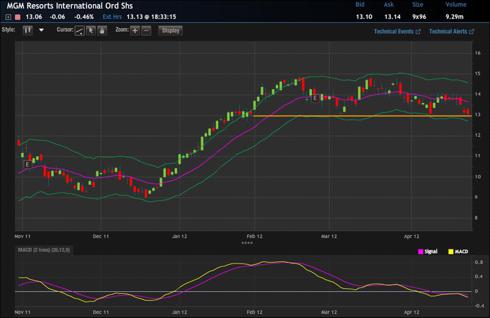 The implied volatility is around 45% vs. a historical volatility of 35%. A standard Top Gun Options rule of trading engagement is "when volatility is cheap, you buy it; when it's expensive, you sell it."

Tactic: Sell May Cash Secured Puts. If assigned the stock, sell upside ATM (at the money) covered calls.
Tactical Employment: Sell 10 May MGM Resort 13 Puts for a net credit of $0.55.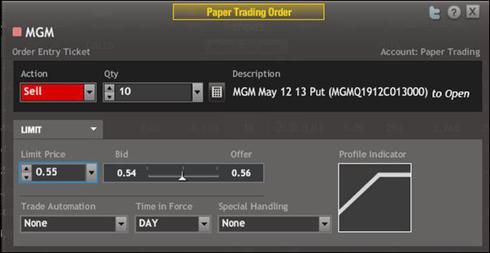 Midcourse Guidance: We plan on holding this position through expiration. If MGM Resorts is trading below $13 by May expiry, we will be assigned 1,000 shares of stock in our Primary Model Portfolio. Since we are taking in a credit of $0.55, we would end up purchasing MGM Resorts stock "at a discount" of $12.45 -- our breakeven.
The risk profile of selling a cash secured put is the same risk profile as selling a covered call. The advantage of selling a cash secured put over a covered call is that an investor can chose to deploy the capital that would've been used buying 1,000 shares of MGM Resorts in other areas. This assumes, of course, that the investor has sufficient capital on hand at expiration to cover potential assignment of the shares.
Otherwise, the investor is selling a "naked put," where the risk is significant. In this case, if MGM Resorts went to $0 for some reason - $12,450. Could it happen? You bet. Is it probable? No.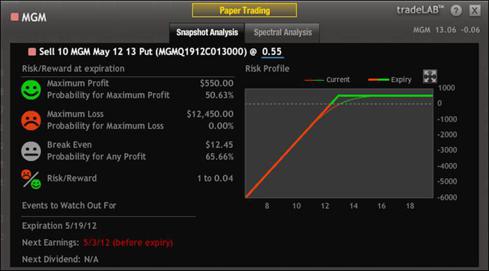 The Greeks: Whenever we sell an option, time decay or "theta" is our friend. This is the main "Greek" that impacts our cash secured put tactic. As every day passes, the options we sold decay and we collect that money in the model portfolio. This decay accelerates the closer we get to expiration.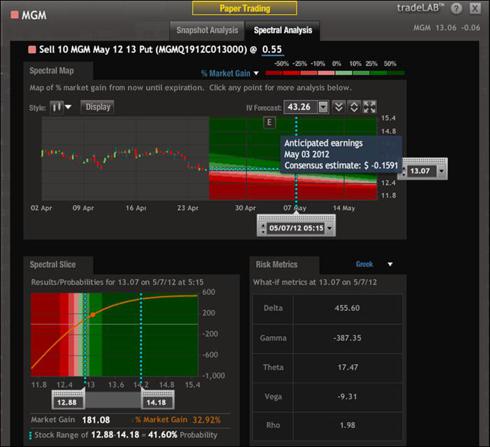 Exit Plan: As discussed above, we plan to hold this position through expiration, barring some unforeseen negative event that shoots down MGM Resorts and sends it through our breakeven of $12.45. If we are assigned the shares, we will switch tactics and sell covered calls against our new stock position.
By employing this tactic month to month we should see a nice annualized return. Macu growth looks to be strong, and apparently Vegas is back on the table since the First Lady and daughters vacationed there last month -- seemingly unaware that the president declared Sin City off-limits to government employees and resources.
Disclosure: I am short MGM.
Disclaimer: We hold this position in our Primary Model Portfolio.