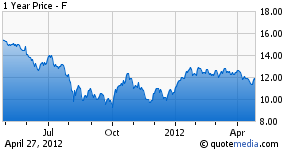 Before the opening bell on April 27, Ford Motor Company (NYSE:F) released its operational results for its first quarter of fiscal year 2012. The results beat the Street's expectations on both the top and bottom lines, but many of the headlines do not paint such a pretty picture for the quarter. Ford earned $0.39 per share (excluding items), down from $0.61 per share in the first quarter of 2011. The results were above the Street's $0.35 estimate and inline with my forecast. Click here to read my earnings preview. Management indicated that the majority of the decline was due to increased taxes. Ford's tax rate increased to 32.5% from 8% as a result of the company making money over the past few years. As a result, it was forced to bring some assets back onto the books, which caused the jump in taxes.
On the top line, the company reported revenues of $32.4 billion, above the Street's $32.0 billion forecast but below my $34.0 billion forecast. The biggest problem was Europe, which doesn't come as much of a surprise, which saw revenues decline 17.2% year-over-year, with production falling 6.3% compared to the first quarter of 2011. The entire market shrank dramatically, so Ford's flat market share in my eyes is a positive sign. The industry seasonally adjusted annual rate of sales (SAAR) for Europe declined 11.3% to 14.1 million units, putting it back below the United States in terms of size. The following table outlines the company's revenue by segment for the current quarter compared to the first quarter of 2011.
| | | | |
| --- | --- | --- | --- |
| Revenue | 1Q12 | 1Q11 | % Change |
| North America | 18.6 | 17.9 | 3.9% |
| South America | 2.4 | 2.3 | 4.3% |
| Europe | 7.2 | 8.7 | (17.2%) |
| Asia Pacific Africa | 2.3 | 2.1 | 9.5% |
| Total | 32.4 | 33.1 | (2.1%) |
Management indicated that more than half of the decrease in earnings per share came as a result of the increase in taxes; however, the other half comes from lower operating income. Only North America saw its operating income improve year over year, gaining a strong 15.7%. Every other segment saw declines with Europe, and Asia, Pacific and Africa swinging to a loss. South America saw its operating income decline to $54.0 million from $210.0 million year over year do to higher commodity costs. The following table outlines the company's operating income.
| | | | |
| --- | --- | --- | --- |
| Revenue | 1Q12 | 1Q11 | % Change |
| North America | 2,133.0 | 1,844.0 | 15.7% |
| South America | 54.0 | 210.0 | (74.3%) |
| Europe | (149.0) | 293.0 | (150.9%) |
| Asia Pacific Africa | (95.0) | 33.0 | (387.9%) |
| Total | 1,837.0 | 2,131.0 | (13.8%) |
Chief Financial Officer, Bob Shanks said, "We had expected the results to be a little bit worse in Europe. We don't think the environment is going to get a whole lot better for some time. Our long-term view is less optimistic than six months ago or a year ago."
Listening to the conference call, I got the impression that Ford's management team is one of the most upbeat and confident groups around. Sure other companies sound upbeat, but at the same time, it has a tone of hot air. There are some problems, but management doesn't really sugarcoat them. Management indicated it hopes to pay down in pension liabilities through one-time payments (maybe as large as $90,000), to many of its former white-collar workers, but it is unsure how many former employees will take the payment or how much it will cost.
For a worst-case scenario, it would drain the company's cash. However, the company has $23.0 billion of cash and marketable securities on the balance sheet and produces approximately $1.0 billion of operating cash flow per quarter. To achieve a fully funded pension plan, Ford would need to invest $17 billion, which would leave it cash poor for a matter of months. The positive of having that liability off the books will greatly outweigh the negative of the absence of cash. Just imagine, General Motors (NYSE:GM) needed a government bailout and to enter bankruptcy to fix that problem.
In my earnings preview, I mentioned a problem with a resin PA-12 (which is used in fuel and brake lines as it transports the liquid without breaking down, many other plastics breakdown), and how I did not expect it to affect Ford (or the industry) that much. Management indicated it doesn't expect it to be a problem as Ford has alternative materials that have already been tested or are in the process of being tested now that will accomplish the same responsibility.
Looking forward, Ford is going to have to capitalize on strength in North America, which showed strong profitability growth during the quarter. With many economies in Europe suffering through recession-like conditions (Great Britain actually slipped back into a recession during the first quarter), and slowing auto sales growth in China, North America will take an even more pivotal role in the success of the company. New production should be coming online over the next few months, which will help alleviate some of the product shortages that have hampered the past few months.
Ford is my favorite in the auto industry as the company has a great product lineup. The share price, which is up approximately 9% during 2012, doesn't accurately portray everything the company has going for it. One of the biggest positives for Ford is its pricing power. This is how it is able to increase revenues despite losing market share. Consumers are willing to pay more to get Ford's technology, whether it is increased fuel efficiency or the MyTouch system. Production problems are being rectified; and soon the pension liability will be at least partially handled. That accounts for the company-specific problems. Then there are the problems that are afflicting the entire industry: A dismal European market, slower growth in China, higher fuel costs. Ford is doing all it can to help the fuel efficiency of its vehicles and has a very impressive lineup of vehicles worldwide.
Disclosure: I am long F.