One of the main (few?) things I learned as an undergraduate Economics student was that over the long term, the U.S. stock market wins. Over most periods, returns on U.S. stock investments will beat most comparable investments. And while the 2000s saw many lows to counter the highs, I started investing in the stock market last year with the thesis that we were in the beginning of a growth cycle in the U.S. and the global economy on the whole. That growth cycle has been slow and choppy (and recessive in Europe), but still seems more or less on track.
One of the main things I've learned as an investor over this past year is that the day-to-day movements of the stock market and individual stocks are often irrational. Quality will win out over the long term, but in the short-term, random data points or ineffable momentum swings will put one's portfolio on a crash diet or else drown it in the lush fat of green numbers and positive returns.
This is a roundabout way to talk about Centene (NYSE:CNC). Centene Corporation is a Fortune 500 healthcare company that provides managed care for Medicaid and Medicare eligible patients. Founded in 1984, the company has been publicly traded since 2002. The company provides plans in 16 states and added Kentucky, Washington, Louisiana, and Missouri, over the past year. It also missed out on a deal in Ohio, that it is protesting and that would cause a discontinuance of 9% of its members.
Centene's stock reached unprecedented heights for the company over the past six months. After more or less following the S&P (NYSEARCA:SPY) through the slog of last summer and fall, CNC separated itself and went on a run that doubled the stock price from low ($25.28 on Oct. 4th, 2011) to high ($50.98 on April 5th, 2012). The stock has corrected a little in the past few weeks, a process it was already undergoing before the Supreme Court hearings on Obamacare (that juiced the healthcare sector as a whole) and which was exacerbated by the Ohio decision.
(Source: Yahoo Finance)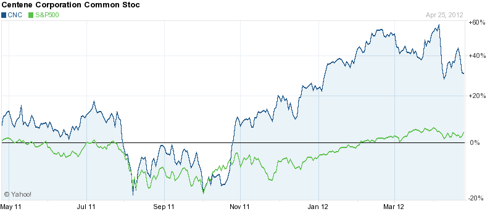 The general investment thesis for going long CNC is built on the theme of investing in companies that offer a way to cut healthcare costs (while making money off it). As others have pointed out, managed care is one of the best spaces to play in the healthcare market. Barron's further outlined Centene's (and other firms') potential in dealing with "duals" - patients eligible for both Medicare and Medicaid. Despite the loss of the Ohio business (assuming the protest does not succeed), Centene has been growing profits and just raised guidance for yearly EPS on its Q1 earnings call this week.
Even with the guidance raise, the Q1 Earnings released on Tuesday has so far been a negative catalyst for the stock. The company reported an EPS of $.45, missing estimates by .03 and declining from .46 EPS the year prior. That said, the company beat on revenue and raised earnings guidance by .04 EPS, as well as revenue guidance by $.5 billion. Current midpoints for EPS and revenue give growth of 23% and 51% over 2011 reported EPS and revenue, respectively. CEO Michael Neidorff cited seasonality and initial costs in growing the Texas business especially as the reason for the low earnings, and said the size of the Texas program and the Washington and Missouri wins account for the raise in guidance.
Where does that leave CNC going forward? The recent correction in the stock price (17% off highs) offers investors a chance to reconsider whether CNC is valued properly. Here's a peer valuation with other managed care firms:
| | | | | | |
| --- | --- | --- | --- | --- | --- |
| As of Q4 2011 (except Centene as of Q1) | CNC | AGP | | | |
| Cap Size | $2.2B | $3.1B | $1.3B | $2.8B | $3.1B |
| Revenue Growth (most recent quarter) | 41% | 10% | 21% | 18% | -17% |
| Yearly Revenue Growth | 20% | 9% | 17% | 12% | -13% |
| EPS Growth (Annual) | 8% | 30% | 9% | 171% | 19% |
| Estimated Earnings Growth (next three years) | 20% | 19% | 8% | -1% | 12% |
| P/E 2011 | 19 | 16.85 | 14.35 | 9.69 | 11.59 |
| P/E 2012 (Estimated) | 15.45 | 16.38 | 15.33 | 14 | 10.86 |
| P/E 2013 (Estimated) | 13.56 | 13.17 | 16.05 | 13.02 | 9.85 |
| P/FCF 2011 | 11.65 | 20.77 | 7.58 | 25 | 85.42 |
| Price (April 26th close) | 42.17 | 64.38 | 27.13 | 65.24 | 36.73 |
Centene's valuation compared with its peers is reasonable, especially on a P/FCF basis. The company seems to have the most comprehensive growth statistics in the industry, and its P/E is reasonable as well. Something of note is that for all of these companies, analysts forecast a big jump from 2013 to 2014 earnings, as the Obamacare implementation takes full force and the managed care patient lists expand tremendously. The repeal of certain aspects of the new healthcare plan stands as a near-term risk to Centene and other healthcare firms in this space, though as suggested by Jefferies & Co., this seems to be more of an uncertainty issue than one of material impact.
The stock's rise in the last quarter of 2011 and beginning of 2012 didn't totally make sense. The shares soared on limited news - strong guidance for 2012, a few contract wins, but not earth-shattering stuff. Watching it over those months, I saw a wave of irrationality rising and cresting. By the time it hit 50 the first time in mid-February, it had returned more on a percentage basis than another company in this space that got bought out - Healthspring - and more than Apple (NASDAQ:AAPL) had over a longer time period (though Apple caught up of course).
I sold around then because, even after hiking my target based on the guidance raise, I found nothing to support Centene at this valuation. It might have been worth holding on for the long-term expansion in this area, but I didn't see it at the time and thought I'd take the profits.
Now, however, with a correction that has been fueled by a medium-sized material impact (the Ohio loss) and a misread, "mixed" quarter (as Neidorff called it), Centene has drifted back into a reasonable zone. The drop doesn't make total sense based on the events listed, but two irrational moves have made a right with Centene's stock price. Going forward, at an estimated 2013 earnings of 3.11, a 16x P/E supported by the company's strong cash flow gives a target price of $49.76, an 18% return at these levels. I like to get in when a stock can give a possible 20%-25% return; for Centene, that's a stock price of $40-$41.5. Centene hasn't seen those levels since early January, and may have found resistance at $42.
Finding a way to cut healthcare costs remains crucial for the U.S., the developed world, the developing world, and everybody else. In the U.S., managed care, Medicaid, Medicare, and dual-eligible patients loom as vital areas, and spaces that provide opportunity for the right companies. Centene is among the companies located directly in this sweet spot. With a broad market pullback, a slow summer, or a little bit more downward drag on the stock price, the stock will be worth grabbing again. In the long run, the market overcomes the irrationality. It's just hard to sit through, sometimes.
Disclosure: I have no positions in any stocks mentioned, and no plans to initiate any positions within the next 72 hours.