Want to know who last left their scissors in a patient's abdomen? Look no further: Health Grades, Inc. (Nasdaq: HGRD) is keeping track. And with increasing exposure expected when Google Inc. (Nasdaq: GOOG) launches Google Health in early 2008, it will be that much easier to find Dr. Oopsie.
HealthGrades has a proprietary rating system for hospitals, nursing homes, home health agencies and physicians; data include whether doctors are board certified and whether they are free of state and federal sanctions. The Golden, Colo.-based company's clients include hospitals, employers, benefits consulting firms, insurance companies and consumers, who surf its website to find quality ratings for 5,000 hospitals, 700,000 physicians and 1,600 nursing homes.
All well and good for consumers. But HealthGrades' shares haven't done much for investors since rallying to the $7 level in early 2006. They ended Thursday at $5.68 each, up 33% on the year, but still gyrating in a rough two-year range of $4 to $7.
Dictating trading is world-on-a-string Google, the $231 billion master puppeteer, who started talking about plans to introduce a health-care product in early 2006. And talking … and talking. Now, with Google's latest schedule to launch Google Health in early 2008—analysts are expecting it as soon as February—HealthGrades just may bust through to new highs.
At least that's what Jackson Spears, director of research at Capstone Investments, thinks. He's carrying a "strong buy" on HealthGrades, with a price target of $10. The key: "What will the company look like in 2008?" Spears said in an interview with SmallCapInvestor.com.
Spears's post-Google view takes into account advertising sales for HealthGrades starting next year. HealthGrades currently is testing its platform on Google Ad Sense. In a research note after third-quarter results through September were released last week, Spears said, "The response to their advertising platform has been strong and the only question has been what to pay and how many eyeballs will view the advertising." The company currently gets revenue from sales of marketing services to providers, and sales of quality reports and health solutions.
Spears is looking for revenues in 2008 to jump 40% to $50.53 million—including $7.9 million from advertising—from an expected $36.01 million this year. For fiscal 2009, he is looking for sales of $86.88 million. Earnings of $0.20 per share are expected this year—putting Health Grades' P/E at 29—and Spears expects these to rise to $0.25 in 2008 and to $0.50 in 2009.
HealthGrades could play a key role for Google Health by supplying a physician database, wrote Spears. He said HealthGrades also is working on beta projects with Google that could offer new sales opportunities.
As HealthGrades moves toward an advertising model from a transaction model, the gazillion dollar health-care industry is becoming consumer driven, given the need for accurate and reliable physician information, and reimbursement tiering by health plans. Doctors (and the institutions they work at) will no longer be able to hide behind a wizardly curtain, and instead will put their own warts on display. The Internet is the center of this industry transformation; the majority of people seeking out health information turn there first, and the majority of these users use Google—more than twice the number that search on Yahoo!, according to industry data.
Spears is bullish; others are more sanguine. Debra Faikas, principal at Crystal Equity Research rates HealthGrades a "buy" with a $7.50 target, noting that the company has made a Google portal an important part of its future. In other words: "They've put all of their eggs into the Google basket," she told SmallCapInvestor. "It better be something good."
Faikas noted the timeliness of HealthGrades. Since the company is developing at the same time as the marketplace, it is helping to foster a new consumer mindset toward researching and taking care of one's health-care choices. "Transparency cannot be overrated," Faikas said. "In a market-based health-care system, you have to have transparency."
That transparency can pay off for doctors, who track customers as closely as they do the tools of their trade. They can use HealthGrades as an opportunity to acquire customers, and they'll see the value of this proposition when they see a correlation between "a patient's visit to a website and their appointment books," said Faikas.
At Roth Capital Partners, analyst Tim Brown rates the company a "buy," but his earnings estimate for 2008 at $0.19 is a far cry from Spears's call for $0.25. He noted that key initiatives with Google have been slow to materialize, but continues to believe advertising could lead to a significant acceleration in revenues and earnings. He carries a $7.50 target.
And Jon Hickman, analyst at MDB Capital Group is downright gloomy; he's neutral on HealthGrades with a price target of $6—right at current levels. He noted Nov. 1 that the key to the company is the advertising model and the "much anticipated (and somewhat mysterious) relationship" with Google. If HealthGrades is featured on Google Health, Hickman said the online traffic to HealthGrades would increase, as would value to advertisers.
But, since there is very little visibility into the timing or the future effect of Google Health on HealthGrades, Hickman is remaining conservative. He does say, though, that Google Health could be a game-changing event.
There are many Internet health networks, including most-viewed, $2.6-billion WebMD Health Corp. (Nasdaq: WBMD). WebMD, trading at $45, has a P/E of 81 times expected 2007 earnings of $0.55. HealthGrades, valued at $180 million, says its ability to provide accurate and comprehensive health-care information cost-effectively sets it apart; its nearly three million unique consumers are more active than WebMD's, searching not just for health-care information but for specific ratings and data.
Still, it is tricky operating in the dark, and investors may want to wait on HealthGrades (HGRD) until Google Health is up and running. Those with a bad stomach ache, though, may want to find out now who keeps leaving their scissors behind.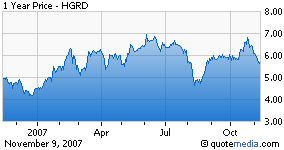 Disclosure: none