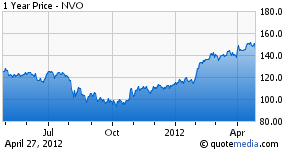 To whom much valuation is given, much is expected. That's about the only sense in which Novo Nordisk (NYSE:NVO) disappointed anybody this quarter. While this highly-focused pharmaceutical company has been enjoying phenomenal success in diabetes, investors may just want to check into the estimates that underpin the valuation before committing their capital to these shares.
Disappointment Is Always Relative
While Novo Nordisk's quarter is going to go into the books as a disappointment and a miss, most other pharmaceutical companies would love to "disappoint" with 18% operating income growth.
Revenue rose 13% on a reported basis and 10% in constant currency terms, about a 1% miss relative to the averaged Wall Street guess. Diabetes continues to be the growth engine at Novo Nordisk, as diabetes care revenue rose 18% on a 17% increase (14%cc) in insulin analog sales and an 81% (76%cc) increase in Victoza sales. Curiously, that Victoza number is nearly a 10% miss - surprising given that Amylin (AMLN) hasn't exactly been blowing away estimates with Byetta or Bydureon.
With a little less high-margin revenue than expected, Novo Nordisk still did well below the line. Gross margin was up more than a half-point, but still about a half-point shy of estimates. Nevertheless, Novo management managed to deliver better operating performance - operating income rose 18% and the margin expanded to 36%, beating the estimate by half a point.
The Insulin World, It Is A'Changin'
Novo Nordisk has a lucrative position as one of the "Big Three" in the insulin world alongside Lilly (NYSE:LLY) and Sanofi (NYSE:SNY). While market share shifts haven't been all that dramatic in recent times, plenty of companies are looking to change this.
For starters, a small platoon of companies are looking to develop and market biosimilars of all the current analogs out there, with Lilly in particular hoping to grab share with a biosimilar version of Sanofi's Lantus. At the same time, Sanofi has a new version of Lantus under development that it hopes will maintain or build its share. The same is true for Lilly and Novo Nordisk - both are working on new insulin analogs with an eye towards keeping (or, ideally, growing) their share of the market.
While the break-up of the insulin partnership between Pfizer (NYSE:PFE) and Biocon takes away some of the external risk, there are others to replace it. Reimbursement is already more challenging in Europe and these companies may already be pushing the bounds of what they can achieve through price. Unfortunately (from a public health perspective), the supply of diabetics seems to continue to grow at an accelerating rate.
GLP-1 Also Potentially More Challenging
Novo Nordisk has largely had its own way in the GLP-1 market for a while now, commanding over 50% share of the market. While Amylin's still-new Bydureon is a long-term threat (as it offers a 1/week dosing schedule instead of 1/day for Victoza), the Bydureon launch has been slow so far. Moreover, contrary to what most people outside the diabetes market believe, most people do get used to the injections and there isn't going to be a mass stampede to switch over.
A host of companies are also trying to break into the GLP-1 space. GlaxoSmithKline (NYSE:GSK), Lilly , and Sanofi all have GLP-1 compounds in development, though so far none have really distinguished themselves from a clinical efficacy perspective. While Novo Nordisk may eventually regret not being further along with a long-acting GLP-1 formulation, the biggest near-term threat to Novo Nordisk is likely the potential acquisition of Amylin by another Big Pharma with an established presence in diabetes and a full-fledged salesforce that can detail specialists and GP/FPs.
How Real Is The Obesity Story?
One of the beneficial effects of GLP-1 drugs like Victoza and Bydureon is that they lead to weight loss. This has lead Novo Nordisk to advance a higher-dose form of Victoza into Phase 3 trials for obesity. Many analysts seem enthusiastic about this opportunity and project that it will be a major competitor to Vivus (NASDAQ:VVUS), Arena (NASDAQ:ARNA), and Orexigen (NASDAQ:OREX) should their respective obesity drugs get FDA approval.
I'm skeptical, however. While Victoza does indeed lead to meaningful and significant weight loss (equivalent to Vivus' Qnexa and superior to Arena's Lorqess), the tolerability issues are significant. Pretty much all GLP-1 drugs cause GI issues like nausea, constipation, and diarrhea, and as many as 20% of patients stop taking it (during clinical studies) as a result. Also remember that Victoza is a once-daily injection, whereas Qnexa and Lorqess are oral medications - "needle fear" may be routinely overestimated among those already injecting, but it is real and significant among those who haven't started.
Moreover, there are also issues of safety and cost to consider. Victoza already carries a black box warning for certain types of cancer and the issue of pancreatitis is certain to come up, to say nothing of the question as to whether past CV data on the drug can be used or whether a separate additional trial will be necessary.
As far as costs go, Victoza costs about 4-5x as much as current estimates for these new oral obesity drugs. Given the existing debate over whether insurers will pay for these drugs, I'd say the even higher price of Victoza is a serious issue. All in all, then, I have serious doubts about Victoza becoming a billion-dollar obesity drug, though I do believe it will have a niche in patients with "pre-diabetes" and in those in need of serious and immediate medical intervention to lose weight.
The Bottom Line
All in all, I just don't see how Novo Nordisk shares are undervalued today. Even going along with the bullish sell-side projections for revenue and free cash flow growth, the numbers just don't go far enough to produce a fair value above today's price.
That said, I know better than to argue with an oncoming train and I suspect that the momentum trade will keep these shares richly valued for a while yet … but current investors ought to be wary of that inevitable point in the future where growth expectations and valuation multiples reset (what I refer to as "the Medtronic moment").
Disclosure: I am long AMLN.