CF Industries (NYSE:CF) has made an all-time new price high this afternoon.
The leading North American nitrogen fertilizer company's stock is trading at $198.55, up $5.56 on over 1 million shares.
Corn futures prices were supportive, with a big rally at the opening, the near term May contract rising as much as 27 3/4 cents, to $651 3/4.
Unlike other openings this week as commercial buyers piled in to buy corn due to dwindling stocks, the futures gains have stuck as of 2 p.m. New crop corn gains were more subdued with December at $5.41, up 6 cents. Estimates for Chinese demand for U.S. corn are being raised to as much as 30 million tons, or 1.1 billion bushels. This is offsetting some of the bearishness caused by the expectation for a bumper crop.
We believe CF will cross $200 shortly, even today, with near-term upside potential to the low $200s. Technicians can decide what the exact price target is, but my experience shows a major threshold with three digits usually provides at least another boost to the stock price.
I would caution traders and investors to be careful holding excessive amounts of CF on the Q1 release date next Thursday afternoon because CF will report a non-cash mark to market loss of as much as $250-$300 million pre-tax due to its natural gas derivatives position.
(Click to enlarge)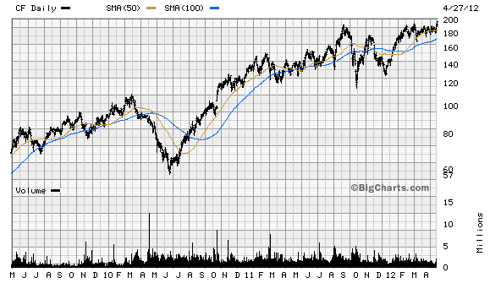 Click to enlarge
Information disclosed on the Q1 earnings conference calls by Potash Corp (NYSE:POT) yesterday and by Yara International (OTCPK:YARIY) this morning is supportive of the bull rally in nitrogen fertilizer stocks, and CF is the most liquid nitrogen fertilizer play.
Yara is the No. 1 ammonia producer in the world and PCS Nitrogen, Potash Corp's nitrogen division, is tied with Agrium for bragging rights at No. 3.
1) PotashCorp realized a record Q1 gross margin in nitrogen segment of $219 million versus $203 million in the first quarter last year.
2) Potash Corp indicated the Geismar, LA ammonia plant brownfield restart would be delayed from Q3 to the end of the year, because the condition of the plant was not as good as they thought. This should take some pressure off additional supply of nitrogen this year.
3) Yara disclosed they also were enjoying an excellent result for the nitrogen business in North America, although it got off to a slow start.
Any bears on U.S. dry nitrogen prices for Q1 have been incredibly wrong.
(Click to enlarge)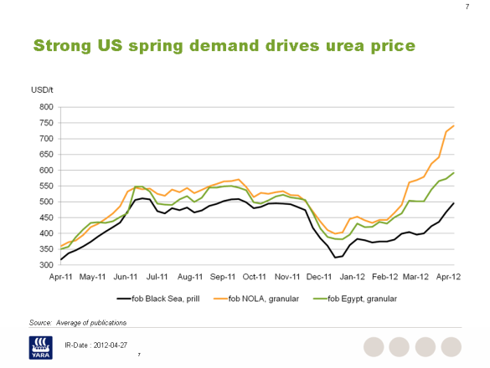 Click to enlarge
4) Yara indicated the natural gas cost differential for ammonia producers between Europe and North America has risen from the $7/mmBTU level to $8/mmBTU, giving U.S. producers an even bigger advantage.
(Click to enlarge)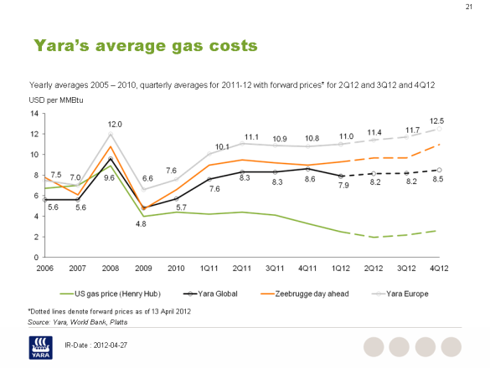 Click to enlarge
5) Yara said the threat of large Chinese urea exports is still small, in spite of the low export tax window that starts July 1 and lasts for four months. They said the Chinese urea price has increased to 2,350 RMB and the worldwide price of urea that would make exports or internal sales equivalent during the low tax window has risen from $385 USD last quarter, to $450 USD. This does not include ocean freight and insurance. This swing price is still very profitable for U.S. urea and UAN producers such as CF Industries.
(Click to enlarge)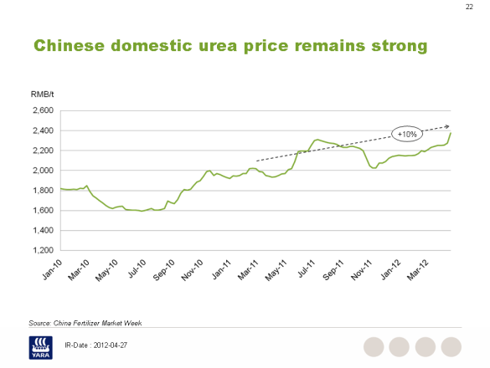 Click to enlarge
6) Yara reported that its GrowHow U.K. 50-50 joint venture with CF Industries had good results, with equity earnings up 23 million NOK.
This is very small beer for CF Industries but given reported production problems at the Billingham, U.K., nitrate plant, it's nice to have less to worry about coming into the conference call.
7) Yara said that problems with natural gas curtailments at the 49% owned Trinidad ammonia operation were abating. This means CF's 50-50 JV with Koch Industries at Point Lisas in Trinidad may also have less problems. PCS Nitrogen said there is a new president of the National Gas Company, and they hoped to resolve a contract dispute for their smallest ammonia plant, by the end of the year.
These are good times for nitrogen producers and nitrogen fertilizer stock investors. CF is the best one out there.
Disclosure: I am long CF.