I have been teaching in a traditional college or university setting for almost three decades, and, while much of my teaching has been directed toward traditional-age students, I have over the years regularly taught adult students, and more and more of my energies have been devoted to this population in recent years. Even though many college and university administrators seem oblivious to the increasing market share of adult students being garnered by the for-profit sector, no serious observer of degree programs for working adults can deny the profound impact which the for-profits are having in this area. From an investing perspective, I am mindful of Peter Lynch's maxim, "Buy what you know," and so I am always on the lookout for promising companies among the group of for-profit universities. My most recent discovery in this regard is Capella Education (NASDAQ:CPLA).
There is much evidence to support the claim that online courses are becoming an increasingly important part of the overall mix of courses being offered at degree-granting institutions. Indeed, Eduventures, an education research and consulting firm, estimates that by 2008, the number of online students will reach approximately 2.1 million and that this figure will represent about 12% of all degree-seeking students.
This trend toward online delivery led me to take a look at Capella. What first piqued my interest is its laser-like focus. With an exclusively online delivery system, it offers primarily graduate programs in targeted professions. In this way, Capella has successfully differentiated itself within the industry, and the company believes that such differentiation will be the key to its growth. I must confess that I find the purity and simplicity of both its mission and its business model quite appealing.
Capella is accredited by the North Central Association of Colleges and Schools. Such accreditation is required in order for students to be eligible for federal financial aid. Having witnessed the accreditation process first hand, both from the point of view of an institution being reviewed as well as from the point of view of an evaluator, I can attest that gaining and keeping accreditation is a long and arduous process. This gives Capella a significant moat against potential future competition.
Revenue, net income, and diluted EPS over the last 5 years have trended as follows:

In its most recent earnings release, covering the third quarter which ended on September 30, 2007, Capella reported total enrollment of 20,268 students, of whom 17,142 or 85% are enrolled in graduate programs (45% Master's, 40% Doctoral). Total enrollment increased 24%, enrollment in Master's programs increased 31%, and enrollment in Doctoral programs increased 17%. Total revenue grew 26%, net income grew 66%, and diluted EPS grew 16%. The principal reason for the large difference in these last two figures is the 46% increase in the number of outstanding shares, an increase which is related to the initial public offering, completed in November, 2006, and a follow-on offering, completed in May, 2007. The company has a healthy balance sheet with 124.7M in cash, no long-term debt, and 134.6M in shareholders' equity.
The company has a market cap of 1.24B (corresponding to a stock price of 72.09) and an enterprise value of 1.12B. With trailing twelve month revenue of 212.9M, this gives an EV to revenue ratio of 5.3. With TTM diluted EPS sitting at 1.22, the company carries a PE of 59. Analysts are looking for growth of 25% per annum over the next 5 years yielding a PEG ratio of 2.4.
Clearly the stock is expensive, but this can be partially explained by Capella's excellent fundamentals and its strong growth prospects. In particular, Capella appears poised to experience sustained growth over a long period of time. While investors who are seeking immediate short-term gains will find Capella unattractive at current prices, those with a long-term horizon will be attracted by Capella's excellent prospects for steady long-term growth.
Online education is here to stay and there is every indication that it will continue to gain traction. Capella is beautifully poised to take advantage of this trend by utilizing an exclusively online delivery system and by focusing primarily on graduate programs. This laser-like focus with regard to the delivery system and to the educational programs offered gives Capella a significant level of differentiation from other players in the sector. It is this differentiation which forms an important cornerstone of the company's strategic plan for future growth.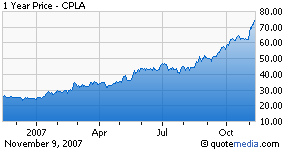 Postscript
Another player in the education sector to be watched is American Public Education (NASDAQ:APEI). This regionally and nationally accredited institution provides online educational programs to approximately 25,000 adult students, more than 80% of whom are in the U.S. military and who are thereby eligible for tuition subsidies through the Department of Defense. Like Capella, American Public Education sports strong fundamentals and appears to be well-positioned to take advantage of the growing market in online education. The company has just gone public and trades on the Nasdaq under the symbol APEI.
Disclosure: The author holds a long position in CPLA.