ExlService Holdings, Inc. (NASDAQ:EXLS) is a provider of offshore solutions, including business process outsourcing [BPO], research and analytics and advisory services, primarily serving the needs of companies in the banking, financial services and insurance [BFSI] sector, as well as other industry sectors, such as utilities.
The Company provides integrated front, middle and back-office process outsourcing services and manages processes for its United States-based and United Kingdom-based clients. The BPO services it provides involve the transfer to the Company of select business operations of a client, such as claims processing, finance and accounting and customer service, after which it administers and manages the operations for its client.
Its advisory services include risk assessment, documentation and internal controls testing, business process re-engineering and process quality monitoring. On July 1, 2006, the Company acquired Inductis LLC.
FUNDAMENTALS:

EXLS is a company that has been posting outstanding growth over the past few years and posted its first profitable year in '04 after posting a loss of 1.75/share in '02 and a loss of .03/share in '03. Since 2004 the company has posted year over year earnings growth of 30% and 104% with another 40 - 50% growth expected here in '07. Net margins (14%) and ROE (22%) are very good and have been rising with no debt on the balance sheet. Clearly a fundamentally sound company.

TECHNICAL:
The stock broke out from a long cup with handle base Friday for the first time since going public. Volume levels showed good conviction in the move with trading volume coming in at more than 2.5 times the daily average. With a good up volume to down volume ration over the last few months, tight price action and all time highs within striking distance, this is a stock chart exhibiting very bullish characteristics.
Important: EXLS has not yet reported earnings and will do so on November 13th before the market opens. Just as I do with nearly all companies, I don't recommend holding EXLS through its earnings report. It's just too much of a risk. While Veraz Networks (VRAZ) is not the same caliber of company that EXLS is, just look at what happened to it after reporting earnings on Wednesday. Wait for EXLS to report and if its not too extended consider a position.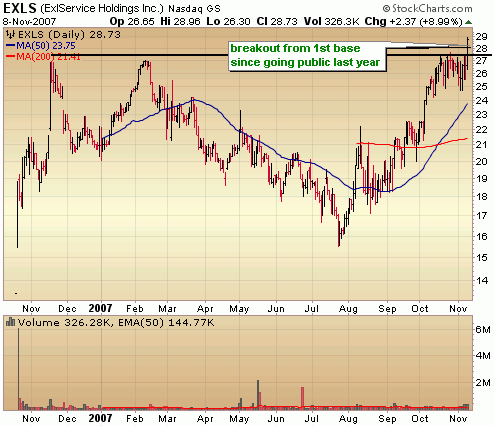 Full Disclosure/Disclaimer: The stock of the day is by no means a buy recommendation. Please do your own research and make a personal decision based on your own tolerance for risk. I currently do not own a position in ExlService (EXLS).