Citigroup's troubles may hold hidden opportunity, Barron's says. Last week, the banking conglomerate's CEO resigned and Citi reported a potential $11 billion in markdowns on its $55B in collateralized debt obligations. The mortgage market is still shrinking, and if ratings agencies further downgrade subprime securities, Citi's prime tranches of those CDOs could lose more value. Citi's CFO says CDO writeoffs may have been overdone, but upward revisions would only come when that market defrosts. Aside from CDOs, Morgan Stanley analyst Betsy Graseck estimates Citi holds $95B in consumer finance loans -- comprising 13% of all Citigroup loans. There's $41B in mortgages, $2.3B in home equity loans, $35B in credit cards and $17B in car loans. Further consumer finance writedowns could force Citi to raise loan loss provisions, sell off non-core businesses, or cut its dividend. Yet one bullish analyst says Citigroup's piecemeal value is almost double Friday's panic-induced $33.10. And Citi's principal shareholder, Saudi Prince Alwaleed bin Talal, dismisses breakup talk along with investor fears that a new CEO would have trouble steering Citi's bulk. Citi's diversity and size will help it overcome the current storm, he says. Barron's says Citigroup is a "bargain." Shares could hit 60 in a few years.
Citigroup 1-yr. chart: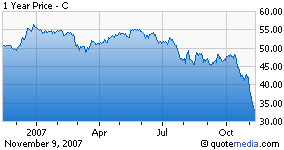 Seeking Alpha's news briefs are combined into a pre-market summary called Wall Street Breakfast. Get Wall Street Breakfast by email -- it's free and takes only seconds to sign up.