EMC Corporation (EMC) still has pretty good analyst projections for the rest of this year. Next quarter estimates are expected to grow by 10.10% and by September, 11.60%. But -- it recently hit a snag by not meeting revenue. This has the stock bearish. What does it need to turn itself around?
Recently it beat earnings estimates of $0.31 to $0.37. EMC boasted consistent double figure increases in revenue for each of the past four quarters. The last three quarters showed an overall 34.2% increase in profits. But the stock dropped after earnings. It appears the street wanted more. Steve Birenberg at Seeking Alpha explains what happened in a recent article he wrote on EMC:
"EMC's latest quarter supported this view. EPS of 37 cents was a penny better than expected while revenues of $4.04 billion fell about $50 million short of consensus."
A company can easily just cut costs to increase its earnings, but do little to improve its top line (revenue). But, if the company is not selling its product, there is not growth. Obviously, what we want as investors is EPS and revenue growing together. Sell product and reduce costs to increase earnings! This is what we want but if revenue is not growing but EPS is, that does not sit well with investors or analysts. That shows that the company may be cutting costs, but its sales are lower than the previous year.
The struggle EMC has is that it met or beat revenue a couple quarters. Analyst estimates looked good but when revenue doesn't meet those estimates it is totally different.
As an example, IBM missed estimates like EMC and its stock dropped when it reported, just like EMC. IBM earnings were $2.61 and a year ago $2.31. Revenue was $24.7 billion but analysts expected $24.82 billion. Like EMC it beat earnings but fell short on revenue. When Hewlett Packard (HPQ) announces earnings in May (its estimates are looking like EMC and IBM), it will not do as well as last year; it seems the whole IT infrastructure industry has been struggling this first quarter.
(click to enlarge)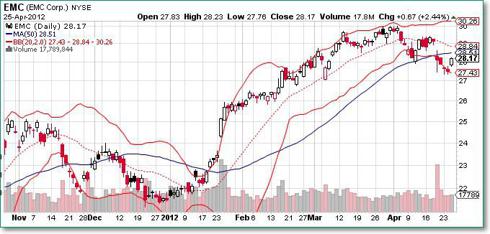 Between now and then, EMC might remain bearish and if it does, it offers a short-term income opportunity. As we watch it bounce off the middle Bollinger Band, this would be a good indication to put together a Bear Put Spread play that offers limited risk. Here is a possible example:
The Option Play
Buy the July 2012 put '28' strike (priced at $1.20)
Sell the July 2012 put '27' strike (priced at $0.80)
Net Debit to Start: $0.40
Maximum Credit: $0.60
Reasoning behind the Trade
EMC is presently bearish.
A move off the middle Bollinger Band would signify resistance and a possible continued move down.
Poor revenue means there is nothing to keep the stock from moving up yet.