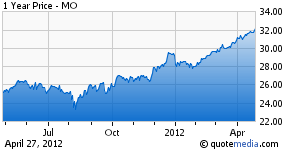 Over the last few years, the American cigarette industry has taken an unprecedented plunge. Interestingly, the predominating recession has acted as a blessing in disguise to this sickly industry. The hard economic times have greatly amplified the intake of tobacco throughout the states. The government is faced with a seemingly uphill task as most of its efforts to suppress tobacco intake have flunked. As a canny investor, I find myself wedged in an overwhelming degree of incertitude. Will the government's ploy to stamp down smoking have a negative effect on the cigarette industry? A stakeholder that particularly grabs my attention is Altria (NYSE:MO). This industry titan has pooled an incredible amount of funds to tame the unforgiving wave of pressure brought about by litigation and government regulations.
Altria, a holding company, boasts of a swelling portfolio that extends throughout the tobacco industry. Towards the end of the previous fiscal year 2011, it had already fortified a stronghold in companies like Phillip Morris USA (NYSE:PM), John Middleton and Phillip Morris Capital Corporation- all of which are big wigs in the tobacco and finance frontier. In addition to that, Altria also has a 27% economic and voting interest in SABMiller (a behemoth in the brewing industry based on its incredibly enormous revenue). This concise capture gives a candid reflection of the standout potential at Altria. Coming from a bullish disposition, quarterly revenue growth rates of 5% are bound to lure me in. All said its earnings per share of $1.64 don't trigger the same enthusiasm; this is well below the industry average of $2.4 and a mere fraction of what formidable competitors like Lorillard (NYSE:LO) offer-$7.99. This leaves one huge question, why do I have a blatant bias towards Altria while aggressive competitors like Lorillard extend a seemingly attractive package?
Lorillard is smaller in comparison to Altria; this is quite evident in its market cap of $17 billion. In my line of thought, I am not surefooted in its ability to fight off the mounting pressure from anti-tobacco exponents. It lacks the financial muscle to combat self-styled advocates in the global intolerance towards tobacco usage inclination. This may act as a big blow to Lorillard. Altria on the other hand has even set some money aside for the constant legal battles that are all too common in the tobacco industry. This is a lineament that lures in canny investors who are looking for a long term reward. Lorillard's image has also been gnawed out by the current case against the FDA. The story behind the case is quite degrading to a high tier player like Lorillard. The case supposedly revolves around Lorillard's failure to implement health warnings on cigarette packets. In the stock market, the success of one stock clings on the failure of a competitor stock. The mere fact that litigation and financial constrains are weighing down on Lorillard will give Altria the much needed edge. This will result in an increased demand for Altria's stock which will inevitably trigger an upsurge in share price.
Reynolds American (NYSE:RAI) is also another prominent competitor. All the same, some of its strengths work against it-for instance, the earnings per share figures of $2.4. This may seem farfetched especially after considering that industry average is $2.4. Interestingly, most prolific investors tend to lean towards extreme ends. This is chiefly because extreme ends are more dynamic and unpredictable. The latter typically brews a high possibility of risk which in turn avails innumerable opportunities. Personally, I would opt for Altria's $1.64 as opposed to Reynolds's $2.4. Altria is inclined to work harder and I am positive that its stock will grow. On the flip side, Reynolds is wedged in the comfort zone of mediocrity. Another factor that gives Altria an upper hand when outlined against Reynolds is the fact that Reynolds lost a case in the U.S Supreme Court. Such a loss not only acts as a gateway to unending criticism but also erodes the confidence levels in shareholders. This may lead to an unfortunate scenario where high ranking share holders sell their shares. From the basic economics that I know, increased supply leads to a plunge in share price. This in turn could act in the advantage of Altria.
Altria has managed to plough through regulatory framework and has recorded improvement in key subsidiary Phillip Morris USA. This improvement has manifested through the illustrious Marlboro. This brand has been the subject of innovations with new products like "Marlboro Black" and "Special Blends' gaining unprecedented popularity. With the tobacco business casting its net over 40% of the American market and generating an estimated 80% of their company's revenue, I foresee a lustrous future ahead for this key subsidiary. Phillip Morris USA also takes a tactful approach towards diversification through wine and smokeless tobacco products.
PMMC, Altria's financial subsidiary is also cutting down on costs; a move that will inescapably lure in long term investors. Over the last 4 years, it has managed to reduce its costs by $1billion. It equally targets another $400 million. If its plans materialize, which I believe will, PMMC is bound to fortify the faith of existing and futuristic shareholders. The reduced costs will increase profit levels which will in turn increase share value.
Fargo, a big name, recently upgraded Altria claiming that it would "outperform." This is a sheer reflection of the unwavering confidence levels in the Altria stock. If I was a betting man, Altria would by all odds be my winning horse. Its stock is bound to see better days and it is an ideal choice for a long term investor.
Disclosure: I have no positions in any stocks mentioned, and no plans to initiate any positions within the next 72 hours.