If you had invested $5000 in Wal-Mart (NYSE:WMT) back in 1971, today that investment would be worth over $10 Million. They say hindsight is 20/20, but knowing what you know today about Wal-Mart would you pass up the opportunity to invest in the world's largest retailer in the world for less than $4 dollars a share? Let me explain how lightning might be striking twice again for some investors of Wal-Mart.
Today, Wal-Mart is trading at around $43 per share, giving it a market cap of about 175 Billion. Most investors know that Wal-Mart has stores all over the world, but what few investors know is that one of it's subsidiary, Wal-Mart de Mexico SA (OTCPK:WMMVF) is publicly traded on the stock exchange.

Before you dismiss the idea of trading stocks on the over the counter market or pink sheets take this into consideration. Most investors do not invest on the OTC because of the belief that it is risky and unregulated. While that may be somewhat true, what they fail to realized that a large number of big name international companies and ADRs trades on the OTC.
WalMex as it is known in Mexico, is no exception to being a huge company. It has over 8.5 Billion shares outstanding after its 2-1 split early last year. The current quote has WMMVF trading at $3.65 per share giving it a market cap of over $31 Billion. Not such a small "pinkie" after all.
Wal-Mart is not only the largest U.S. corporation; Wal-Mart is also the largest private employer in Mexico. Thirty percent of Wal-Mart's 2,760 foreign units are in Mexico, that's over 980 stores and growing. In the past 6 years, Wal-Mart de Mexico has created more than 53,000 new jobs in Mexico. All of this can only mean one thing.
Wal-Mart de Mexico SA the subsidiary will continue growing because it is based on the same successful business model of its parent company Wal-Mart USA and managed by the same top level management. The question investors will have to ask is, "do I see a pattern and opportunity here?"
If WalMex follows the same growth path as its parent and reaches the same market cap, the stock share price will be over $20 per share. Here are some interesting facts to consider.
Insiders and the parent company own more than 60% of the company.
Its sales represent about 2% of Mexico's domestic gross product.
It controls about 30% of all supermarket food sales in Mexico and about 6% of all retail sales.
Having a financially secure parent company, proven management, a stable government, positive track record and a dominant market position are traits of a successful company. Will you let opportunity walk on by or will you be like first group of fortunate Wal-Mart investors back in 1971?
WMMVF 1-yr chart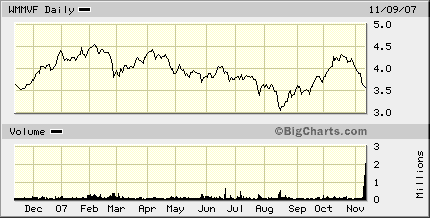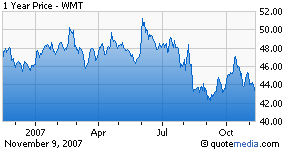 Disclosure: none