Over the last several years, for-profit colleges, universities and trade schools have seen significant increases in the number of students matriculating into these institutions. Nonetheless, several have had atrocious last several quarters.
A large part of the initial increase in for-profit education expansion was that several of these companies were early adopters of online course offerings for telecommuting students, which are lower cost than traditional offerings. More recently, several also recognized a gain in enrollment by recession-wary Americans who were finding it increasingly difficult to obtain employment, many of whom imagined a degree or additional training/certification might improve their attractiveness to employers.
More recently, though, these for-profit educators have run into some issues. One noteworthy problem would be the increased government surveillance they are now under, after complaints about relatively high student loan default rates and potentially misleading -- and even fraudulent practices -- within the admission process that were contributing to the high default rates. Questions also began to emerge as to the value of some programs being offered, the representations made as to the ability of graduates to obtain employment at a salary sufficient to justify the expense of the education, and the tactics employed by for-profit school representatives in selling the idea of enrolling to potentially inappropriate student candidates.
Now, several for-profit educators must adapt to new regulatory changes, more strict financial aid student loan requirements and required disclosures, bad publicity stemming from litigation over prior practices, and the likely addition of new Internet-based competitors. These schools are also changing their internal regulations and compliance practices, which should make it more difficult for potential students to qualify for both admission and financial aid.
Below are brief descriptions of five of the largest for-profit education companies that are publicly traded within the U.S. I have only included companies that are exclusively engaged in for-profit education and that have a market capitalization of at least $1 billion.
Apollo Group (NASDAQ:APOL) is the largest publicly traded for-profit education company in the U.S., running the University of Phoenix. Apollo presently has about 350,000 enrolled students and 200 learning centers for more than 100 different degree programs. Apollo currently has a market capitalization of approximately $4.2 billion. Since the start of 2012, shares are down about 35%, and they are down about 17.6% over the last month.
Click to enlarge all images.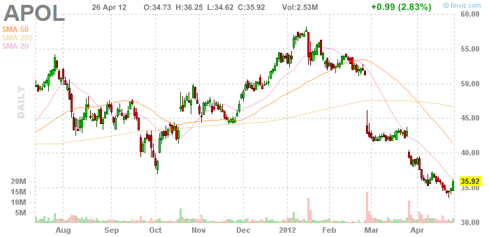 Click to enlarge
Bridgepoint Education (NYSE:BPI) offers associate to doctoral degrees in the areas of business, education, psychology, social sciences, and health sciences. The company serves roughly 86,000 students online and through Ashford University in Iowa and the University of the Rockies in Colorado. Students who are exclusively online make up 99% of its enrollment. Almost all of Bridgepoint's students exclusively take classes online. Bridgepoint currently has a market capitalization of $1.1 billion. So far in 2012, shares are down by about 6%, and they have fallen about 15% within the last month.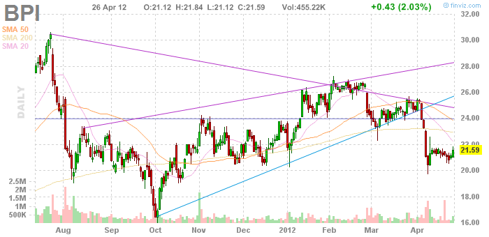 Click to enlarge
DeVry (NYSE:DV) operates numerous education institutions, including Advanced Academics, American University of the Caribbean, Becker Professional Education, Carrington College, Chamberlain College of Nursing, DeVry University and Ross University. Through its many institutions, DeVry offers a wide array of programs in accounting, business, finance, healthcare and technology. DeVry currently serves more than 120,000 students, about 25,000 of which are in medical or healthcare programs.
DeVry has a market capitalization of about $2.1 billion. Shares in DeVry have depreciated by about 17% since the start of 2012, with nearly an 11% decline within the last month. DeVry also pays a dividend that presently yields about 1%.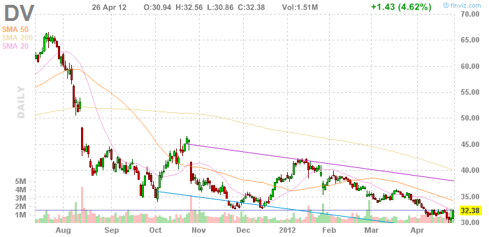 Click to enlarge
ITT Educational Services (NYSE:ESI) provides post-secondary degree programs in the U.S. Through ITT Technical Institute and Daniel Webster College, it offers master, bachelor, associate, and career-oriented education programs in various fields such as information technology, electronics technology, drafting and design, business, criminal justice, and nursing and health sciences. ITT Educational Services currently services approximately 88,000 students across 126 campuses and four learning centers across the country.
ITT Educational Services has a market capitalization of $1.6 billion. So far this year, shares are up nearly 17%, though they're down about 2% over the last month. On April 26, the firm reported a 15.4% drop in total enrollment, but also better than expected earnings, causing shares to climb by 6.6%.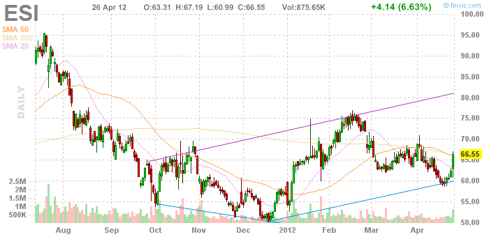 Click to enlarge
Strayer Education (NASDAQ:STRA) provides post-secondary education services for working adults through Strayer University, which offers undergraduate and graduate degrees in fields, including business administration, accounting, information technology, education, health services administration, public administration and criminal justice. Strayer presently services approximately 54,000 students across 92 campuses in 21 states, as well as online.
Strayer has a market capitalization of about $1.4 billion. Since the start of the year, shares have appreciated by about 2% and over the last month are down about 1.5%, but these somewhat flat performance rates were largely reached through a slow decline since the start of the year. That was followed by the stock appreciating nearly 15% on April 26, after announcing a rise in student enrollments. Strayer has also announced plans to build as many as eight new campuses this year, provided the company is granted regulatory approval.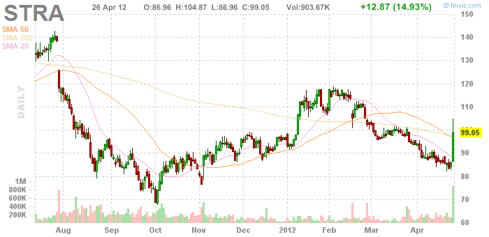 Click to enlarge
Recently, Washington, D.C., has more vocally debated potential student loan reform. The specific issue is the rate of interest on subsidized Stafford loans. In 2007, a law was passed that tapered down Stafford loan interest rates from 6.8% to 3.4%, with the law designed to reset the rate to 6.8% on loans issued after July 1 of this year.
Senator Harry Reid of Nevada introduced a bill to extend the lower interest rate for an additional year, with an estimated cost of $6 billion. The proposed law would pay for the extension by applying payroll taxes on small partnership and related business profits that are not considered a salary under current laws.
House Representative Judy Biggert of Illinois issued a competing bill in response that would pay for the same one-year extension by eliminating the Prevention and Public Health Fund that was created under the 2010 healthcare reform law, and which has already undergone one $5 billion cut to pay for the unemployment benefits extension and other plans. It could also face another $4 billion cut under President Obama's budget proposal for 2013, if it does make it to next year.
Both proposed bills appear, in their present forms, unacceptable to the other side and possibly designed to evoke opposition for campaign purposes, hoping to make the opposition look obstinate. House Democrats have already proposed an amendment to the Biggert Bill that would tax large energy companies to raise the $6 billion rather than eliminating the Prevention and Public Health Fund. Such a proposal appears similarly designed to instigate opposition.
Nonetheless, the fact that both sides are proposing one-year extensions suggest just such an extension could happen.
Disclosure: I have no positions in any stocks mentioned, and no plans to initiate any positions within the next 72 hours.
Disclaimer: This article is intended to be informative and should not be construed as personalized advice as it does not take into account your specific situation or objectives.