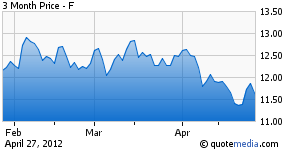 On Friday April 27th, Ford Motor Company (NYSE:F) reported its first quarter earnings. Analysts were expecting Ford to earn $0.35/share on revenue of $31.53 billion dollars. Ford surpassed analysts' estimates handily, by announcing they had earned $0.39/share on revenue of $32.40 billion. It was about a 10% beat on earnings and a 2.5% beat on revenue, both of which were very positive.
Even though the revenue number beat estimates, it was the first time in four quarters Ford Motor has posted a decrease ending a streak most investors became very pleased with. Revenue had decreased 2.2% from the year-earlier. Investors should note, the company topped expectations in the previous quarter, after falling short in the fourth quarter of the last fiscal year with net income of 20 cents versus a mean estimate of net income of 27 cents per share. (See earnings call transcript.)
If we look ahead to the upcoming quarters (June 2012 and September 2012), analysts have a negative outlook on Ford Motor with estimates for the second quarter dropping to $0.40/share from $0.43/share. International weakness is the predominant catalyst behind the estimation decrease, however I still think Ford Motor Company should surpass the $0.43/share estimate. Is there weakness in the European and Asian markets? Yes. Do I believe it's as bad as macro economists say it is, in terms of directly affecting the output of the US auto industry? No. The fiscal year outlook for Ford Motor is actually positive and earnings could easily exceed both the $1.46/share EPS estimate and the $132.3 billion dollar revenue number.
If Ford wants to succeed they'll need to use their pricing power to their advantage. Consumers find that Ford's MyTouch system and increased fuel efficiency are positive factors when purchasing from Ford, and are willing to pay more for the added benefits. Internationally speaking, Ford would have to increase US based business in an effort to hedge losses seen in throughout Europe and Asia in the last few quarters. If both the UK and China begin an economic turnaround, Ford could very well regain the much needed market share they've lost due to the downturn in those global regions.
Disclosure: I am long F.
Additional disclosure: I currently own Jan 13 - $17.50 calls on Ford Motor.