VSE Corporation (NASDAQ:VSEC) reported its third quarter 2007 results on October 31. Unfortunately, the press release did not contain a balance sheet or cash flow statement. The 10Q has just been posted on the SEC web site and so we can now take a look at where things stand.
Revenue increased 69%, net income increased 78%, and diluted EPS increased 69%. The diluted share count grew 4.6%. Owner earnings, (defined as net income + D&A – capex) for the nine months ended September 30, 2007 grew 74% over the figure for the year-ago period. The balance sheet shows cash of 7.6M and no debt.
A good indicator of future growth is that revenue for the first three quarters of 2007 was 455M while bookings for that same period came in at 603M. Also a good sign is that funded backlog as of September 30, 2007 is 478M which compares nicely to a funded backlog of 226M as of September 30, 2006 and 299M as of December 31, 2006.
The current market cap is 270.4M corresponding to a stock price of 54.04. With an enterprise value of 262.8M and TTM revenue of 557M, the enterprise-value-to-revenue ratio stands at .47. Diluted EPS (on a TTM basis) is 2.44, giving the stock a PE of 22.
Based on the results for the first nine months of 2007, the owner earnings run rate for 2007 is 9.5M. Although an estimate, this can be regarded as a somewhat conservative figure since a more accurate picture of the cash generation potential of the company might be obtained by adding back the portion of capex allocated to growth. With this level of owner earnings we have an EV/OE ratio of 28. Using this owner earnings figure, along with a growth phase of five years, a terminal growth rate of 3%, and an 11% discount rate, we have the following estimations of fair value: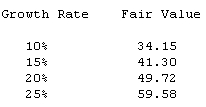 Baked into the current price is an assumption of 22% growth. It is interesting to note that growth in net income over the last 5 years has been as follows:
2003: 186%
2004: 70%
2005: 82%
2006: 26%
2007 (first 9 months): 78%
Disclosure: Author has a long position in VSEC