Akamai's (NASDAQ:AKAM) stock price took a hit Thursday as, Paul Sagan, the current CEO, announced efforts to find his replacement. Sagan indicated the time to transition to a new CEO is when a company is doing well, as is the case with Akamai, rather than the alternative. A graph of the stock price with the haircut is shown below:
Click to enlarge images.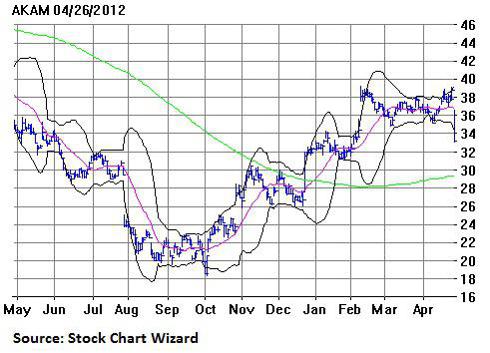 The company is performing well, but the prospect of a new CEO has investors spooked. With Akamai's haircut, entering a bull-put credit spread will be considered. A bull-put credit spread may be entered by selling one put option and purchasing a second put option further out-of-the-money. The goal is for both options to expire worthless with the initial net credit taken for a profit.
Looking at Akamai's stock price, the next support level appears to be around the $31 price range, so a bull-put credit spread will be sought with a short strike price equal to or less than $31.
Using the PowerOptions Midpoint Spread Chain tool, the following table of potential bull-put credit spreads were found: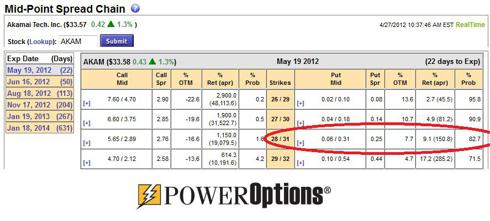 The 2012 May 28/31 bull-put credit spread has a potential return of 9.1% (151% annualized) and the strike price of the short put option is 7.7% out-of-the-money. A profit/loss graph for one contract of the Akamai bull-put credit spread is shown below: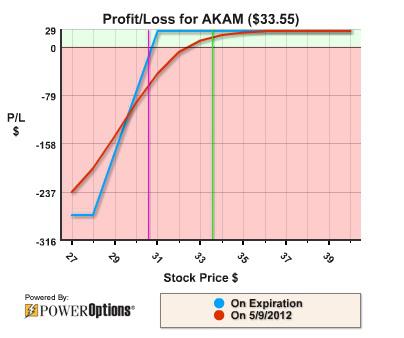 The 2012 May 31 put option may be sold for $0.31 and the 2012 May 28 put option may be purchased for $0.06, resulting in a net credit of $0.25. A management point of $32.5 is set for this position. If the price of Akamai drops below $32.5, the position should be managed for a roll or an exit.
Akamai is the leading company in the content delivery network. The performance Akamai provides to its corporate customers through web content optimization is similar to the overnight delivery FedEx (NYSE:FDX) revolutionized when its founder Fred Smith developed express package shipping through more efficient use of air routes. Anyone who has ever bought anything online from Amazon (NASDAQ:AMZN), downloaded a song from iTunes, or even received upgrades to their computer's operating system from Microsoft (NASDAQ:MSFT) has most likely used Akamai's content delivery network to connect more safely and efficiently. Akamai estimates that it routinely delivers between 15% and 30% of all traffic on the Internet, far exceeding the estimated 6.4% of web traffic flowing through Google (NASDAQ:GOOG) each day.
Akamai optimizes content delivery for websites, mobile devices, cloud platforms, and dynamic streaming multimedia, to enhance the online presence of its client companies. While use of the Internet continues to expand at an overwhelming pace, the immense burdens imposed on service providers to maintain smooth data transfer are growing substantially, leading to slower access rates and greater security risks. Akamai provides services and products on a delivery platform that brings the content, media, and applications to the end-users of its corporate customers with high-performance results.
By dispersing 1,400 data centers in 78 countries and roughly 650 cities around the world, Akamai has installed a sophisticated hardware infrastructure of more than 105,000 servers collocated in facilities with major service providers that form the backbone of the Internet such as Comcast , Verizon (NYSE:VZ), and Sprint (NYSE:S). This geographic distribution of the company's resources on approximately 900 networks allows Akamai to map the fastest and most efficient path for the massive packets of data to travel through the Internet by avoiding network congestion and lowering latency times. As a result, the end-user of a website belonging to one of Akamai's corporate customers is able to process transactions, download an application, or experience content without the long waiting times that can lead to dissatisfaction and loss of business. The company estimates its platform delivers around 25% of global web traffic, at a rate of over 4 terabits per second.
Akamai features an impressive base of established customers, including Microsoft , ESPN (NYSE:DIS), Amazon, Live Nation Entertainment (NYSE:LYV), Adobe (NASDAQ:ADBE), Travelocity (Privately Held), Fox Sports (NASDAQ:NWS), Yahoo (NASDAQ:YHOO), Verizon Wireless , General Motors (NYSE:GM), and Audi. Apple (NASDAQ:AAPL) trusts Akamai to handle its iTunes online store for downloading music, multimedia, and applications. These large retailers, software vendors, media organizations, entertainment companies, communications providers, and manufacturing firms form a strong foundation and reputable client portfolio that diversifies the company's revenue stream and growth prospects.
In the company's most recent Q1 2012 conference call conducted on April 25, 2012, the company reported quarterly revenue of $319 million, which was an increase of 16% over the same period in the previous year. Commerce was the fastest growing market segment with an increase of 21% over the same quarter a year ago. Total revenue declined 7% sequentially and North America revenue declined 2% attributed to normal seasonality. All geographies outside of North America had strong growth, except for Japan. In February, the company introduced the Kona Site Defender, a product developed for thwarting malicious activity.
In the company's fourth quarter 2011 conference call conducted on February 8, 2012, the company reported year-over-year growth rates of 23% in its enterprise market, in which Akamai's team of professionals handle every aspect of an organization's online presence from consultation to technology integration. The company's commerce sector followed closely with 20% year-over-year growth, fueled by a strong holiday season for online shopping. Akamai's cloud computing services comprise 55% of its overall high-tech segment year-over-year growth of 9%. Cloud services grew 20% year over year across all market segments for the fourth quarter of 2011, and account for 58% of total revenue. This area of Akamai's business should benefit from its acquisition of Blaze, which provides dynamic site accelerator systems for cloud infrastructures.
The high-tech market is one where Akamai services nine of the top ten anti-virus companies in North America, adding to its already impressive client list of industry leaders such as Microsoft, Apple, IBM (NYSE:IBM), and Adobe. The software-as-a-service providers are emerging as a customer opportunity that represents great synergies for Akamai's efficient content delivery platform. The company's media and entertainment segment grew 11% year over year in the fourth quarter of 2011, and is poised to build upon this rate with the rollout of the second generation of the Akamai HD Network and the recently announced partnership with online video platform Vimond Media Solutions.
Akamai is fueling extraordinary growth in its web security product Kona, with the company reporting sales growth of 149% in the fourth quarter of 2011. The company's CEO Sagan identified security as the top concern for Chief Information Officers of companies doing business online, even outweighing website performance concerns. Another key area for Akamai is the tremendous growth in mobile networks, and the proliferation of devices such as smartphones and tablets that have web and video streaming capabilities. The primary challenge facing content providers is the estimated 9.3 second average waiting time to access a webpage over a 4G network. Akamai will be releasing a new product in 2012 called Mobile Accelerator that will reduce page load times. In the first quarter of 2012, Akamai finalized its purchase of Cotendo, which was a strong upstart competitor in the content delivery arena. Cotendo developed promising technology in its mobile acceleration suite, adding to Akamai's advantage in this burgeoning market.
The Cotendo acquisition will also help alleviate pressure on its gross margins, which is the primary concern about Akamai's prospective challenges. Fierce competition from Level 3 (NASDAQ:LVLT), Edgecast, and Limelight Networks (NASDAQ:LLNW) provoked aggressive pricing battles that lowered gross margins for the entire content delivery market. Acquiring Cotendo will serve to remove a competitor from the bidding for future customers, as well as migration of its clients such as AT&T (NYSE:T) and Facebook (NASDAQ:FB) into Akamai's customer base.
The recent haircut in Akamai's stock price was an over reaction to the search for a new CEO. Further declines in Akamai's stock price are not expected, so the bull-put credit spread should perform well over the next few weeks.
Disclosure: I have no positions in any stocks mentioned, and no plans to initiate any positions within the next 72 hours.