Jones Soda (NASDAQ:JSDA) reported 3Q earnings, which came in well below the Street's expectations. This is the second quarter in a row that JSDA has disappointed the Street. The 3Q miss is almost entirely related to higher than anticipated retailer slotting fees and promotional expenses.
This year is obviously becoming a transition year for the company, as it ramps up in the retail channel. It's been a logistic nightmare, going from being in Target to selling to nearly all major retailers, including Wal-Mat. The company has also had to step up its promotional expense which has hurt margins.
We view 2008 as the year that the company will begin to leverage its investment in the retail channel. Some analysts believe the retail channel will produce between $100 million and $200 million in sales by 2009. At a high-growth multiple of 3x-4x, this opportunity is arguably worth between $14 and $30 per share. Moreover, we like the new energy drink and vitamin water products. Further, the company displaced Pepsi as the non-alcoholic beverage provider of the New Jersey Nets inside in the Barclays Center in the 2009 basketball season. As such, the recent pull-back in the shares presents a great buying opportunity for long-term investors.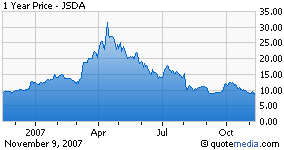 Disclosure: none