The S&P 500 is down 6.47% since earnings season began with Alcoa's (NYSE:AA) quarterly report on October 9th. This is very comparable to the market's performance during earnings season last quarter when it declined 6.87%.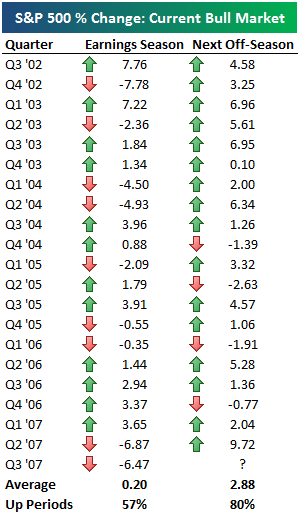 (Our earnings season runs from AA's report date through WMT's report date.)
We went back and looked at the index's performance throughout earnings season and the following off-season during the current bull market to see what the typical pattern has been. As shown in the table at right, the average performance of the S&P 500 during earnings season has been 0.20%, with gains 57% of the time.
On the other hand, the index has averaged a gain of 2.88% during the earnings off-season, with gains 80% of the time. Last earnings season's decline of 6.87% was the worst since Q4 '02, when the index was down 7.78%. Fortunately, the market snapped back significantly and was up 9.72% from WMT's report date on 8/14 through the start of this earnings season on 10/9. Hopefully the index can do the same after WMT's report tomorrow.
Below we highlight a scatter chart of the S&P 500's performance during earnings season and during the following off-season. As shown, there has only been one quarter where the index declined during consecutive periods (Q1 '06), with minimal declines throughout both.