By G C Mays
When I penned "Potash Corp. Q1 Earnings Preview: Just How Sluggish Were Potash Sales?", I concluded by writing:
"Analyst estimates of $0.49 to $0.75 per share in the first quarter are a little wider than company estimates of $0.55 to $0.75 per share. I expect the company's actual earnings to come in at the low-end of those estimates."
Potash Corp (NYSE:POT) Q1 revenues declined 21 percent year over year to $1.7 billion. Earnings declined 33 percent to $491 million or $0.56 per share. Slumping sales of potash is the overwhelming reason for the decline in total tons sold across product lines in Q1. As the graph immediately below illustrates, tons sold in other product categories were roughly inline with the previous year.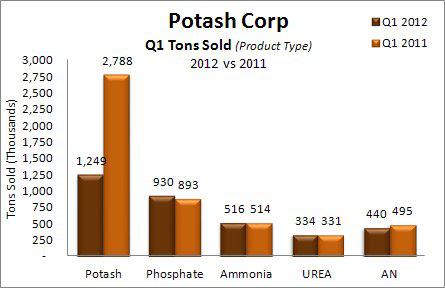 Source: The Mays Report
Year over year prices were flat to higher than a year ago with ammonia being the lone exception. However, compared to the previous quarter prices were flat to down with potash prices holding firm.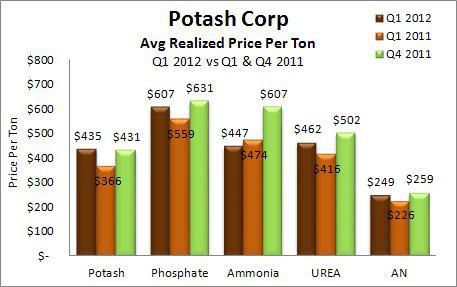 Source: The Mays Report
The company announced production cuts at the end of 2011 and again in February due to slack demand and rising inventory levels. Potash operating rates tumbled to 46 percent in Q1 while operating rates in the phosphate segment dropped 8 percentage points versus a year ago to 82 percent. This caused potash and phosphate gross margins to compress.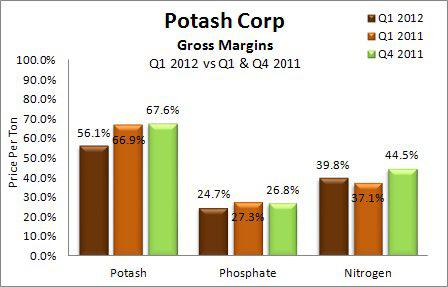 Source: The Mays Report
As the chart also illustrates, nitrogen margins were down compared to Q4 of fiscal 2011, however, they remained slightly higher year over year.
The company stated that it lowered its potash estimates for the second time due to an inventory carryover in India last year. India's annual potash purchases have slipped from 6 to 4 million tons. The company contends that India "must" buy potash. In my opinion this is a biased point of view. While purchasing more potash is in their best interest in terms of yield, there is nothing that obligates them to do so.
At a recent closing price of $42.25, and a price-to-sales multiple of 4.4, which is double the peer group median average of 2.2, Potash Corp remains overvalued in my view. With a standard deviation of 2, the price to sales multiple has the least amount of variance among the price multiple measures.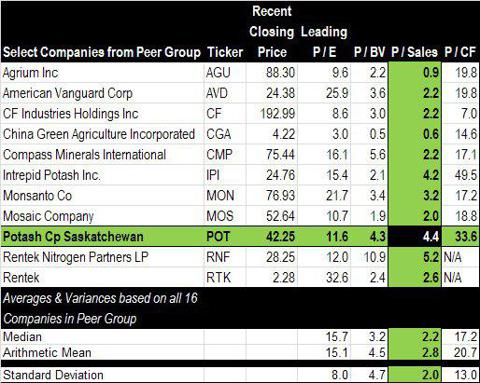 Source: The Mays Report
Because the market expects of a record number of corn acres planted, over the short-to-intermediate term I expect the stocks of companies that have a higher percentage of nitrogen in their sales mix, like CF Industries (NYSE:CF), where nitrogen sales represent roughly 80 percent of their annual sales, and Agrium (NYSE:AGU), where nitrogen tons sold in fiscal 2011 represented 58 percent of total wholesale tons sold, to continue to outperform companies like Mosaic (NYSE:MOS), which doesn't have any nitrogen sales and Potash, with only a quarter of its revenues from nitrogen.
Source: Google Finance
I want to note that there is a downside risk associated with the thesis that CF Industries and Agrium will continue to outperform over the short-to-intermediate term. With soybean prices approaching $15 per bushel farm economics could dictate that farmers shift acres from corn to soybeans. If this happens there could be an abrupt reversal in the stock prices of CF and Agrium.
The fertilizer business, which is in large part based on the business of growing crops, is volatile and filled with what can at times amount to day-to-day uncertainty. Investors should stay diligent in keeping an eye on these investments.
Disclosure: I have no positions in any stocks mentioned, and no plans to initiate any positions within the next 72 hours.