Shares of natural gas exploration and production company EXCO Resources (NYSE:XCO) are down by over 30% so far in 2012. However, there are three reasons to consider buying EXCO Resources.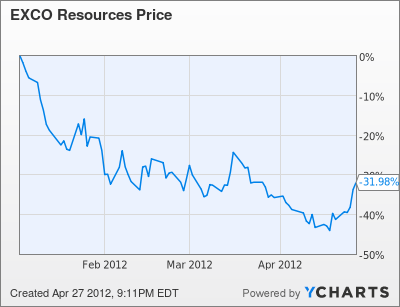 Options Activity
Option Monster reported on the high level of bullish options activity recently; 15,000 September 8 calls were purchased, while an equal number of September 10 calls were sold. Volume was more than triple open interest at both strikes. This trade, known as a bullish call spread, will benefit from a rally in XCO. Overall, call volume outnumbered put volume by 25-1. This large trade likely represents institutional money. Institutional money is usually smarter, thus worth following. In summary, the recent options activity points to upside ahead for XCO over the medium term.
Wilbur Ross
Wilbur Ross, founder of WL Ross & Co, has increased his involvement in XCO. In 2011, Ross doubled his stake in XCO to 13.7%. In early March, XCO announced that Wilbur Ross would be joining the board of directors. The announcement is important because it means Ross has not changed his views, despite the decline in XCO's stock price.
Short Interest
Short interest in XCO currently stands at 30 million shares or 24.2% of the float. This high short interest represents a possibility for a squeeze higher in the event of any good news at all. The short interest also shows how pessimistic investors currently are about XCO.
Conclusion
While XCO has not done well so far in 2012, there are reasons to take another look at XCO. The bullish options activity, Wilbur Ross' board appointment, and high short interest all point to a higher stock price.
Disclosure: I have no positions in any stocks mentioned, and no plans to initiate any positions within the next 72 hours.