Position Size: Gentex is a high conviction name in our portfolio, representing approximately 6% of the total assets.
The Company and Business: Gentex Corporation was established in 1974 as a firm developing fire protection services. Since its birth, the firm has grown and is more widely known for their automatic dimming rearview mirrors that are offered as options in multiple vehicles. In its most recent quarterly earnings report, sales in the automotive products group represented 96% of sales ($156M) while fire protection equipment represented the remaining $6 million in revenues.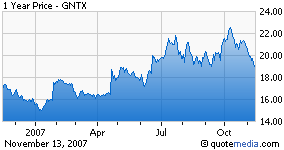 The company will also be offering automatic dimming windows for the new Boeing Dreamliner aircraft which could help increase sales over the next several years. The company operates in 8 countries across the globe which includes the U.S., England, France, Germany, Sweden, China, Korea and Japan. International sales at Gentex represent more than half of total revenues with the largest individual customers being GM, Chrysler, Toyota, BMW and Volkswagen.
The auto-dimming rearview mirrors tend to be geared towards intermediately priced vehicles and are offered either as options or as standard equipment (in some more expensive vehicles). Gentex's future is not in selling the standard rearview mirror of the past in your automobile but instead in advanced technology which allows for automatic dimming and rearview mirror displays which shows potential dangers in the road in the blind spots behind your vehicle as well as reduces glare when people shine those high beams at you. Gentex is the dominant company in the automatic dimming market with a greater than 80% market share.
According to Gentex's own research, the potential market for automatic dimming mirrors is 50% of the light vehicles produced each year (approximately 30 million) which represents a $3 billion potential market. The greatest potential growth markets are in Asia where penetration of automatic dimming windows is still only in the single digits. I am also positive on Gentex's decision to enter the market for airplanes in providing dimmable windows, which is to be launched with Boeing's Dreamliner and may spread to other aircraft in future periods.
In 2007, John Sununu, Hillary Clinton, Jan Schakowsky and Peter King sponsored a bill to Congress termed the Cameron Gulbransen Kids & Cars Safety Act which if passed would require "a rearward visibility performance standard that will provide drivers with a means of detecting the presence of a person behind the vehicle in order to prevent backing incidents involving death and injury, especially to small children and disabled people". The bill is named after 2 year old Cameron Gulbransen who was accidently tragically run over and killed by his father while he was backing out of his driveway.
Unfortunately, these types of incidents happen far too often, which is part of the reason that Gentex has been able to deliver consistent 15% top line and bottom line growth over recent years. This bill had been introduced in prior years without a vote but if this were to be approved by Congress it would be a major potential catalyst to increase Gentex's future revenues and profitability and it would most likely save a few lives as well. My own assumptions assume that this bill will not be passed in the next 2 years; however, if it is passed I will likely need to increase my overall growth rates for the firm.
Potential Catalysts:
- Gentex has an 80% share of the dimming rearview mirror meaning that any increase in market share and/or additional penetration of this technology into new vehicles will lead to continued growth for the company.
- Improvements in vehicle sales either in the United States or overseas.
- Advancements with legislation by the U.S. Congress (or by other countries) to require greater safety standards in vehicles.
- Gentex spends 6-7% on R&D each year and is constantly developing and refining products to the marketplace. I would consider this company to be a cross of a technology and manufacturing company which is what in my opinion gives them their edge over competitors and keeps the overall barriers to entry relatively high.
- Advancements in non-vehicle sales such as in the airline market
Risks:
- Depressed sales of vehicles across the globe (although this company has successfully weathered multiple business cycles in the past)
- Less focus by consumers and government on potential additional safety standards for vehicles
- Lack of interest in Gentex?s products outside of the automobile market (which could slow growth rates over time)
- Increased competition (Gentex has a huge market share advantage but if a competitor were able to cut into this market share it could hurt future profitability)
Valuation: Gentex is currently selling for a p/e of about 22x my expected earnings for 2007 and 18x my 2008 estimate while providing a better than 2% dividend yield. Gentex has strong cash flows from operations which are used to help fund dividends for the company and to continue to spend about 6% on R&D for the company each year. The company has a stellar balance sheet with no long term debt and nearly $400 million in cash. Gentex has a very solid return on equity in the mid teens and operating margins above 20%. I find the stock to be very attractive at current levels as I have a valuation target in the mid to high 20s over the next couple of years.
Disclosure: Long GNTX