LinkedIn (LNKD) will report 1Q12 results on May 3rd. The Street expects:
Revenue: $178 million
EPS: $0.09 per share
Q2 revenue guide: $205 million
Last quarter, LinkedIn reported a solid quarter in which we saw triple digit growth for the 6th consecutive quarter, a ramp-up in mobile usage that accounted for 15% of total traffic, up from 13% in 3Q11, and the addition of 1,870 corporate customers.
Heading into the earnings, investors can expect:
Continued acceptance of social media channels among corporate clients
Expansion in user base and user engagement
Increasing growth from international segment.
LinkedIn is well positioned to capitalize on the secular trend of rising acceptance of using social media for corporate recruiting. As of 4Q11, there were 9,236 corporate solution customers, which is more than double that of a year ago.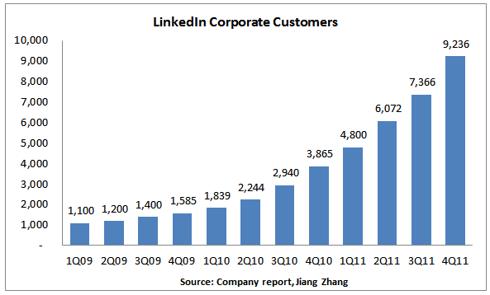 The number of corporate customers is likely to increase as recruiters look to
Efficiently screen the potential applicant's qualification based on their background and experience
Eliminate middlemen and unnecessary recruiter costs through a more reliable channel.
User engagement should continue to ramp up as LinkedIn provides a convenient channel for users to follow their interested companies, organize business contacts and look for potential career opportunities.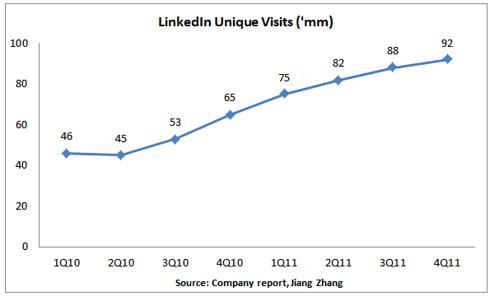 Despite flat sequential page-view growth according to data from ComScore, investors should note that ComScore does not factor in mobile page-views, which account for 15% of total page-views.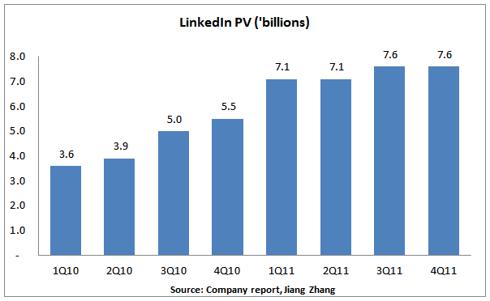 LinkedIn recently introduced a newly redesigned mobile app featuring a more user-friendly interface, which I believe will bode well for user engagement that ultimately translates to rising ad revenue. However, I do note that LinkedIn currently doesn't monetize its mobile app and, heading into the earnings, management needs to provide more color on its mobile monetization strategy.
Finally, international contributions continue to become a significant piece of revenue as LinkedIn continues to see higher growth outside of the US.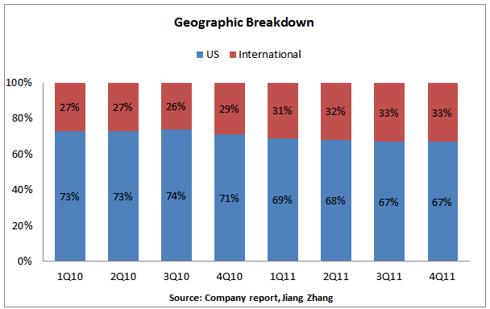 I note that last quarter revenue from the international segment increased 140% y/y, compared to a 92% y/y increase in the US. Despite accounting for 33% of the total revenue mix, the international segment accounts for 60% of the total member base, making it a top priority for the management. Last quarter, the company expanded its international unit through 3 new offices and 5 new languages. In Q1, the company already added Czech and Dutch languages to its options, bringing that total count to 16.