Delta Financial Corp. (DFC) finally reported delayed results Thursday afternoon, and it was not good news at all.
Delta reported a net loss of $39.6 million, or $1.70 per diluted share, for the quarter ended September 30, 2007. More importantly, Delta disclosed it has "been pursuing financing alternatives, and are in discussions with potential investors that may lead to a significant issuance of debt or equity securities, and may result in significant dilution for existing stockholders." That disclosure sent shares down 35% on Friday, as shareholders questioned Delta's very survival.
During the third quarter of 2007, the Company charged-off $12.5 million of loans, or 71 basis points annualized, against the allowance for loan losses. Loans delinquent greater than 90 days constituted 9.1% of the outstanding loan balance at September 30, 2007. This sort of credit performance underlines the serious deterioration of the economic profiles of subprime borrowers, as Delta claims to only originate full-doc, fixed-rate loans.
We'll see what alternatives Delta is able to find - Accredited (LEND) may have been the last subprime boat to set sail.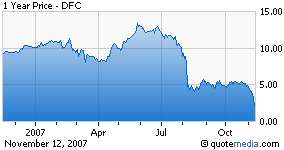 Disclosure: none