E-commerce stalwart Amazon (NASDAQ:AMZN) reported first-quarter sales and earnings that blew past consensus estimates. For the first quarter of 2012, Amazon earned $0.28 per share versus the $0.07 per share expected by consensus, though that represents a 36% drop compared to the first quarter of 2011. Sales grew 34% to over $13 billion, coming off a large base of over $9 billion in the first quarter last year. We are reiterating our $193 per share fair value estimate on Amazon , and we think the company's investments are yielding results.
Though we think the iPad still has a greater market share, we think, based on CEO Jeff Bezos's comments, that the Kindle Fire is making nice strides in the tablet/e-reader market. Margins on the products are difficult to estimate, though management has stated they are close to being break-even (or slightly negative). Despite the weak profitability, we think the Kindle Fire creates a sticky ecosystem for users to download books, movies, and games that will yield profits over the long-term.
Additionally, we think Amazon Prime is a huge hit with consumers. The company continues to add meaningful content partnerships, and we see the firm competing favorably against Netflix (NASDAQ:NFLX) and Comcast (NASDAQ:CMCSA) due to its unique platform. Amazon Instant Video on PS3 is a huge development; though we'd like to see them add the platform to Xbox Live (NASDAQ:MSFT), since we think Live is a better and stickier network. Prime also gives consumers free shipping, access to streaming, and a huge library of eBooks for a reasonable price. We think the firm will be able to slowly raise prices on Prime as customers get used to its excellent features.
Although the Fire and Prime appear to be rather successful, the company continues to struggle to generate cash. Operating cash-flow for the first quarter came in at negative $2.4 billion, while free cash flow also performed poorly. On a trailing twelve month basis, free cash flow decreased 39% compared with the preceding twelve-month period. Clearly the company is growing sells at a spectacular rate, but thus far, it hasn't been very profitable. Further, in the near-term, we expect margins to continue to be pressured by Kindle Fire sales and thin or negative margins on Amazon Prime.
However, it's undeniable that Amazon is well on its way to becoming the dominant electronic retailer in the world. The company is slowly driving brick-and-mortar retailers out of business, such as Radio Shack (NYSE:RSH) and Best Buy (NYSE:BBY), while creating a network of sellers comparable to eBay (NASDAQ:EBAY). Still, even if it does dominate online retail, we maintain our disciplined approach to stock selection and are steering clear of the shares on account of its score on our Valuentum Buying Index (VBI).
Amazon scores a 5 on our VBI. For some background, we think a comprehensive analysis of a firm's discounted cash-flow valuation, relative valuation versus industry peers, as well as an assessment of technical and momentum indicators is the best way to identify the most attractive stocks at the best time to buy. This process culminates in what we call our VBI (click here for an in-depth presentation about our methodology), which ranks stocks on a scale from 1 to 10, with 10 being the best. Essentially, we're looking for firms that overlap investment methodologies, thereby revealing the greatest interest by investors (we like firms that fall in the center of the diagram below):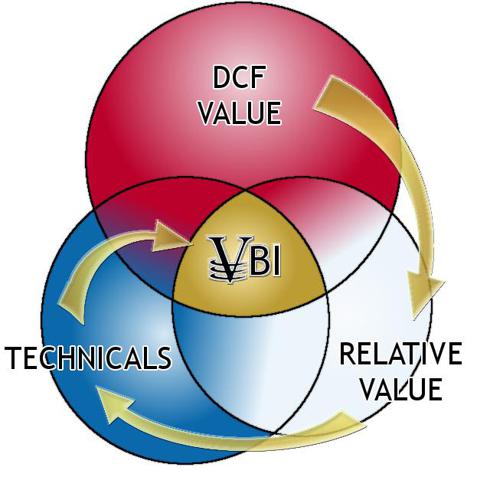 Click to enlarge
If a company is undervalued both on a DCF and on a relative valuation basis and is showing improvement in technical and momentum indicators, it scores high on our scale. Amazon's shares fail to impress on the basis of valuation.
Disclosure: I have no positions in any stocks mentioned, and no plans to initiate any positions within the next 72 hours.
Additional disclosure: EBAY is included in the portfolio of our Best Ideas Newsletter.