With almost 70% of Q1 2012 S&P 500 earnings reported so far, it looks like Q1 was another big quarter for American businesses. Earnings and dividends data appear to support the market rally and current S&P 500 (NYSEARCA:SPY) valuations.
Earnings Growth and 'Beats'
Bottom-up 12mth operating earnings for the S&P 500 are on track to hit record-breaking territory, supporting the S&P 500 Index recovery. As you can see in the chart below, earnings have essentially caught up to the S&P 500 Index level, providing support for current valuations.
click to enlarge images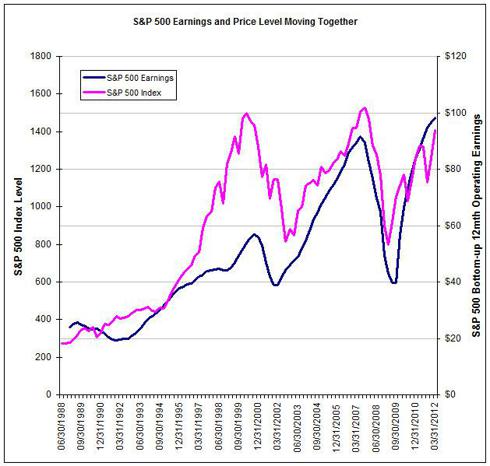 In addition to absolute aggregate earnings growth in dollar terms, 70% of Q1 2012 company earnings reports (so far) beat analyst estimates. This is also supportive of current market levels.
In Q4 2011 only 58% of company earnings reports beat expectations.
The chart below breaks out Q4 2011 and Q1 2012 company earnings 'beats' by sector.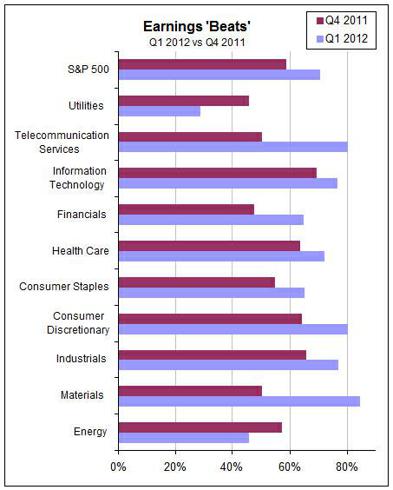 Note: For those interested in the companies that have yet to report, according to Howard Silverblatt, S&P Senior Index Analyst, earnings expectations for some of the remaining reporting issuers are as follows:
Solid Dividend Payments and Growth
Quarterly dividend payments for S&P 500 constituents is hovering around previous records, as shown in the graph below.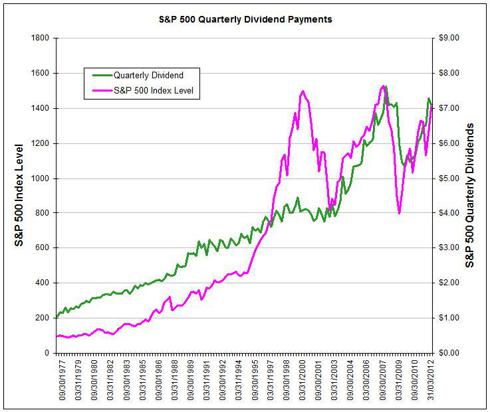 Not only has the aggregate dollar dividend on the S&P 500 risen, since the market bottom in 2009, the number of dividend increases has remained strong. The chart below compares YTD 2012 dividend increases with YTD data for previous years.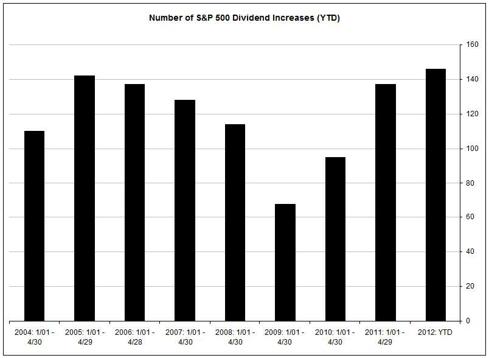 So far, 2012 looks like a big year for S&P 500 Index constituents. Assuming the pace is maintained, there is a compelling argument that the S&P 500 Index is fairly valued.
Disclosure: Data source: S&P Indices. This is not advice. While Plan B Economics makes every effort to provide high quality information, the information is not guaranteed to be accurate and should not be relied on. Investing involves risk and you could lose all your money. Consult a professional advisor before making any investing decisions.