Starbucks (NASDAQ:SBUX) posted solid fiscal 2012 second-quarter results after the close Thursday. Though we liked the quarter, we think the share price is a bit ahead of the company's valuation. We'll likely be raising our fair value estimate for Starbucks after factoring in the stronger-than-expected performance, but we still believe the shares are significantly overpriced.
The coffee chain's revenue advanced 15% thanks to global comparable sales growth of 7% driven almost entirely by increased traffic. Starbucks' China business did quite well, too, notching its seventh consecutive quarter of comparable sales growth exceeding 20%. Further, the company continues to experience strong sales of its Starbucks- and Tazo-branded K-Cup packs, with revenue in its Channel Development segment jumping almost 60%. During the quarter, Starbucks opened the doors on 176 net new stores across the globe. And all of this translated into bottom-line expansion of 18% at the company, with earnings per share coming in at $0.40 (consensus was at $0.39 per share). The earnings expansion would have been greater were it not for rising coffee costs that mitigated sales leverage during the period.
Looking ahead, we expect continued strong performance at Starbucks through the course of fiscal 2012. For one, management now anticipates the opening of 1,000 net new stores globally during the fiscal year and thinks revenue expansion will be in the low teens. The company's operating margin should expand modestly from the same period a year ago, despite higher commodity costs (which should ease in the back half of the year). Starbucks also raised its expectations for earnings per share to the range of $1.81 to $1.84, representing growth of more than 20% at the high end. Though we think this range is achievable, it disappointed most investors, which were anticipating even greater profit growth.
Starbucks earns a 6 on our Valuentum Buying Index (VBI). For some background, we think a comprehensive analysis of a firm's discounted cash-flow valuation, relative valuation versus industry peers, as well as an assessment of technical and momentum indicators is the best way to identify the most attractive stocks at the best time to buy. This process culminates in what we call our Valuentum Buying Index, which ranks stocks on a scale from 1 to 10, with 10 being the best. Essentially, individual investors and financial advisors that subscribe to our services are looking for firms that have overlapping investment methodologies (putting value first), thereby revealing the greatest interest by investors (we like firms that fall in the center of the diagram below):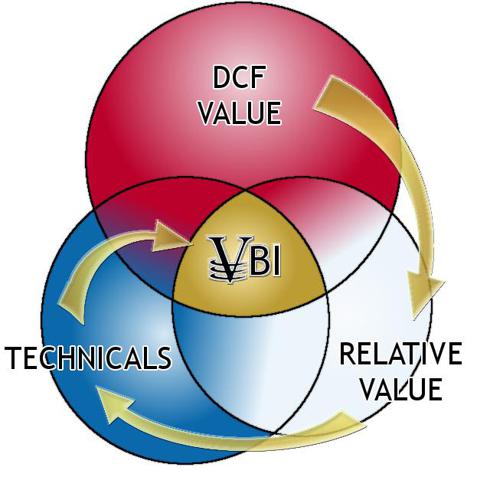 If a company is undervalued both on a DCF and on a relative value basis and is showing improvement in technical and momentum indicators, it scores high on our scale. Starbucks, unfortunately, does not meet our criteria, and we are steering clear of the shares in our Best Ideas Newsletter (for more information, please click on our links on our left sidebar).
Disclosure: I have no positions in any stocks mentioned, and no plans to initiate any positions within the next 72 hours.