My article 'Protein Bomb: The Case For Long-Term Investment In Arable Farmlands', discussed the growing population and emerging middle class of the developing market straining the worlds food resources and its effect on arable farmlands. Then in 'Food For Thought: China's Protein Story' we saw the example of China and its rising food consumption pattern that would raise the world's agricultural demand. Now we will talk about countries that are well-positioned to supply the needs of these developing markets.
Increased acreage to dominated global food production
Much of increase in global food production in the recent past was from productivity improvements (1-2% per year on average) and marginal 0.6% from increase in acreage. With no technological revolution or breakthrough in sight, global land used for agribusiness has to increase to meet the rising food demand. The UN's FAO estimates that more than 60% of the world increase in grain production has to come from newly opened areas in the next 10 years, given marginal room for productivity improvements.
Click to enlarge:

Source: FAO
Latin America: To help correct Protein Imbalance between Regions
Latin America is in a bright spot to capture this demand, being one of the prime suppliers of food to the world, and top producer and exporter of many soft commodities. This region remains the clear candidate to capture global incremental food demand. Latin America offers the following key sustainable competitive advantages that other regions do not. The production season in Latin America lasts the entire year in many areas, creating the possibility of double crops, high yields, and low cost of production. The region also boasts of:
Appropriate soil for farming

Available water

Regular rainfall and adequate sun

Economies of scale, logistics, and infrastructure

Low-cost land

Advanced technology, know-how, and qualified labor
Land availability - Not an issue in Latin America: Latin American countries have potential to expand crop area in areas with good water and good weather conditions.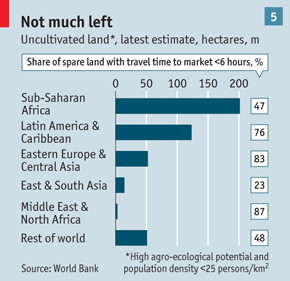 Water availability - Not an issue. Fresh water is abundant in many areas in Latin America, in excess of population needs, allowing them to export water in the form of soft commodities
Click to enlarge: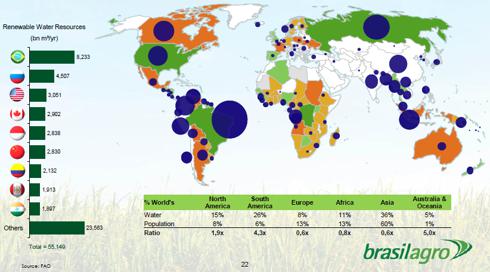 Click to enlarge: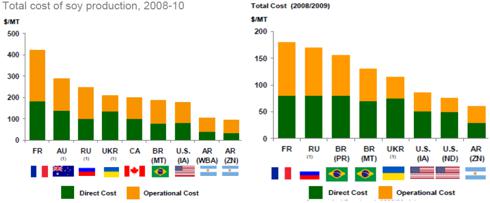 Source: Adercago
Why Brazil would be a Key Player?
Brazil is among the leading countries in several different agricultural activities, figuring among the top producers and exporters for most of the agricultural products.
Click to enlarge: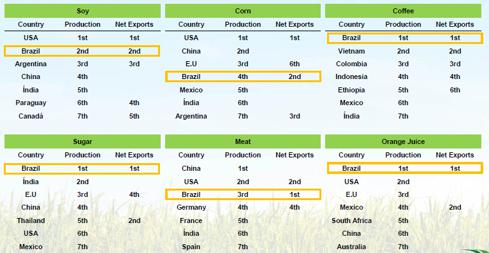 Source: BrasilAgro
The great amount of available arable land along with a great rainfall level gives Brazil an unbeatable combination. Brazil has the potential to more than double its grain area by converting pastures alone.
Click to enlarge: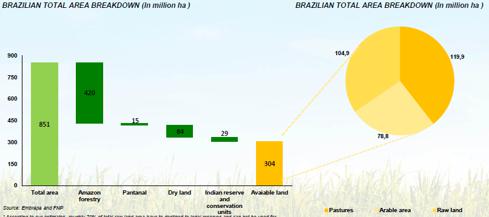 Source: BrasilAgro
Investment Options
Latin America has some good listed agricultural companies with a presence in most parts of the value chain. Some of the options available to U.S. investors are:
Disclosure: I have no positions in any stocks mentioned, and no plans to initiate any positions within the next 72 hours.