Results are upcoming - and what a moment to be part of the gaming industry. In three weeks, Activision Blizzard (NASDAQ:ATVI) will release its quarter figures and, and more importantly, provide an outlook on the future. The following is what you can expect to see.
Click to enlarge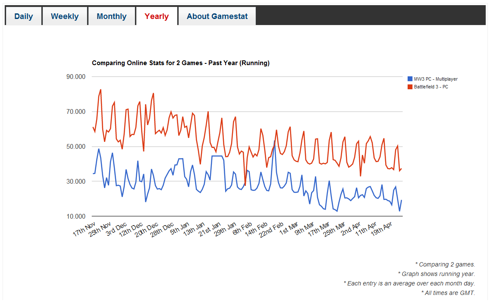 Figure 1. Call of Duty: Modern Warfare 3 versus Battlefield 3 activity (http://www.gamestat.co.uk/)
First of all, activity is dwindling greatly: my guess is that WoW subscription will fall to 8M (this quarter) and 5M (second quarter), respectively. Additionally, Call of Duty is already declining greatly (figure 1). Note, this is PC only, however signs of console reduction are likely just as present. Hence, serious revenue from Call of Duty: Elite is already off the chart. So what does the future bring?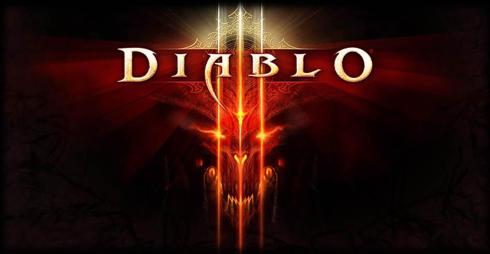 Indeed, Diablo 3. On the other hand, I have to admit that Diablo 3 is released on schedule, good and hyped. I am quite sure many hardcore gamers will buy this game, if not the collector's edition (priced at $100). My only concern regarding this game is its popularity among the mass.
When I look at forum activity, user videos and its gameplay I have to conclude it will not reach massive levels. For example, the game itself does not lend itself to the mass due to a dark world, continuously clicking and difficult settings. This is in sharp contrast with WoW, which is more colorful and more relaxing to play. With primarily hardcore gamers, keep in mind that some of them get Diablo 3 for free (WoW annual pass).
On to the business side, ATVI announced an expected EPS of 63 cents - a higher EPS than three of the previous years EPS where it had a fresh Call of Duty, original Starcraft 2 and a high level of WoW subscribers. Over the past years, a yearly GAAP EPS of -0.11 (2009), 0.09 (2010), 0.33 (2011) and 0.92 (2012) was realized. The downtrend has also been set in motion by its lowered guidance for the upcoming year. The question is, how come?
Click to enlarge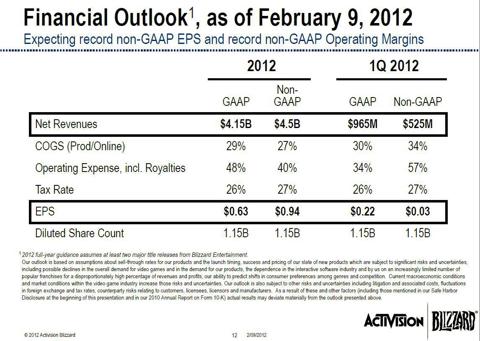 While Blizzard's part of the revenue might be able to reach the same heights as last year, how does Activision - accounting for more than 60% of the revenue - be able to make that this year with primarily Skylanders? Of course, I have heard of Call of Duty: Black Ops 2, unfortunately, gamers are fed up with the current installment and do not even expect a better version with just one year of development (in retrospect, World of Warcraft took an approximately ten years of development).
Overall, there is simply no way that ATVI will reach the average EPS of the past years, let alone the 63 cents per share.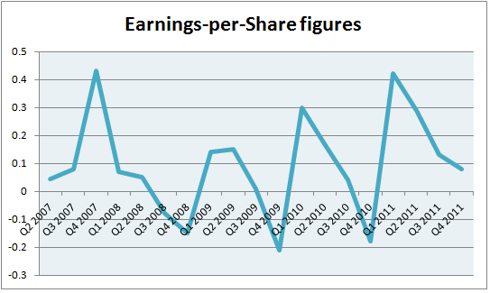 Figure 2: EPS details over the years, average quarterly EPS of $0.094
The current stock price is 12,82, that is an estimated 20-year average profit of 0,64 cents without even discounting. How can Activision continue to fight its competitors, piracy and free-to-play for 20 long years? ATVI is not the Apple (NASDAQ:AAPL) in gaming, as Bethesda (Skyrim, Rage, Dishonored) just took over. Additionally, ATVI produces intangible goods - heavily weighted to hypes and trends. While I would rely on Blizzard's continued success, Activision, accounting for most of the revenue, can fall at any moment.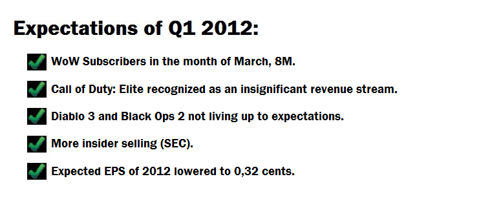 I cannot stand by idly; as such I have already taken a short position.
Disclosure: I am short ATVI.