SeaDrill (NYSE:SDRL) gave a presentation at the Howard Weil 40th Energy Conference on March 28, 2012. It was one of several companies that gave presentations at this event and the presentations all provided reasons to be optimistic about the future of the offshore drilling industry. I recommend that investors who have a strong interest in this sector take a few moments to look through SeaDrill's presentation (linked above).
SeaDrill owns and manages a diverse and modern fleet of 62 offshore drilling rigs, evenly split between the major rig types. This fleet consists of 21 ultra-deepwater drillships and semisubmersible rigs, 21 jack-up rigs, and 20 tender rigs. This provides SeaDrill with the ability to effectively drill at any water depth that a customer would require. The company is also quite globally diversified, with multiple rigs operating in every major region for the industry.
click to enlarge images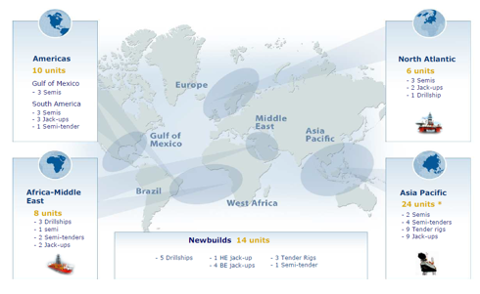 Click to enlarge
Source: SeaDrill Ltd.
The Macondo spill in 2010 and recent events in Brazil have convinced me of the need to be internationally diversified. This is to reduce both exposure to any one area and, consequently, risk. SeaDrill appears to satisfy this need quite well. As shown above, the company has rigs operating in the Gulf of Mexico, Brazil, West Africa, the Middle East, the Asia Pacific region, and the North Sea and Norwegian Continental Shelf.
The industry continues to see success in exploration of ultra-deepwater areas around the world. This includes discoveries in Norway, the Angolan pre-salt, the U.S. Gulf of Mexico, Mozambique, and many other areas.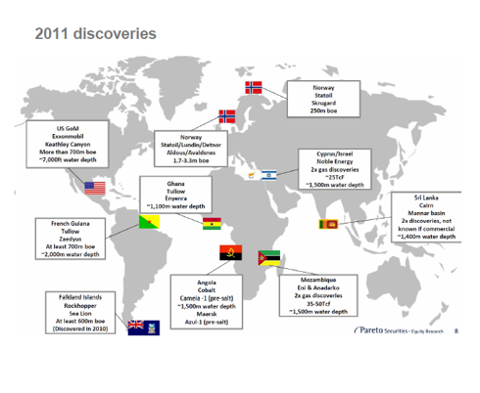 Click to enlarge
Source: SeaDrill Ltd.
These new discoveries will generate demand for ultra-deepwater rigs going forward as the companies involved begin to exploit them. In addition to new discoveries, the industry is seeing other sources of demand. Offshore projects in Brazil are continuing to rapidly come online, requiring more and more rigs. This is currently one of the fastest growing offshore markets in the world. The Gulf of Mexico is becoming another growth driver for the industry as the drilling restrictions that followed the Macondo blow-out slowly begin to be rescinded. SeaDrill stated in its presentation that the West Africa region, particularly the Angolan pre-salt plays, are also becoming an increasingly powerful driver of growth. The North Sea is also seeing a revitalization of activity as new technology has enabled previously mature fields to become viable once again. Meanwhile, the supply of rigs is not keeping up with demand. SeaDrill noted in its presentation that the newbuilds coming out of shipyards are simply being used to replace older rigs which are then retired. The newbuilds are not materially increasing the size of the worldwide fleet. This is partly due to the after-effects of the Macondo blow-out in 2010. As a result of that, customers are increasingly demanding quality, modern rigs that have all of the latest safety equipment. Older rigs that cannot meet this demand are thus being decommissioned and replaced with newbuilds. This trend directly benefits SeaDrill as it does not need to have rigs out of commission due to refitting to the same degree that its competitors do. The company is also able to effectively fulfill the customers' demands for modern, safety-focused equipment as it has one of the most modern fleets in the industry.
SeaDrill is the world's largest operator of jack-up rigs, defined here as rigs built after the year 2000 and capable of operating in more than 350 ft. of water. SeaDrill has seen some of the same trends here that are being seen in the ultra-deepwater market. In particular, the company notes that the number of warm-stacked rigs has been decreasing significantly. Additionally, newbuilds are being contracted out as quickly as they can be built. This indicates that demand for these rigs is beginning to exceed supply, just like what is happening in the ultra-deepwater rig market. The primary demand driver here though appears to be the Arabian Gulf. SeaDrill recently contracted out two rigs, the West Triton and the Offshore Resolute, to customers that will be drilling in the Arabian Gulf. Southeast Asia continues to be a strong driver of jack-up demand as well.

Click to enlarge
Source: SeaDrill Ltd.
SeaDrill notes that the dayrates for jack-ups are not showing the same strong growth that is being seen for ultra-deepwater rigs. There have been signs of gradual increases at the upper end of the market though. What SeaDrill has seen is an increasing contract length for these rigs. This is beneficial for the company because it secures the cash flows from the rig for a much longer period of time. This provides more earnings visibility which can aid financial planning and decision-making by the company's management.
SeaDrill also has the largest fleet of tender rigs in the world and is the only major drilling company to participate in this niche market. Historically, the primary markets for tender rigs were the shallow-water environments of West Africa and Southeast Asia and these remain the largest markets for tender rigs today. However, the market is now beginning to expand to Central and South America. SeaDrill also notes that the tender rig concept is now being used, in combination with TLPs and Spars, to drill in deepwater environments. This increased demand is hitting a relatively static supply and this is causing dayrates for tender rigs to shoot upward.
SeaDrill stated in its presentation that daily rates are back to their all-time highs. This is true for all types of rigs except for benign environment jack-ups.

Click to enlarge
Source: SeaDrill Ltd.
SeaDrill is well-positioned to take advantage of these rising prices. The company has fourteen newbuilds that will be completed between now and the end of 2014. Four of these are under contract with the remaining ten being classified as speculation rigs, or rigs built with the expectation that the rigs can be contracted out. The company is unlikely to have difficulty contracting these out given the current situation in the offshore market. These speculation and contracted rigs have the potential to significantly increase SeaDrill's cash flows going forward. Unfortunately, SeaDrill will see little to no cash flow growth from newbuilds in 2012. The first two newbuilds of these fourteen that will be delivered are the West Telesto and West Tucana. These two rigs are expected to leave their respective shipyards in December and so will not be available for assignment until 2013. Additionally, both of these rigs are benign environment jack-ups which, as was stated earlier, have not seen the same strength in rates that other rig types have.
SeaDrill's newbuild program looks much better in 2013. Ten rigs are expected to be delivered throughout the year.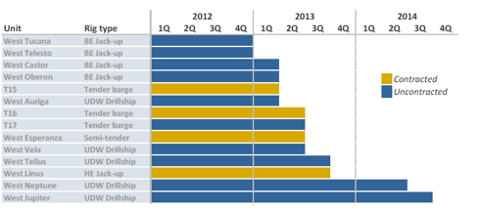 Click to enlarge
Source: SeaDrill Ltd.
The company's cash flow growth in 2012 will come primarily from re-contracting out existing rigs as the contracts expire. The newbuild program will begin driving growth beginning in 2013 and continuing through until the fourth quarter of 2014. SeaDrill's management expects that the newbuild program alone could add more than $1.3 billion in EBITDA by 2015.
Disclosure: I am long SDRL.