Below is an updated look at our key ETF matrix, which highlights the recent performance of ETFs across all asset classes. For each ETF, we show how it has performed over the last week, month to date, and year to date.
Every single US equity ETF except for Consumer Staples (NYSEARCA:XLP) posted a gain last week, with the S&P 600 Smallcap Growth ETF (NYSEARCA:IJT) up the most at +2.79%. Other big winners for the week included the Russell 2,000 (NYSEARCA:IWM), Midcap Value (NYSEARCA:IJJ), Smallcap Value (NYSEARCA:IJS), Consumer Discretionary (NYSEARCA:XLY) and Energy (NYSEARCA:XLE). Consumer Staples (XLP) was down due to the Wal-Mart (NYSE:WMT) bribery scandal in Mexico.
International markets didn't fare as well last week, in particular the BRICs. As shown, Brazil (NYSEARCA:EWZ), Russia (NYSEARCA:RSX), India (NYSEARCA:INP) and China (NYSEARCA:FXI) were all down on the week. Fortunately, Europe managed to post gains for the week, but most of the continent is still down significantly for the month.
Fixed income had another nice week to round out what has been a very strong month. The 7-10 Year Treasury ETF (NYSEARCA:IEF) is now up for the year after gaining 26 basis points last week and 225 points for the month.
For the year, the Nasdaq 100 (NASDAQ:QQQ) has posted the biggest gain at 20.44%. The Financial sector ETF (NYSEARCA:XLF) is hot on its tail, however, with a gain of 19.38%. Other big winners so far in 2012 include Consumer Discretionary (XLY), Technology (NYSEARCA:XLK), Germany (NYSEARCA:EWG) and Mexico (NYSEARCA:EWW).
Six ETFs are down in 2012, led by none other than natural gas (NYSEARCA:UNG) with a decline of 39.24%. Spain (NYSEARCA:EWP) is down the second most with a decline of 12.65%. The other four ETFs that are in the red for 2012 are the Yen (NYSEARCA:FXY), Utilities (NYSEARCA:XLU), 1-3 Year Treasuries (NYSEARCA:SHY) and 20-Year+ Treasuries (NYSEARCA:TLT).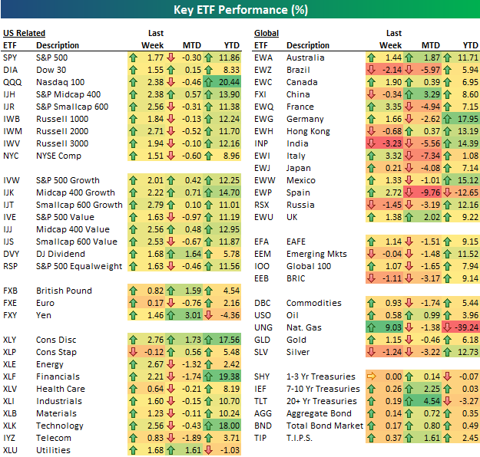 Click to enlarge