The retail investor has opportunistic and nimble opportunities to earn 10% plus annual yields on their portfolios. These returns include the benefit of risk adjusted benefits. The big hedge funds and mutual funds focus upon the larger sized market capitalization stocks. As opportunities present financial rewards, retail investors can earn high yields with less market risk.

As an individual investor I want to seek out high yield, and positive index risk adjusted returns. This usually requires a catalyst or a discussion that is not on the front page of the Wall Street Journal. I focus upon spin offs, warrant offerings, high yielding trusts , closed end funds, micro capitalization stocks, and hedging - as needed - the portfolio .
Right Stock at the Right Time: Hatteras Financial (NYSE:HTS)
Hatteras Financial is a mortgage real estate investment trust (mREITs) founded in 2007 that invests in single family residential mortgage pass through securities with a U.S. Federal Government implicit guarantee of par value. Hatteras is advised and externally managed by Atlantic Capital Advisors, LLC.
Hatteras generates net interest income from the difference between the interest it earns on its mortgage investments and the interest it pays for its borrowings. Hatteras incurs expenses tied to the administration and operation of the REIT, management fees and gains or losses tied to its investments and hedging activities. The resulting net income is what Hatteras substantially distributes to shareholders.
As a mortgage REIT, Hatteras faces interest rate risk, prepayment risk and credit risk tied to its balance sheet and ability to raise equity and debt capital, for which Hatteras needs to carefully manage its capital structure. To minimize earnings volatility, Hatteras selectively enters into hedging contracts. In addition, Hatteras seeks capital gains by purchasing under-priced securities that rise in value over time.
As of March 31, 2012, Hatteras' MBS portfolio had a fair value of $18.3 billion with 97.9% invested in adjustable rate MBS and 2.1% in 15-year fixed-rate MBS.
Financials:
As the table below shows, for its first quarter ended March 31, 2012 (1Q 2012), Hatteras reported net income of $69.3 million, 21.1% higher than the first quarter of 2011 (1Q 2011). This income was derived from an average interest spread of 1.58%. This increase in net income was higher than the 17.8% increase in net interest income over the year. Earnings per share were 89 cents and the dividend payout ratio was 101%.
As of March 31, 2012, Hatteras had $18.3 billion in MBS investments, up 3.3% over the past year, making its 17.8% increase in net interest income all the more impressive. At quarter end, it held debt of 16.6 billion, 6.2 times its equity of $2.7 billion, down from 7.8 times a year ago primarily due to the additional equity of $529 million raised in the first quarter of 2012.
Dividends:
For its first quarter ended March 31, 2012, Hatteras declared a dividend of 90 cents per share. Since its founding in November 2007, Hatteras has regularly paid quarterly dividends. Over the past three years, Hatteras dividends have varied from a high of $1.20 to a low of $0.90, as the chart below shows.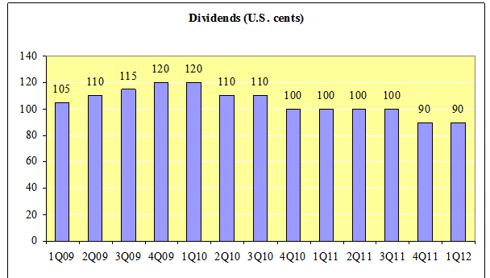 At 90 cents, Hatteras has an annualized dividend of $3.60 and a dividend yield of 12.4% with shares trading at $29.09 as of April 27th closing price. Hatteras sports a market capitalization of $2.2 billion. The book value per share, as of March 31st, is $27.30 per share. Hatteras is trading at a 6.5% premium to book value per share. I would wait to buy Hatteras closer to the $27.30 book value per share.
AT&T, Inc. (NYSE:T)
Investors have obtained a (-1.3%) percent return, total annualized rate, over the past 5 years. I believe investors have zero rationale to invest in AT&T. The yield is a unappealing 5.4%. The run up in price has been due to the smartphones, the high market cap in the indices, and the brand name.
Lacking Revenue Growth
AT&T grew revenues in the year over year quarter by 1.84% from the 2010 4th quarter. AT&T is trading at 45.97x trailing price to earnings multiple. The equity's growth and earnings prospects are known to everyone on Wall Street. The company has inferior return on equity and return on capital.
Expedia (NASDAQ:EXPE) December Spin Off
The Expedia spin off of Trip Advisor (NASDAQ:TRIP) was a winning investment. Expedia separated Trip Advisor to distinguish the two entities. The stock is up 37% since December 2011. Often times a spinoff can create shareholder value. Investors have to wait for the spinoff to fully develop.
ConocoPhillips (NYSE:COP) May Spin Off
Conoco and Phillips 66 will spin off on May 1st. The shares are trading "when issued" at the present time. The goal is to separate the Conoco upstream oil and natural gas from the Phillips 66 refinery business. Conoco will yield 5% after the spinoff and stock buybacks, along with significant stock buybacks, to make a compelling long position.
Kinder Morgan (NYSE:KMI) Warrants
Investors can purchase Kinder Morgan warrants which provide the opportunity to buy Kinder Morgan shares at $40 for 5 years. This is an attractive legal term to profit by the potential for the general partner shares to move upward from current prices. Kinder Morgan is the general partner of the largest midstream master limited partnership in N. America.
Summary
Investors can outperform the indices, with reduced risk, if they want to put some time into managing their portfolio. This isn't a Boglehead style, but rather truly researching for outperforming ideas. Minimize your risk exposure and invest with confidence.