It was exactly one year ago this weekend. After a seven-month meteoric rise that began the moment Ben Bernanke completed his now legendary Jackson Hole speech in late August 2010, Silver reached a climatic peak on April 28, 2011. The year that has since passed has been far more humbling for the white metal. But with speculative cleansing comes new opportunity. Although the price activity in Silver is now relatively calm, we may soon be on the brink of its next dramatic move.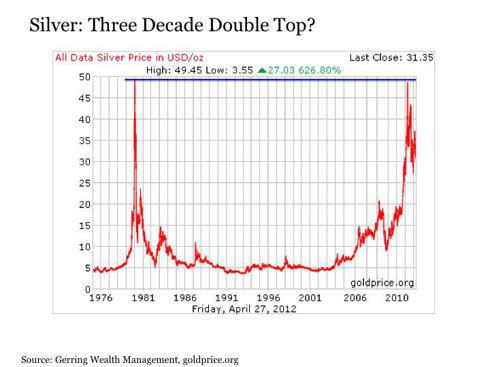 Click to enlarge
The Silver price peak that occurred one year ago was particularly notable from a historical perspective. This is due to the fact that Silver skyrocketed to virtually the same exact high just below $50 that was first reached back in January 1980 when the Hunt brothers attempted to corner the market. Within two months after this previous peak in 1980, Silver lost over 75% of its value in falling back to $11. However, the same fate has not befallen the white metal this time around. While the losses since have been sizeable - it dropped by -30% within the first month after its April 2011 peak and continued lower through the remainder of the year to post a total peak to trough decline of -44% - it has since stabilized. And more significantly, despite the considerable drop from its peak, the long-term bull market remains very much alive and well.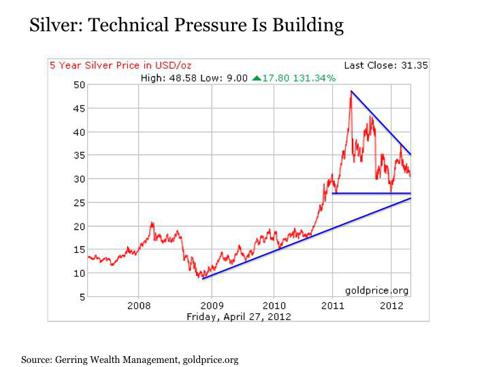 Click to enlarge
Silver has been in a bull market since January 2002. Not coincidently, this was exactly the moment that U.S. policy makers shifted to a weak U.S. dollar policy. But it has been in the most recent stage of the Silver bull market where the slope of the uptrend has notably increased. Not surprisingly, this latest phase began in the immediate aftermath of the financial crisis in late 2008. Put simply, once the monetary printing presses began warming up, so to did the Silver price. And although Silver certain ran ahead of itself in late 2010 and early 2011, it remains well above support at its long-term technical uptrend line. Moreover, Silver managed to find firm support in the $27 range, which marked the final lows in late January 2011 before it embarked on its parabolic rise in nearly doubling over the next three months.
Now that Silver has cleansed the speculative excesses of a year ago, it has more recently been moving sideways in an increasingly languid way from a momentum perspective. But as this trend continues, the long-term upward trend line that began in late 2008 is quickly converging with the more recent downward sloping trend line that has developed since its April 2011 peak. These trend lines are set to converge at around $30 in the coming months. As a result, something soon has to give for the Silver price.
Two factors support an upside breakout for Silver in the coming months.
First, the fundamental backdrop is likely to remain highly supportive. Global policy makers remain firmly engaged in a battle to avert crisis and stimulate growth. Included in this effort is persistently generous monetary stimulus and competitive currency devaluation. This is highly supportive of hard assets such as Silver.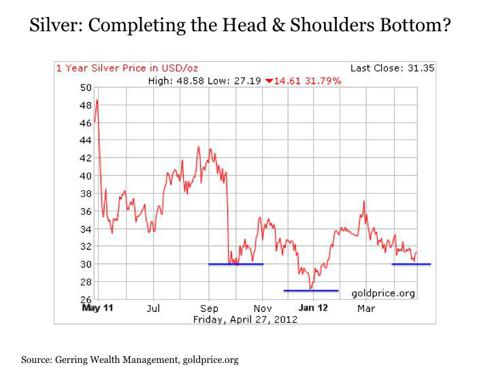 Click to enlarge
Second, Silver is continuing to set up favorably from a short-term technical perspective. At present, it appears close to completing a head and shoulders bottom pattern. After first retreating to the $30 level last September, it rallied to the $35 level before falling back to support in the $27 range. In the months since, it surged back to the neckline in the $35 range before descending once again. And just this past week it fell back to the high $30 range before bouncing higher to close out the week.
Looking ahead over the next few weeks, Silver holding support in the $30 level will be particularly important in completing this technical bottoming pattern. If it manages to do so and goes on to breaks above its $35 neckline resistance that also happens to be the current level of its downward sloping trend line, the subsequent upside could be meaningful. Thus, the Silver price will merit particularly close attention in the coming days.
Disclosure: I am long SLV.
Disclaimer: This article focuses on the Silver spot price. However, those that are interested in establishing a position in Silver can either buy the physical metal or may also consider the variety of exchange traded products including the iShares Silver Trust (NYSEARCA:SLV), the ETFS Physical Silver Shares (NYSEARCA:SIVR), the PowerShares DB Silver ETF (NYSEARCA:DBS) and the UBS E-TRACS CMCI Silver Total Return (NYSEARCA:USV). Shares of Silver Wheaton (NYSE:SLW) also merit consideration under this framework as well. Regardless of your exposures, one fact that is important to keep in mind is that Silver is not an investment for the faint of heart or the risk averse. It is a highly volatile instrument that is prone to several percentage point moves on any given trading day. But for those with the risk tolerance, maintaining positions in the white metal may continue to be rewarding moving forward.
This post is for information purposes only. There are risks involved with investing including loss of principal. Gerring Wealth Management (GWM) makes no explicit or implicit guarantee with respect to performance or the outcome of any investment or projections made by GWM. There is no guarantee that the goals of the strategies discussed by GWM will be met.