By Carla Pasternak
The Nicholas-Applegate Convertible & Income Fund's (NYSE: NCV) $1.5 billion portfolio is divvied up between convertible bonds (54%), high-yield bonds (44%), and cash (2%). An average credit quality of BB- puts the portfolio one rung below investment grade, although roughly a third of its assets rank as investment grade.
Top holdings include a $34 million stake in a high-quality, Triple A-rated convertible bond issued by smokeless tobacco and wine maker UST (NYSE: UST), a $25 million position in the convertible preferred shares of power generator NRG Energy (NYSE: NRG), and another $25 million holding in an investment-grade convertible of Canadian insurance giant Fortis [TSX: FTS-UN.TO].
The portfolio carries an average yield of 9%, and the fund juices returns by leveraging (borrowing against) about a third of its assets by issuing short-term preferred shares.
NCV has paid a regular dividend of $0.125 per share every month since inception in 2003. It also dishes up a year-end capital gains payout. With a total payment of $1.50 over the past 12 months, the fund offers a yield of 11.7%.
A management fee of 1.27% of the fund's asset value trims your total returns. Most of last year's dividend was taxed as ordinary income, but about 19% qualified for the reduced dividend tax rate and 12% as long-term capital gains, taxable at the 15% rate.
Allianz Global Investors fund managers maintain a dividend reinvestment program, and you can contact them at 1-800-331-1710.
NCV has produced total returns (including distributions) of around +12% annually over the past three years, beating more than a third of the funds in its category. So far this year, the portfolio has grown a healthy +9% with reinvested dividends. But investors grew wary of high-yield investments like NCV in the aftermath of this summer's subprime mortgage crisis. As a result, the fund's market value returns with reinvested dividends are far lower at -5% year-to-date.
The shares were trading at a premium for a year and a half -- until they nose-dived this summer amid the subprime mortgage meltdown. They can now be scooped up at a -4.3% discount, giving you a dollar's worth of assets for just 96 cents.
Action To Take ---> Given its growing portfolio, the fund should continue providing steady double-digit returns over the long term. The discounted share price may provide an opportune entry point for an investor seeking a steady income stream and willing to tolerate some volatility in the share price.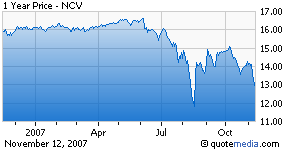 Disclosure: none