Monday is the last trading day for April. For those that use monthly averages for quantitative strategies, it is time again to roll forward and review where the markets stand relative to their 10-month moving averages. (I use the 10-month moving average as part of an active risk management strategy to help lower volatility. The basic methodology is described in this paper.)
While momentum in the overall market has slowed since February, it has not been until April that we have seen the initiation of a correction in the market since the October-December time frame. While most investments have performed admirably including technology and consumer industries, the "risk-on" investments, including international, emerging markets, natural resources, and precious metals, have been on the bubble relative to their intermediate trends.
The first "risk-on" investment to fall has been precious metals. The SPDR Gold Trust ETF (NYSEARCA:GLD) was one of the only asset classes that I closely follow that traded below its 10-month moving average at the end of March. With the SPDR Gold Trust trading at $161.03 as of Thursday night's close, compared to the expected roll of $164.03, I am expecting precious metals to remain below their intermediate trend. Note that since the first 10-month moving average calculated in August of 2005, the SPDR Gold Trust has traded 72 months of the last 81 months above its 10 month-moving average or 88.9% of the time. I wouldn't be surprised to see a reversal sooner rather than later.
The other "risk-on" asset classes currently flirting with their 10-month moving averages include international, emerging markets, and commodity-oriented investments. While the MSCI Spain Index Fund (NYSEARCA:EWP) has not been above its 10-month moving average since last June - in general, International ETFs have held above their moving averages. The MSCI EAFE Index, which is investable through iShares (NYSEARCA:EFA) or Vanguard (NYSEARCA:VEA) should remain positive through the end of April. PowerShares International Dividend Achievers (NYSEARCA:PID) also has held up through April. This will mark the 3rd month that the International ETFs will be above their intermediate trends since turning below their 10-month moving averages last July.
Emerging markets represented by iShares MSCI Emerging Markets Index Fund (NYSEARCA:EEM) has been flirting with its 10-month moving average but closed 1% above its average as of Thursday night. I believe there is a reasonable chance that EEM will trade above its 10-month moving average for the reminder of April.
Lastly, while I track several commodity ETFs, including United States Commodity Index Fund (NYSEARCA:USCI), PowerShares DB Commodity Index Tracking Fund (NYSEARCA:DBC), and iPath S&P GSCI Total Return Index ETN (NYSEARCA:GSP), I prefer a combination of the basic materials and energy sectors as increased exposure to the natural resource sector. This eliminates some of the challenges of investing directly in the commodity, while receiving dividends to boot.
The S&P Energy Select Sector SPDR (NYSEARCA:XLE) has dipped below its 10-month moving average earlier in the month with a low of $68.24, compared to its expected roll price for the end of April of $69.73. However with a strong rebound in the past two days, XLE is currently trading at $70.83 and has a slim buffer. The S&P Materials Select Sector SPDR (NYSEARCA:XLB) has been the better half of the pair. Despite weakness in copper and other metals, it remains ~4.9% above its 10-month moving average.
Fixed Income Rebounds
The fixed income sector was negatively impacted in March given the spike in 10-year Treasury rates. However, as yields on the 10-year have drifted back below 2.0%, most fixed-income related ETFs have rebounded. The iShares Barclays 20+ Year Treasury Bond (NYSEARCA:TLT) was as high as 25.1% above its 10-month moving average last September versus only 0.8% as of March (which is partially a function of the strength in long duration Treasuries in 2011). The ETF has now rebounded to above 3.2% above its intermediate trend. The high-yield ETF, iShare's iBoxx $ High Yield Corporate Bond Fund (NYSEARCA:HYG), remains solidly above its 10-month moving average. Since the iShares high yield bond fund began trading, the fund has averaged 6.5% above its trend and is currently 4.8% above.
Figure 1: iShares Barclays 20+ Year Treasury Bond Fund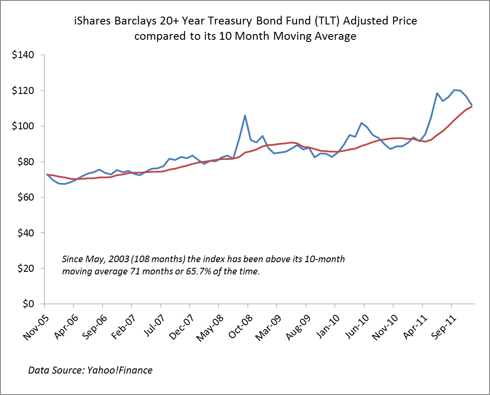 Click to enlarge

Summing it up: Entering May, the "risk on" or global growth themes remain rocky and will be impacted by the relative stability in Europe and future economic growth rates in China. While momentum clearly has waned, "risk on" rolls on into May.
Disclosure: I or my clients are long XLE, XLB, EEM, HYG, PID.