Shares of Deckers Outdoor Corp (NASDAQ:DECK), maker of UGG boots, are down over 50% during the past six months. However, there are now four reasons to consider buying DECK.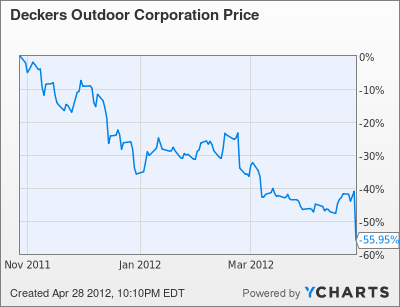 Valuation
DECK trades at 10.2 times past earnings and 8.9 times forward earnings. As shown in the chart below, this valuation is close to an all time low for DECK. In the past, DECK had traded at nearly 40 times earnings.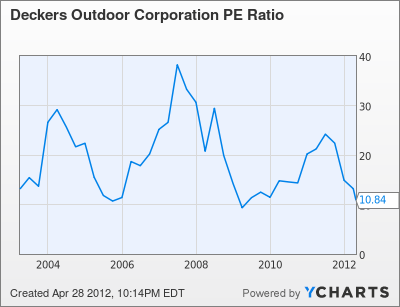 Weather
The 2011-2012 winter was the fourth warmest of record dating back to 1895. The warm weather was not good for DECK as it reduced demand for UGG boots. CEO Angel R Martinez said on the Q1 conference call:
For the UGG brand, as I mentioned, we believe that the extended period of warm weather throughout the first quarter has adversely impacted cold-weather UGG brand boot sales. However, we also believe that the UGG brand continues to make important inroads, developing a more meaningful spring season business.
If we get a more normal winter in 2012-2013 DECK should benefit. If we get another warm winter, DECK will not be hurt as much because the stock is not priced for perfection.
Capitulation
On Friday, April 27, DECK shares plunged over 25% to a new 52 week low following a weaker than expected Q1 earnings report. DECK traded over 14 million shares. DECK has just 38.5 million shares outstanding, so the 14 million share turnover represents a significant portion of the shares outstanding. This was the highest volume day since 2008. The volume suggest that Friday may have been the final capitulation day for the stock.
Short Interest
As of mid April (when short interest was last updated), short interest stood at 25% of the float or 8.33 million shares. The high short interest means that DECK is a candidate for a short squeeze if any positive news emerges. Also, short sellers may decide to cover because they have been proved correct and it no longer makes sense to stay short DECK. In any event, the high short interest represents the potential for DECK to make a huge move upwards if the news improves.
Conclusion
While DECK shares have not done well over the past six months, there are now reasons to consider buying DECK. The cheap valuation, potential change in weather, capitulatory trading action, and high short interest all make DECK a compelling buy.
Disclosure: I have no positions in any stocks mentioned, but may initiate a long position in DECK over the next 72 hours.