Corporate earning releases are past history, and at times will have little effect fundamentally moving forward.
Celgene's latest earnings release fits into this category well. Although the company missed on several product fronts in the first quarter, they stated that there was positive momentum heading into the second quarter. The first quarter miss was due to three items of note, US Revlimid sales weakness was due to a Medicare coverage gap expense. Second, draw down of inventory levels outside of the US occurred, and third, SG&A expenses increased to 25.6% of revenues up from 23.6% of revenues in the fourth quarter and breaking three sequential quarters of decline. All could be considered one time events.
More importantly the company reiterated prior 2012 guidance, and other positives included, gross margins of 94%, and increased EPS year over year by 30% for the quarter. Both rather impressive.
So why did the stock sell off to the tune of - 6.40% on Thursday. One could say a miss is a miss, but behavioral finance will tell us that if expectations were extremely high for a strong quarter and those expectations get crushed, then a drop in share price could accelerate to the downside as people leave the stock behind for what could be perceived as better opportunities.
Friday was a good day to be buying shares or covering short term hedges. Three primary items are of importance when I look for a bottom in a stock after a plunge. First, high capitulating volume, second, pessimism among the investment community particularly the analyst crowd, and third a chart that supports a lower risk buy point. The volume on Thursday eclipsed 10 million shares, and over 3 1/2 times the last 3 month average volume. A few analyst downgrades occurred after the stock had already plunged. Technically, the buying opportunity exists because the stock has pulled back to a nice area of prior support illustrated by the chart below.
click to enlarge image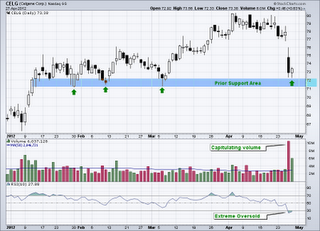 Click to enlarge
Bottom Line: We went into the earnings release with puts and covered calls as short term hedges. We covered those hedges on Thursday and Friday leaving us long CELG again. I am reiterating my 2012 price target potential of $100.00 per share based on 2012 catalyst, and significant PEG ratio value compared to peers within the sector. Thank you for reading.
Disclosure: I am long CELG.