From 2009-2011, I tracked a small-cap value portfolio which contained stocks only with a history of recent earnings surprises. The portfolio performed reasonably well over the course of its existence, but was discontinued as Scott's Investment's decided to focus on dividend portfolios and ETF strategies. However, given that we are in the midst of earnings season and equity markets appear near an inflection point, now is an appropriate time to check-in on the screen's results.
The list could unveil some volatile names so further due diligence is always required. However, it may be a list to start further research based in part on your overall opinion of the near-term equity market direction. If you are in the "Sell in May and Go Away" crowd, or Spain has you worried, then this list may not be of interest. If you think we could buck the seasonality headwinds and the global macro and economic picture is looking brighter, then this list could contain a few hidden gems.
The screen is conducted using stockscreen123 and screens for the following:
Market cap under $1 billion
Daily average volume greater than 25,000 share
PEG ratio < 1
Recent history of earnings surprises
P/E using estimate of current year EPS < 20
Recent close above the stocks 200 day simple moving average
The current screen yields 19 names. Keep in mind that we are in the midst of earning season, so the most recent quarter's earnings may not have been reported for all of the companies listed below.
One name on the list that reported earnings after hours today (April 26th) was Cray Inc (NASDAQ:CRAY). The company continued their recent trend of earnings surprises. According to Briefing.com, Cray beat earning expectations by $.10/share ($.13 actual vs $.03 expected) and raised their fiscal year 2012 revenue above consensus to $430-$450 million.
The stock already gapped up two days ago on news that Intel was purchasing their network assets for $140 million. Given that the stock gapped up two days prior to earnings then consolidated, it will be interesting to observe the impact of the improved earnings and guidance on the share price.
Click to enlarge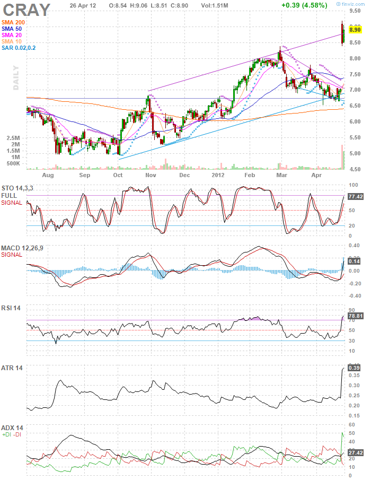 (Chart courtesy of Finviz)
Below is the full list of 19 stocks meeting the screen criteria:
| | | | | | |
| --- | --- | --- | --- | --- | --- |
| Ticker | Name | | MktCap | ProjPE CurFY | PEGLT |
| TITN | Titan Machinery Inc. | | 710.77 | 12.74 | 0.54 |
| LAD | Lithia Motors Inc | | 697.44 | 11.48 | 0.49 |
| OMN | OMNOVA Solutions Inc. | | 358.45 | 10.93 | 0.64 |
| OMPI | Obagi Medical Products, Inc. | | 235.29 | 13.69 | 0.83 |
| AYR | Aircastle Limited | | 872.85 | 9.03 | 0.7 |
| FLOW | Flow International Corporation | | 188.09 | 19.56 | 0.84 |
| AACC | Asset Acceptance Capital Corp. | | 154.34 | 11.44 | 0.79 |
| ANDE | The Andersons, Inc. | | 937.18 | 11.01 | 0.77 |
| SIMO | Silicon Motion Technology Corp. (AD | | 636.22 | 11.23 | 0.66 |
| CNTY | Century Casinos, Inc. | | 68.05 | 15.31 | 0.39 |
| ATRO | Astronics Corporation | | 396.65 | 16.67 | 0.78 |
| PNK | Pinnacle Entertainment, Inc | | 707.88 | 15.06 | 0.89 |
| LIOX | Lionbridge Technologies, Inc. | | 167.48 | 13.95 | 0.47 |
| UCTT | Ultra Clean Holdings, Inc. | | 155.37 | 9.26 | 0.81 |
| PRIM | Primoris Services Corp | | 769.71 | 12.13 | 0.63 |
| OWW | Orbitz Worldwide, Inc. | | 350.83 | 13.72 | 0.44 |
| BCDS | BCD Semiconductor Manufacturing Ltd | | 106.01 | 13.28 | 0.47 |
| TSEM | Tower Semiconductor Ltd. (USA) | | 304.39 | 8.15 | 0.38 |
| CRAY | Cray Inc. | | 315.13 | 16 | 0.84 |
Disclosure: None