April 2, 2012, Seeking Alpha blogger, respected stock analyst, and creator of Fastgraphs, Chuck Carnevale, published 29 Dividend Champions That Beat The Market, Inflation & 2 Recessions Since 2001. He listed top 29 blue chip dividend growth stocks that: (1) consistently raised dividends for 37 years (or more), (2) were at or below fair market value in 2001, (3) outperformed the S&P 500 on a total return basis.
Mr. Carnevale's April 2 article was a follow-up to an earlier article on March 28, that was stimulated by commentary on an article on March 16 by David Van Knapp titled Has Dividend Growth Kept Up With Inflation? He noted that culling companies overvalued in 2001 eliminated many of his personally-biased favorites. His April 2 article was:
Offered as an in-depth look at each of these select Dividend Champions and how they all produced different results based on their own specific operating histories.
Dogs of the Index Metrics Sort Out Current Bargains
Given the Carnevale Super 29 index, this article used two key numbers to rank his stocks: (1) stock price; (2) annual dividend. Dividing the annual dividend by the price of the stock declared the percentage yield by which each dog stock was ranked.
Historically, Investors utilized this ranking system to select portfolios of five or ten stocks in any one index or sector to trade. They awaited the results from their investments in the lowest priced, highest yielding stocks and prayed that the price of every stock they now owned climbed higher (having locked in a high yield percentage at purchase).
This Dogs of the Index strategy, popularized by Michael B. O'Higgins in the book "Beating The Dow" (HarperCollins, 1991), revealed how high yielding stocks whose prices increase (and whose dividend yields therefore decrease) could be sold off once each year to sweep gains and reinvest seed money into higher yielding stocks in the same index.
The Carnevale Super 29 list here was ranked by yields based on estimated annual dividends to reveal the dogs therein. Numbers after the company names in brackets indicate Mr. Carnevale's ranking for each stock in order of highest annualized performance to lowest, which was a total return number that included dividends but not reinvested.
Here's the list ranked in dog manner by yield as of April 27: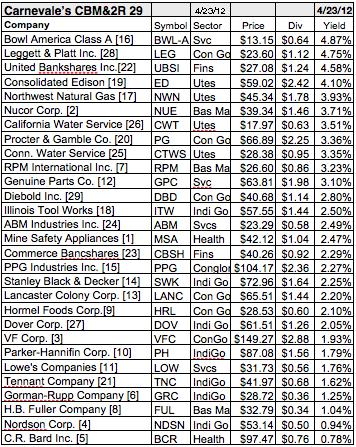 Carnevale's Super 29 top ten stocks showing the biggest dividend yields as of April 23 included firms representing five market sectors. The top stock, as revealed by Yahoo Finance data, was the only one in the service sector, Bowl America Class A (NYSEMKT:BWL.A).
The balance of the top ten included: Two consumer goods, Leggett & Platt Inc. (NYSE:LEG), and Procter & Gamble Co. (NYSE:PG); two basic material, Nucor Corp. (NYSE:NUE), and RPM International Inc. (NYSE:RPM); four utilities, Consolidated Edison (NYSE:ED), Northwest Natural Gas (NYSE:NWN), California Water Service (NYSE:CWT), and Connecticut Water Service (NASDAQ:CTWS); one financial firm, United Bankshares Inc. (NASDAQ:UBSI). The full list of 29 stocks has four service, two healthcare, six consumer goods, two financial, three basic materials, six industrial goods, four utility, no technology, and one conglomerate representing eight of nine market sectors.
Up and Down Moves for Carnevale Super 29 Dogs
Two firms, Bowl America Class A, and Leggett & Platt Inc. traded places at the top of this list by yield for the periods surveyed since December 30.
Color code shows: (Yellow) firms listed in first position at least once between December 2011 and April 2012; (Cyan Blue) firms listed in tenth position at least once between December 2011 and April 2012; (Magenta) firms listed in twentieth position at least once between December 2011 and April 2012; (Green) firms listed in twenty ninth position at least once between December 2011 and April 2012. Duplicates are depicted in color for highest ranking attained.
(Click to enlarge)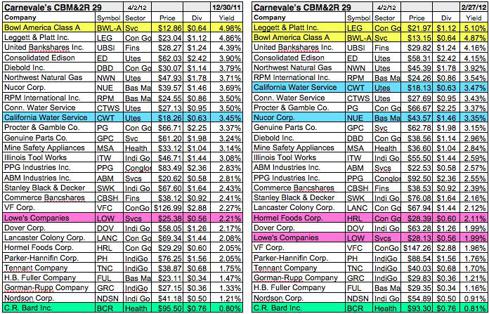 (Click to enlarge)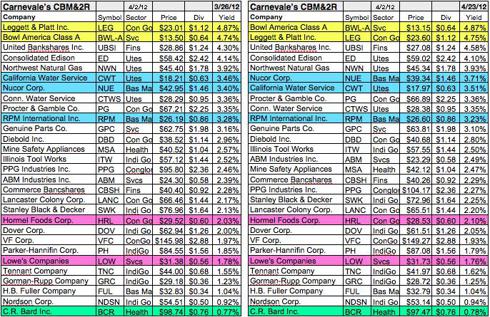 Bullish upward price moves in the past month (since March 26) were made by four of the top ten Super 29 dogs: Leggett & Platt Inc. made a 2.56% price gain; Consolidated Edison connected with a 1.03% gain; Connecticut Water Service poured out a .318% hike; RPM International Inc. extracted a 1.57% price boost.
Bearish downward price moves for the same period hit the rest of the top ten Carnevale Super 29 dogs: Bowl America Class A price guttered 2.5928%; United Bankshares Inc. deposited a 6.17% price decline; Northwest Natural Gas leaked out a .132% decline; Nucor Corp. milled an 8.4% price drop; California Water Service oozed 1.32%; Procter & Gamble Co. packaged a price drop of .476% for the month.
Dividend vs. Price Results
Below is the graph of relative strengths for the top ten Carnevale Super 29 index stocks by yield as of April 23, 2012. Adjacent is a graph of the Dow 30 index for the same period. Four months of historic projected annual dividend history from $1000 invested in the ten highest yielding stocks and the total single share prices of those ten stocks creates the data points for each month shown in green for price and blue for dividends.
(Click to enlarge)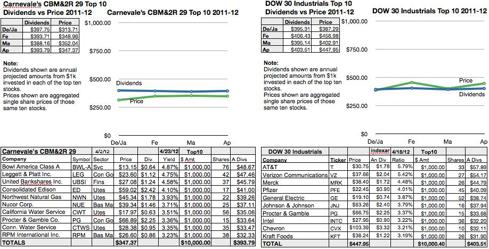 Conclusion: Carnevale Super 29 Dogs Throw Dividends at Lower Price Than Dow
This Carnevale Super 29 collection of top ten dividend stocks displayed remarkable calm for the four months graphed. Overall dividends from $1k invested in the top ten dropped .995% from December 30 to April 23. Meanwhile, aggregate single share stock price for these Carnevale Super 29 increased 10.73% for the period. Compared to the Dow, this index showed 22.45% lower prices and just 2.4% lower dividends than the dogs of the Dow in April.
Each month a summary concludes this series of articles by showing results of yield and price for these Carnevale Super 29 and Carnevale Power 25 stocks compared to David Fish's Champions, Contenders, Challengers, and Composite lists, along with the Dow. Stay tuned and follow these intrepid growth dogs.
Disclosure: I have no positions in any stocks mentioned, and no plans to initiate any positions within the next 72 hours.
Disclaimer: This article is for informational and educational purposes only and shall not be construed to constitute investment advice. Nothing contained herein shall constitute a solicitation, recommendation or endorsement to buy or sell any security. Prices and returns on equities in this article are listed without consideration of fees, commissions, taxes, penalties, or interest payable due to purchasing, holding or selling same.