Shares of cigarette manufacturer Lorilard Inc (NYSE:LO) are up nearly 20% so far in 2012. While this move is impressive, there are three reasons why LO will continue to rally.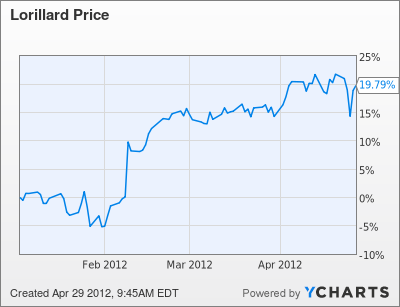 Options Activity
Option Monster reported on the high level of bullish options activity recently; 4,600 June 120 puts were sold against open interest of just 1,200 contracts. The put sale is a bet that LO will not suffer a major decline in the coming weeks. The large block trade of 4,600 June 120 calls likely represents institutional money. Institutional money is usually smarter, thus worth following. In summary, the recent options activity is a vote of confidence in LO.
Market Share Growth
LO continues to grow market share in all of its major brands.
Total market share rose by 0.4 points to a new all-time high of 14.5%.
Newport market share of the menthol market segment increased by 0.5% to a new all-time high of 36.8%.
Total market share in the menthol market increased to 40%, a new all-time high.
LO's market share gains mean that the company is doing a good job operationally.
Dividend
Despite the rally in share price, LO still has a solid dividend yield of 4.57%. As shown below, LO has shown a willingness to increase the dividend in the past, and the company will likely continue to do so.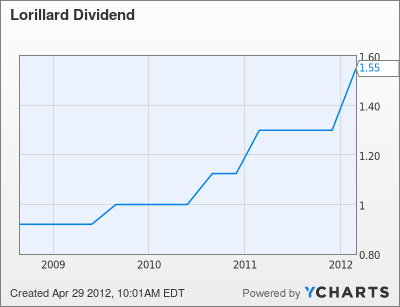 Conclusion
While LO has had performed well so far in 2012, it remains likely that the stock will continue to rise. The bullish options activity, market share gains, and dividend point to a higher stock price.
Disclosure: I have no positions in any stocks mentioned, and no plans to initiate any positions within the next 72 hours.