Back in March, I said that Apple (AAPL) options were all "skewed up," with calls trading at exceedingly expensive prices compared to puts.
This was back when the stock was trading at around $600, before it peaked at around $640 in early April. Back then, Apple's 30-day implied volatility was sitting around 40% and it had yet to run up to around 45% just a few days before Apple's earnings release on April 24.
Now that the news is out, overall at-the-money implied volatility has fallen off, down to just above 30% as of Friday as you can see on this chart: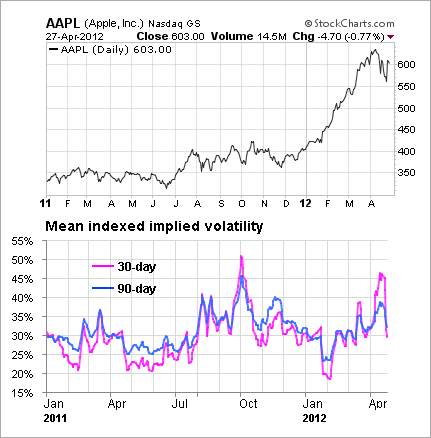 So options are less pricey now, which is what you'd expect after a high-profile earnings report, but implied volatility is still fairly high compared to historical levels. After the January earnings report, 30-day IV fell well below 25%, but AAPL's options are still relatively expensive.
Puts cheaper than calls?
The real story here is in what's going on with the out-of-the-money options. Put/call parity will tend to keep at-the-money options in line with each other, but that's not the case for OTM options where put and call prices can easily diverge.
For AAPL (and many other stocks), puts usually cost more than calls. For example, let's look at the implied volatilities for puts and calls that are 10% out of the money: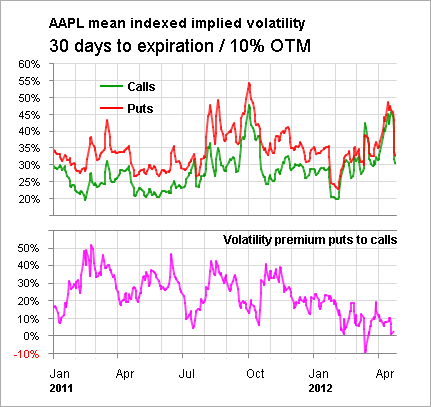 For more than a year, the AAPL 10% OTM puts traded at higher prices than 10% OTM calls. But back in March, they actually traded for less. We have yet to see those calls slip to their traditionally low prices compared to puts.
To see how this can impact actual option prices, consider how January 2012 options were priced on December 15, 2011 against how April options were priced on March 15, 2012.
Each date was exactly 37 days before expiration and exactly 40 days before the company's next earnings release: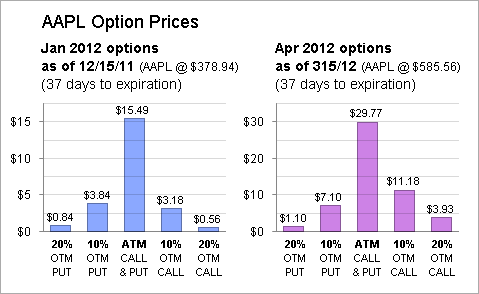 Yes, AAPL was trading at different prices on these two dates, but 10% OTM January calls on December 15 cost about 1% of the stock price. Yet back in mid-March, the April 10% OTM calls cost nearly 2% of the stock price and cost $4 more than those 10% OTM puts.
And as of the close on Friday, April 27, both May and June OTM calls seemed to be at least as expensive puts. For example, the June 545 put ($58 out of the money) was bid at $7.15 while a June 660 call ($57 out the of money) was bid at $8.30.
My theory is that those who sold OTM calls over the first three months of the year regretted their decision as the stock gained 50% -- taking out $450, $500, $550, etc. If I were selling calls back then, I'd certainly want to be well compensated. Wouldn't you?
So until the skew returns to more normal levels, I'd say that AAPL still has some room to run up. When OTM puts return to being significantly more expensive than calls, that may be a sign that the stock will return to a more "normal" trading pattern - whatever that means.