When it comes to seeking alpha, diversification is a great way to improve your chances for outperforming the market. Accordingly, diversifying with dividend-paying stocks can also improve your chances of beating the market and providing your portfolio with enhanced overall yield.
One way that investors are able to move up the yield curve is by diversifying with dividend stocks known as Real Estate Investment Trusts (REITs). This alternative hard asset class has outperformed the S&P 500 Index, Russell 200 Index and the Nasdaq Composite over the last 1-,10-, 20- and 30-year periods. REITs also offer yields ranging 70-100 percent higher than those of the Barclays Capital U.S. Aggregate Bond Index, the S&P 500 Index and the 10-Year Treasury note.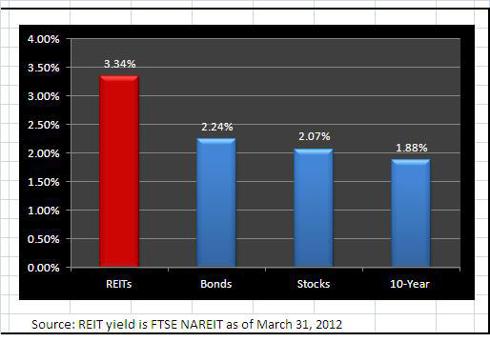 There are 126 publicly-traded equity REITs (source FTSE NAREIT) and prospecting for stocks with reliable and sustainable dividend yields can be a daunting task. Over the last ten years, many REITs have become more experienced with building internally managed portfolios that offer wider geographic and income diversification. By doing so, investors are able to reduce risk while gaining exposure to broader revenue diversity; conversely, building a weighted portfolio model is becoming increasingly simple.
Some investors opt to pursue the "anchor and buoy" strategy by weighting an equal amount of high-yielding mortgage REITs with a lower yielding number of "dividend champions" - like Federal Realty (NYSE:FRT) or Washington REIT (NYSE:WRE). This combination of high risk and low yield makes for a balanced real estate portfolio that delivers a weighted income stream with average dividend yields at or near 10 percent.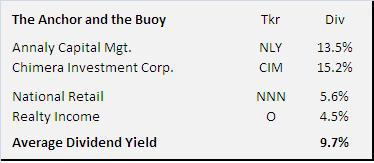 Of course, mortgage REITs are considered highest on the REIT risk curve and some risk-averse investors prefer to allocate portfolios with a more conservative fixed-income strategy. One alternate concept is to model your portfolio with the lowest risk sector that provides for well-balanced revenue distinguished by consistency and durability.
Seeking Alpha in Triple Net
The attraction to the REIT sector is built around the dividend fundamentals that are correlated with the lease revenue of the various operators. Some of the riskier REITs tend to be the ones that lease or finance facilities on shorter lease terms. For example, the hotel sector is perhaps one of the most volatile sectors since the lease contracts are usually for a day at a time.
Due to the long-term lease characteristics, the triple net sector is considered one of the safest and reliable asset categories. Triple-Net REITs lease their properties to tenants with initial lease terms of 15 to 20 years or more (plus extension terms) using a triple-net lease agreement. Though many triple-net REITs own traditional commercial real estate such as free-standing retail properties which include drug stores and fast-food restaurants, others own specialized properties, such as movie theaters, automotive dealerships, and even wineries.
In a triple-net lease, the landlord collects base rent that excludes - meaning it is "net" of - taxes, insurance, and maintenance. These costs are paid directly by the tenant with the various service providers. Accordingly, triple-net REIT investors benefit from steady, bond-like cash flows generated by the leases that turn sustainable revenue into sources called dividends.
Realty Income Partners (NYSE:O) and National Retail Properties (NYSE:NNN) are two of the better known triple-net REITs and they are viewed by many as the most defensive, lease volatile REITs in the industry. Historically, both of these REITs have outperformed other REITs during times of economic uncertainty and these diverse revenue platforms have evolved into strategic alternatives that provide time-tested dividend performance.
Realty Income has a market capitalization of $5.24 billion and the current dividend yield is 4.5 percent. By owning and managing an extraordinarily diverse portfolio of 2,631 assets, Realty Income has become a leader at managing risk and delivering repeatable dividend performance. Since going public in 1994, Realty Income has been paying consistent and increased dividends for over 18 years.
National Retail Properties has a market capitalization of $2.9 billion and the current dividend yield is 5.6 percent. The Orlando-based REIT has also built its model around sustainable dividend performance and that strategy has led to a record of 22 years of increased dividends paid. National Retail ranks 5th in dividend performance (compared with other equity REITs) and both Realty Income and National Retail enjoy a combined 40 years of dividend performance (based upon increased consistency).
Diversify with Omega
The health care REITs are closely related to the triple-net REITs in that, in most cases, the health care properties are leased to companies on a "triple-net" basis. The health care REITs specialize in various types of properties, including senior housing (primarily assisted- and independent-living properties), skilled nursing facilities, medical office buildings, hospitals of various types, and even, in a few cases, "life science" office and lab properties.
Like the triple-net REITs, the health-care REITs lack the participation in the growth of the lessee's profits and they enjoy only modest internal cash flow growth (with less risk than other REITs). The primary advantage to owning health care properties is that they tend to be recession resistant in that demand for health services is relatively inelastic. That consistency in need-based services is the primary reason that health care REIT shares have performed significantly better than their peers during periods of economic weakness.
As noted above, there are two triple-net REITs (out of sixteen) that have maintained increased consistency in dividend payouts. However, that same level of consistency - driven by the very same net lease fundamentals - is reflective of the 5 health care REITs that have maintained sustainable income results. As illustrated below, these health care REITs have outperformed the others (REITs) by maintaining risk-averse exposure to recession-proof leases while successfully managing risk within the diversified portfolios.

Omega Healthcare Investors Inc. (NYSE:OHI) invests principally in long-term healthcare facilities. The Maryland-based REIT has a market capitalization of $2.23 billion and its current dividend yield is 7.8 percent. As of December 31, 2011, the company owned or held mortgages on 438 skilled nursing facilities, assisted living facilities and other specialty hospitals with approximately 50,160 licensed beds located in 35 states and operated by 51 third-party healthcare operating companies.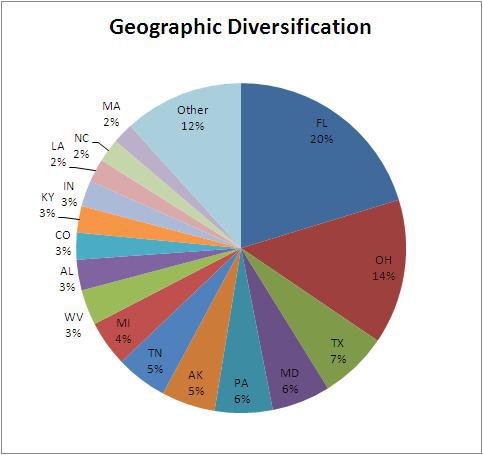 In addition to geographic diversification, Omega also maintains consistency in operator diversification. Currently, Omega has contractual (2012) commitments with 51 operators with the largest being CommuniCare (36 facilities and 11.7 percent of rent), Sun (40 facilities and 11.4 percent of rent), and Signature (32 facilities and 8.1 percent of rent).
The majority of Omega's properties are leased to skilled nursing operators (385 facilities) and the growing senior population fundamentals provide REIT investors with attractive investment opportunities. While certified beds and patient occupancy rates remains relatively stable, the number of skilled nursing facilities continues to decline, signifying that demand for skilled nursing facilities will exceed supply. This stable occupancy trend is what makes Omega an attractive alternative (current industry average is 83.1 percent and Omega occupancy is 83.9 percent):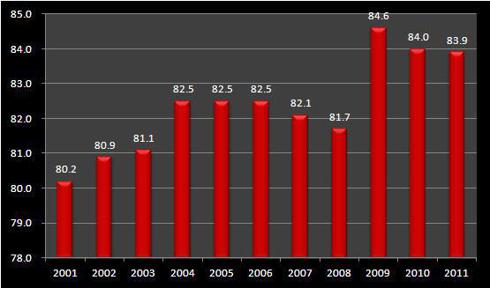 By leveraging its 51 existing operator relationships, Omega has maintained a steady course of growth. From 2004 through 2011, Omega has produced a compounded annualized growth rate ("CAGR") of 18.9 percent. Omega's $2.847 billion portfolio posted annual revenue of $292 million in 2011. (chart in millions)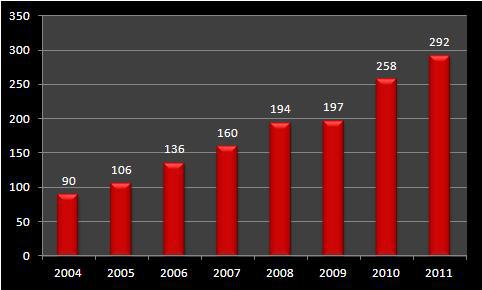 Omega's adjusted EBITDA has also produced growing consistency as the compounded annualized growth rate ("CAGR") grew by 20.9 percent from 2005 to 2011. (chart in millions)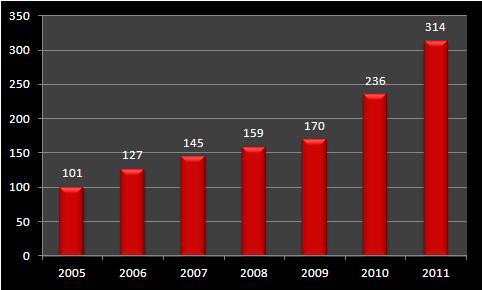 Funds from Operations ("FFO") also mirrored revenue and EBITDA as Omega's compounded annualized growth rate ("CAGR") of 22 percent demonstrates the consistency in operational performance. (chart in millions)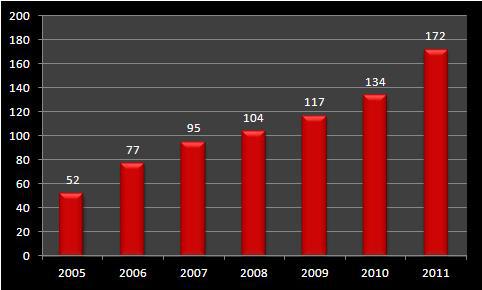 The consistency in dividend performance is the attraction to the Omega Healthcare platform. With 10 years of increased dividend performance, Omega is considered an exceptional REIT and the current dividend yield is 7.8 percent.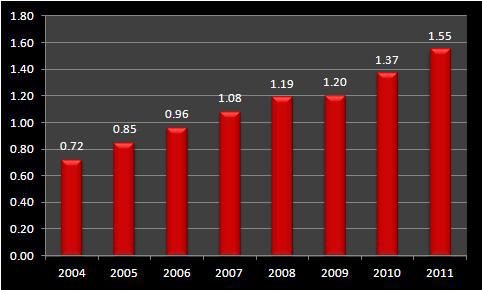 Seeking Alpha and Diversify with Omega
When building a defensive REIT portfolio, the triple net REITs are usually the most stable sector, and similarly, these REITs are often over-weighted in long-term portfolio management practices. Historically, the triple net REITs have provided low volatility and the consistent dividend yields have become core real estate holdings for many investor portfolios. By gaining exposure to the health care sector, a triple net REIT investor can further diversify his or her portfolio (reducing risk) while also maximizing overall dividend performance (increasing returns).

Utilizing a sample model (below), I have illustrated dividend performance for owning $50,000 in Realty Income and $50,000 in National Retail. The annual dividends paid (excluding compounding) for these two stocks total $5,015 per year or 5 percent (average yield).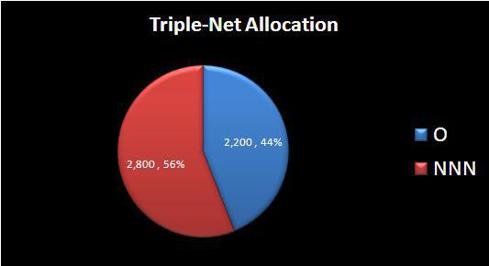 One way to add yield and diversification to your portfolio is to underweight with shares in Omega. By adding these health care REIT shares, an investor gains broader diversification (4,491 assets as opposed to just over 4,000 assets for O and NNN) and the overall weighted average dividend yield increases by almost 100 basis points (from 5 percent to 5.95 percent).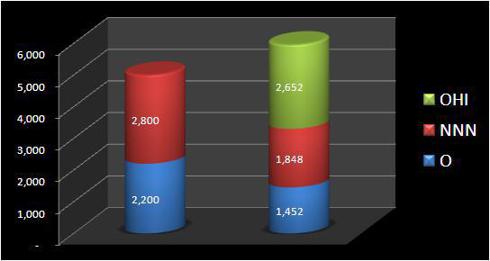 Consider the Risks
America's aging population will ultimately require more medical focused real estate. The risks associated with Medicare reimbursements to nursing home operators will continue to evolve and it is "my opinion" that the health care sector will continue in a traditional "survival of the fittest" methodology. Back in the 1990's, there were also sharp cuts (in health care related funding), but most of the companies then were on much weaker financial footing.
Omega's debt has a BBB - (S&P) rating and the risk management practices today are a lot stronger as the company's conservative balance sheet management (83 percent of assets unencumbered) and significant cushions on covenants (leverage ratio not to exceed 60 percent) suggests that Omega can easily weather any modest downturn ahead from cuts to Medicare and Medicaid.
Omega shares recently traded at $21.44 per share (around 8 percent below the 52-week high of $23.11) and the shares have been climbing around 30 percent since the shares were trading around $16.00 in early December 2011. Omega's strong dividend yield of 7.8 percent should help offset the near-term share price, while maintaining strong long-term capital gains and total return potential.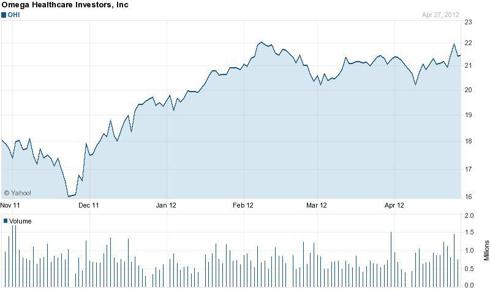 Disclosure: I have no positions in any stocks mentioned, and no plans to initiate any positions within the next 72 hours.