GDF Suez (GDFZY.PK) is the world's largest independent power producer and operates liquefied natural gas facilities, energy efficiency services and environmental services. Present in over 60 countries, it employs roughly 219,000 people around the world, and had revenue of 90.7 billion euros ($120.2B) in 2011.
On April 16, GDF Suez agreed to pay 6.4 billion pounds ($10.4B) for the remaining 30% of the U.K.-based energy company International Power (OTC:IPRPY). IP owns 100 power stations and has leading positions in South America, Middle East, Asia and Australia. IP reported revenues of 16 billion euros ($26.2B) and net income of 1.8 billion euros ($2.9B) in 2011. One year earlier, the French utility bought 70% of IP thanks to a cash dividend for a total price of 1.4 billion pounds ($2.3B), creating the world's largest independent power producer.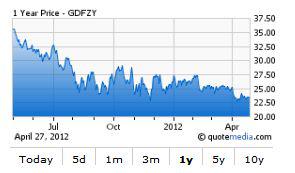 The new proposal of GDF Suez to 418 pence ($0.680) per share in cash represents a 7% increase compared to its previous offer of 390 pence ($0.634). The new price was a 21% premium to International Power's share price on February 29.
The operation should take place according to a rapid timetable, to seek a transaction closing in mid-July 2012. In case of a favorable vote of minority shareholders of International Power, GDF Suez will own 100% of the shares of its U.K. subsidiary.
An accretive impact on earnings
GDF Suez has conducted the acquisition in two stages in order to prevent its debt from increasing too significantly. With this operation, the group's debt will increase from 37.6 billion euros to 46 billion euros (from $49.8B to $70B). An impact that the management would reduce rapidly by issuing new shares to fund the dividend payment, but also by increasing its asset divestment program.
Indeed, according to Gérard Mestrallet, chief executive of GDF Suez, the operation does not jeopardize the financial structure and the company will be able to keep its "A" credit rating. The takeover will be funded as follows: One third by debt, one third by equity, with the possibility of dividend payment in shares, and one third by the sales of additional assets for 3 billion euros ($3.9B). The French giant has a 10 billion euros ($13.2B) asset disposal program over 2011-2013 and two-thirds of the program was realized last year through eight sales: E&P International ($3B), GTR Gaz ($1.5B), G6 Rete Gas ($0.9B), Intercommunales belges ($0.9B), Atlantic LNG ($0.8B), Elgin Franklin ($0.8B), Noverco ($0.3B), Bristol Water ($0.5B).
The impact on 2011 pro forma net debt will be 8.4 billion euros ($11.1B) and will be partially offset by the possibility for the shareholders of GDF Suez to take the payment in shares for the proposed final dividend for 2011. At the end of the year, the French utility expects a net debt to EBITDA ratio around 2.5.
In terms of impact on the earnings, the transaction will be accretive by 9% over 2011 earnings per share, increased from 1.8 to 2 euros (from $2.4 to $2.7) on a pro forma basis. GDF Suez increased its target for net recurring income from 3.5-4 billion euros to 3.7-4.2 billion euros (from $4.6B-$5.3B to $4.9B-$5.6B). Net recurring income in emerging markets will increase from 23% to 30% of its revenues. The 2012 dividend will also be at least as high as in 2011.
| | | |
| --- | --- | --- |
| | 2011 | 2011 pro-forma |
| Net recurring income | $4.6B | $4.9B |
| EPS | $2.4 | $2.7 |
| Net Debt | $49.8B | $70B |
Source: GDF Suez, special report
A rising exposure to emerging markets
The International Energy Agency forecasts overall energy demand to grow by 40% between 2009-2035, the bulk of which is expected outside industrialized nations. Indeed, most of the growth in energy demand will stem from Latin America, the Middle East and Asia. Taking full control of International Power is at the heart of the French utility's strategy of increasing its exposure to these booming emerging markets. By doing so, the French utility finds a new relay of growth and it will be less dependent on Europe, which accounts for 80% of its revenues, all the more so as electricity generation in Europe is almost at overcapacity.
Furthermore, it will help to offset its slower performance in more mature markets such as France and the rest of Europe, where the company faces economic headwinds from the eurozone's debt crisis and political risk stemming from the French government's involvement in the energy sector. Indeed, GDF Suez has difficulties in obtaining higher household rates to cover gas supply costs in France. In Belgium, the French company's earnings are threatened by the prospect of nuclear taxes in Belgium.
Besides, GDF Suez believes that the independent production projects are promising because they occur in countries where electricity consumption is growing and where the sale of electricity is made ​​on the basis of long-term contracts (up to 35 years) at prices fixed in advance, and so are low-risk.
Consequently, GDF Suez wants to build on the leadership position claimed by IP in South America, Middle East, Southeast Asia and Australia. The group is also seeking to position itself as a reference energy company in the emerging world.
In the next three years, GDF Suez would increase its investments in fast growing markets from 30% to 40-50% (the company aims to build 90 MW in installed capacity out of Europe by 2016). These investments include projects such as dams in Brazil, gas plants in Oman, Indonesia geothermal power plants, coal plant in Thailand. GDF Suez will have a combined production capacity of 132,000 MW when power plants under construction are completed. In addition to ongoing projects, others will follow, possibly with Chinese partners who want to invest outside their borders such as the sovereign fund CIC or Shanghai Electric and Dongfang. Discussions are taking place around the gas storage but also for future power plants in Vietnam or elsewhere in Asia.
A solid Q1 with revenue up over 10%
On April 23, GDF Suez has reported its Q1 earnings, including International Power contribution.
Revenues rose to 28.2 billion euros ($37.4B) namely (a 10.5% gross increase vs 8.4% organic growth).

EBITDA reached 5.8 billion euros ($7.7B) or a gross increase of 5.7% vs 4.1% on an organic basis.
GDF Suez results have been boosted by the International Power division where revenue rose 14.4% from last year. Strong sales of liquefied natural gas to Asia and a cold snap in the beginning of the year gave significant boosts earnings. Growth was also predominant in Latin America, Europe, and Middle East, as well as Turkey & Africa, as the company commissioned plants in Brazil, Chile and Thailand. Besides, high energy prices have also boosted profits. In such a scenario, the French utility upholds its goal for 2012 with a net recurring income Group share between 3.7 billion euros and 4.2 billion euros (between $4.9B and $5.6B).
However, 2012 earnings could be affected by the results of the French presidential election. The socialist candidate, François Hollande, would impose a progressive control of market prices for gas and water by increasing tax rates and tax profits earned abroad, currently not taxable in France.
Due to the consistency of its results and its business model, I would be long on GDF Suez. It is one of the highest dividend stocks in the CAC40 with a dividend yield of 8.12% and a dividend payout ratio of 84%. Its P/E is about 9.8x compared to 13.9x for the utility sector. Moreover, its Price to Book value is 0.62 compared to 1.8 for the sector. It is a great opportunity to buy, all the more so as the share is cheap due to stocks slump.
GDF Suez is currently traded at $23.57 and at 17.685 euros in Paris. Analysts' consensus is 22.5 euros ($29.8) by three months.
Disclosure: I have no positions in any stocks mentioned, and no plans to initiate any positions within the next 72 hours.