"I buy when other people are selling." - J. Paul Getty
April was certainly an interesting month for markets. Following the Summer Crash, Fall Melt-Up, and Winter Resolution writings, I began writing about the "Spring Switch" as my next major call. The Spring Switch is the idea that investors will soon begin to reverse the trend of pulling money out of stocks, and instead begin a "Great Re-Allocation" out of risk-free and into risk as the 2012 reflationary environment persists. At the same time, I did note in my company's free e-newsletter as well as in my various writings that market internals in April turned negative and that the odds of a "mini-correction" occurring were high. This in turn would be the test for the Spring Switch taking place
I received comments from many who thought the "mini-correction" would be major. And while bond yields did fall behaving as if a correction were under way, here we are following the best first quarter for equities since 1998 with stocks very near the year's high after some volatility in April. Meanwhile, AAII investor sentiment survey data shows that bullishness collapsed this month, and more and more money poured into bonds funds.
It is very important to realize that performance chasing does not just happen in the stock market. It also happens in the bond market. The fact that stocks have thus far been resilient I believe increases the odds even more that the 40+% like move up in equities is a very real possibility, and that 2012 could play out like 2003 and 2009 for risk assets. As April comes to a close, now all we're going to hear about is why everyone should "sell in May, and go away." Well, everyone but me.
I happened to be co-hosting Bloomberg Television's "Street Smart" at the very end of March when Jeffrey Hirsch of the Stock Trader's Almanac was interviewed and the sell in May, go away strategy was discussed (click here). Effectively, research shows that selling stocks in May and going away for the next 6 months tends to historically produce very strong results, with most equity returns attributable to the November-April period.
What is not discussed by most who follow the strategy is that for the next 6 months following April, the strategy calls for going into bonds. As you can see from the Bloomberg segment, my contention with this is that yields are already at record low levels, and positioning into bonds as the sell in May, go away strategy dictates one should do does seem like a big risk at today's yields.
One reason stocks could continue to rally aside from the various things I've pointed out in my writings? Take a look below at the price ratio of the iShares S&P 500 (NYSEARCA:IVV) relative to the iPath S&P 500 VIX Mid-Term Futures ETN (NYSEARCA:VXZ). As a reminder, a rising price ratio means the numerator/IVV is outperforming (up more/down less) the denominator/VXZ.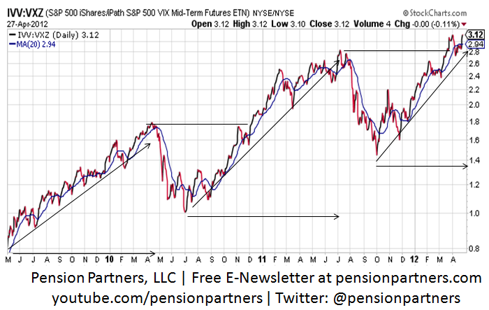 I'm using VXZ here because it has comparatively less contango than shorter-term VIX vehicles. I've annotated the chart to show trends of strength in the S&P 500 as VXZ falls. Notice how long stocks rally for relative to the Mid-Term VIX ETN (based on the length of the horizontal arrows). Also notice how that the ratio is pushing for new three-year highs. My main point? The upward momentum in risk/insurance is still very strong, and so long as the trend is your friend, sell in May, go away isn't.
Disclosure: I have no positions in any stocks mentioned, and no plans to initiate any positions within the next 72 hours.
Additional disclosure: Pension Partners, LLC, and/or its clients may hold positions in securities mentioned in this article at time of writing.