Well, the bleeding at least stopped. After two weekly losses, stocks finally managed to close in the black again in spite of economic data that tried to torpedo the effort. Does the bullish move change the tide of the overall market before the correction developed momentum, or was last week's rise just the bears taking a break? We'll weigh the odds below, but first, we have to start with the bigger picture…a snapshot of the economy.
Economic Calendar
Overall, last week wasn't a great one in terms of economic numbers. Home sales as well as home prices were down, durable orders were way down, unemployment claims stayed up at least week's higher levels, and Q1′s GDP growth (first estimate) was short of expectations. [It makes one wonder what exactly put traders in a bullish mood, because it sure couldn't have been earnings.]
Specifically, durable orders slumped by 4.2% last month, though when taking cars out of the equation, the decline was limited to a 1.1%, not that either is an encouraging figure. What's interesting is that orders with automobiles lagged so badly despite the fact that March's car sales - not to mention year to date care sales - have been quite strong… much stronger that any year-ago comparison.
On the real estate front, new homes sales only sold at an annual rate of 328K, falling back from February's rate of 353K. On the other hand, pending home sales grew by 4.1% for March, while home prices sent a mixed message.
New unemployment claims rolled in again at 388K, while ongoing claims were reported at 3.315 million, just a tad higher than the previous week's reading. Both are still low compared to year-ago marks, but this recent stagnation of the downtrend has to leave you wondering if the bulk of the decline is now over, and of job growth from here is going to get real difficult.
Economic Calendar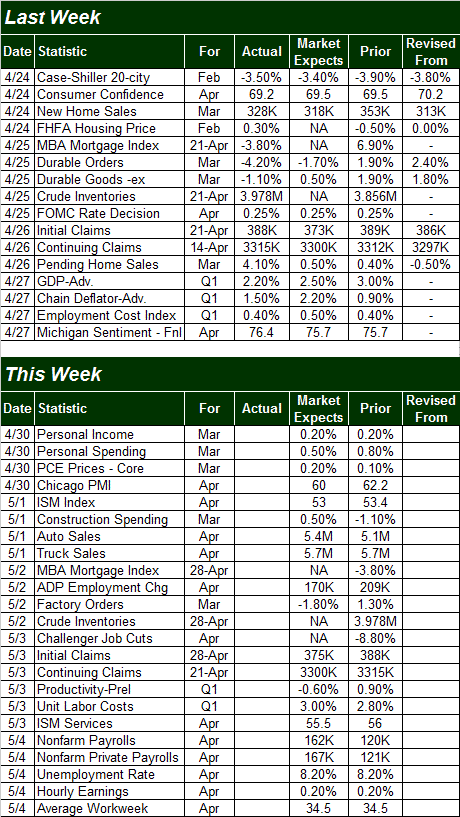 As for the coming week, it's going to be even busier. Here are the highlights and some things to think about.
* Monday: Not that it's a huge deal, but personal income and personal spending are expected to be up modestly for last month. (spending more so than income).
* Tuesday: The ISM Index doesn't' mean a lot, but last month's auto sales could rock the boat. Last week we saw durable orders including auto orders fell badly, yet car sales are forecasted to be up to very strong annualized sale levels (5.4 million cars, and 5.7 million trucks). That would be even better than March's levels, which were back up to 2007′s record levels.
* Wednesday: The ADP Employment change figure should be an omen of what to expect with Friday's official (government) payrolls-added number. Look for something around 170K for both data sets.
* Thursday: Unemployment claims, as usual. Both should be down a little, but if the come in high again for a third week, that could prove to be depressing to investors.
* Friday: This is going to be a huge day for stocks, primarily because it's a huge day on the unemployment front. We'll hear the official nonfarm payrolls (added) figure, but more important than that, we'll hear the unemployment rate for April. Look for 8.2% again. All eyes are in this number though, so anything above or below that level could have corresponding explosive results for stocks.
Stock Markets
The chart speaks for itself. The S&P 500 (SPX) (NYSEARCA:SPY) had been unable to fights its way back above the important 20-day and 50-day moving average lines at 1384, but last week, the index managed to clear both, closing at 1403.36. That was 1.8% better than the prior week's close, and the move was made on what ended up being decent volume.
The bullishness also pushed the CBOE Volatilty Index (VIX) (NYSEARCA:VXX) (NYSEARCA:VXZ) under its key moving average lines, yet didn't force the VIX into an inflection point at its lower Bollinger band (20-day) at 14.73.
With the VIX not yet at its lower extreme and the SPX not yet at its upper extreme - the upper 20-day and 50-day Bollinger bands, both at 1420 - it certainly looks like the market at least a little more room to run. And truth be told, it does. More than that, we think it will continue to do so… the trend is your friend until it clearly isn't.
On the other hand…
With the exception of Apple (NASDAQ:AAPL), earnings season is just mediocre, if that. Earnings growth for the S&P 500, not counting Apple, is around 1.6%, which is bad enough to make investors think twice about stocks sooner or later.
So, there may be enough gas in the tank to push the index all the way up to the ceiling at 1420, but beyond that the deck gets heavily stacked against the market. Aside from tepid earnings growth, we're also entering the slowest and weakest (on average) time of year for stocks (NYSEARCA:DIA) (NASDAQ:QQQ) (NYSEARCA:IWM). It will take next to nothing to push the market into a lethargically bearish rut, and the combination of weak earnings and overhead resistance is more than enough to do the trick.
Besides, after the 17% runup between mid-December and early April, we're due for a dip bigger than the 4.6% pullback we got. We're not saying we need a catastrophic, but the selloff we've seen so far didn't likely satiate the bears. That 'enough' point for the corrective move may be something closer to the 200-day moving average line (green) at 1307.34, which would represent an 8% dip… more in line with a normal bull market correction.
But hey, you never know…the bulls may be able to drive the SPX up and through its upper Bollinger bands around 1420. We just wouldn't bet on it until we started to see it happen.
Side note: A major support line materialized at 1357 (red, dashed) for the S&P 500. That was the low from mid-April as well as last Monday, and it's also where you'll find the lower 20-day Bollinger band (gray) now. This all may ultimately turn into a war between a very tight range of support and resistance. Keep an eye on both lines in the sand.
S&P 500 Earnings/Valuation
As was noted already, Apple's grand-slam-like quarter has carried the bulk of the weight for the S&P 500 earnings success this season. Then again, it is what it is. Its size means it should have that kind of impact on the overall market, since its one of the most - if not the most - highly-owned stocks on the planet.
We make that point to underscore the fact that the S&P 500′s trailing P/E ratio as well as the trialing and projected earnings trend should still be take at face value. To that end…
With about a fourth of the market having posted numbers, Q1′s earnings growth has been merely tepid. Yet, the market is still a 'bargain' at a trailing P/E of 14.15. Indeed, the S&P 500 may well end up putting up record earnings for last quarter, of $25.38. And from there, the growth is expected to march well into record profit levels. I t may not be of much help for the market in the near-term, but for your long-term money, major dips are still buying opportunities.
S&P 500, with Earnings and P/E Ratio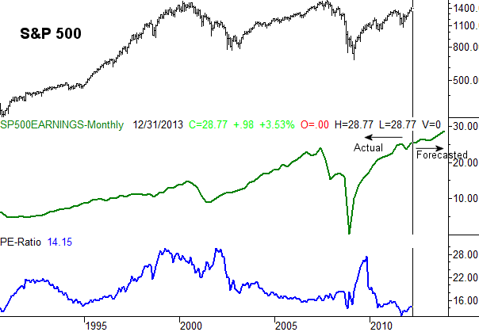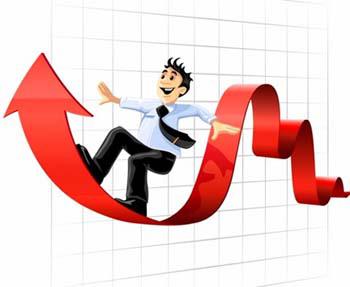 Disclosure: I have no positions in any stocks mentioned, and no plans to initiate any positions within the next 72 hours.