Weekly Outlook: The market continued its earnings season strength for a second week this past week after New Home Sales, Pending Home Sales, and Michigan Consumer Sentiment Index came in better than expected. Additionally, the crisis in Europe seemed to ease somewhat as Spanish bond yields also decreased, leading to more "risk-on" trading. Earnings stole the show, however, with strong reports from Apple (NASDAQ:AAPL), Panera Bread (NASDAQ:PNRA), Boeing (NYSE:BA), and Amazon.com (NASDAQ:AMZN).
Apple earnings alone helped the market rise on Wednesday as the company outpaced expectations by a strong margin. Yet, it was once again a week marked by a lot of negative headlines that seemed to be overlooked, which continues to worry us somewhat. Data on Consumer Confidence, Jobless Claims, European confidence was weak as well as earnings from bellwethers like UPS, ExxonMobil (NYSE:XOM), and Procter & Gamble (NYSE:PG).
This week is another busy one with more earnings on the docket. Economic data is very plentiful this week, and the situation in Europe gets several key reports as well. Its going to be a busy week once again. Let's start by taking a look at all the economic data we have this week:
The week starts out on Monday with Chicago PMI and Personal Spending/Income to get us started with some key reports right away. We continue on Tuesday with key reports as we get the ISM Index and Construction Spending. Wednesday will be a very crucial report from ADP Employment Change as we head into Friday's job numbers as the first sign of what to expect. The market is expecting a drop month-over-month from 209K to 170K. A beat there would be very good for the market as expectations may be light heading into the report given jobless claims weakness over the past several weeks. Thursday will be Challenger Job Cuts, Initial Jobless Claims, and ISM Services. Finally, we finish up Friday with the jobs report.
It's a VERY busy week of economic data. We would look at the PMI and ISM Index as crucial on Monday and Tuesday followed by the jobs numbers Wednesday-Friday. This market cannot continue higher without unemployment staying in a downward direction, so any signs that its ticking back up is going to cause a lot of weakness for the market and could spark a sour summer.
Earnings are also going to remain in the spotlight for a couple more weeks. Data is very important this week, but we still have a lot of important earnings reports to follow that can move the market. Some of the most important reports start on Monday with Sohu.com (NASDAQ:SOHU) and LDK Solar (NYSE:LDK). Tuesday will be highlighted by BP and Pfizer (NYSE:PFE). Wednesday will give us Comcast (NASDAQ:CMCSA) and Visa (NYSE:V). Thursday's reports are highlighted by Apache (NYSE:APA) and American Tower (NYSE:AMT). Friday finishes up with Duke Energy (NYSE:DUK).
This week is definitely not quite as abundant in market moving names, but there are still a TON of companies reporting this week that will help direct this market in different sectors. Big names doing well can really help this market continue to be strong especially if we do get some weakness from data this week.
As if earnings and data were not enough, we also need to keep our eyes on Europe this week. As far as data, Spanish GDP will start off the week on Monday as well as Euro-Zone CPI. Tuesday will be German Retail Sales followed by German jobs numbers on Wednesday as well as the Euro-Zone Unemployment Rate. Thursday will be Euro-Zone PPI and ECB rate decision, and we finish up on Friday with Euro-Zone Retail Sales. The Spanish data to start the week will probably set the mood for the week, so we definitely want to see that number come in around expectations, which are for -0.6% growth.
The Fed has a ton of speeches out this week as well as the Dallas Fed Manufacturing on Monday. Members of the Reserve will be speaking in California all week, which will always be worth some headlines. Yet, with all the other data, earnings, and European news out this week...it may be a week for the Fed to take a backseat.
So, where are we headed this week? Tough to say. We have been doing very well rising even though we have had some weakness in the data, but we do believe that Spain on Monday will be crucial to the market and bond market in Europe. From there, we see the market probably taking some "risk-off" into jobless numbers on Friday. Weakness in ADP, Challenger, and Initial Jobless Claims will not help the market.
We do not have the same kind of market moving names reporting earnings this week, so we cannot rely on that. If data continues on the same trend as last week, we may see a bit more weakness in the market this week. Data is always tough to call, though, so strong data will make for a great week. Weakness in the data will more likely translate into market weakness this week over last.
Stocks To Trade:
Two stocks we will be watching for this week are Nike (NYSE:NKE) and Hess (NYSE:HES). Nike has moved back to a breakout point where it has previously had resistance. Another strong week will most likely push the stock above this breakout point. We identify that point as 112. A move above 112 would signal a break above the pre-earnings high and should signal a large buy point. We like the stock's fundamentals, and we would be buying on a break of that level.
On the flip side, a stock right at a breakdown point is HES. A company we used to view quite favorably has really disappointed in its last several earnings reports. The company gave pretty disappointing guidance in their latest report. They are seeing lower production in Bakken yet larger capital expenditures. The company is falling out of favor with analysts, and it could be nearing a breakdown point. That point would be 50. We believe a move below 51 would signal a move to 50. A drop below 50 would be detrimental to the company.
Trade of the Week: NKE long, HES short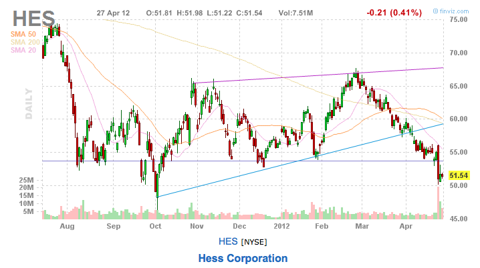 Click to enlarge
Oxen Group Holdings:
We have the following positions. In our Short-Term Equity Portfolio we are long Vornado (NYSE:VNO), F5 Networks (NASDAQ:FFIV), Teva Pharmaceuticals (NASDAQ:TEVA), and in a pair trade with Ventas (NYSE:VTR) long and Biogen (NASDAQ:BIIB) short. In our Options Portfolio, we are long Monster Beverage (NASDAQ:MNST), Dollar General (NYSE:DG), Visa , Coca-Cola (NYSE:KO), Polaris (NYSE:PII). We are short United States Oil (NYSEARCA:USO). In our Earnings Portfolio, we are long Regal Entertainment (NYSE:RGC), TEVA, Coinstar (NASDAQ:CSTR). We are short AMZN. We are in a reverse iron condor on Las Vegas Sands (NYSE:LVS).
Chart courtesy of finviz.com.
Disclosure: I am long VTR.