The market has been slammed in the past few weeks, due to the combination of a confirmed economic slowdown in China and diminished hope of help from the Federal Reserve with regards to the U.S. recovery. The China data has particularly spooked macro traders, who are generally depending on emerging markets to carry stagnant growth zones like the EU.
We've all had some time to chew and digest the slow Q1 from China and the sub-par numbers from the U.S. and Europe. We've priced in potential weakness in the commodities sector, and cut much of the unbridled optimism that was driving the markets higher since the start of 2012. What now?
With the Fed emphasizing its desire for stable inflation, and with growth moving at a snail's pace, it's a good time to look at dividend stocks that are in beaten-down sectors. One which comes to mind is commodities, which have taken the Chinese data more painfully than anyone else.
BHP Billiton (NYSE:BHP) is essentially a very diversified bet on commodity prices, which makes it perfect for people looking to play commodities as a whole. The Australian-based firm produces petroleum, natural gas, aluminum, copper, iron, coal, and much of the other essential ingredients to an industrialized economy. Despite strong financial data in recent quarters, bears pointing to pessimistic forecasts on China in particular have kept a lid on this stock.
Despite slowdowns in Chinese GDP, BHP's margins and sales volume have held up nicely as proven by its earnings and steady revenue. I think natural gas is due for more rapid growth in demand (especially in emerging markets), and I believe BHP is very well-positioned to play in that market. This is in addition to its heavy production of coal, which could become much more desirable as oil prices rise.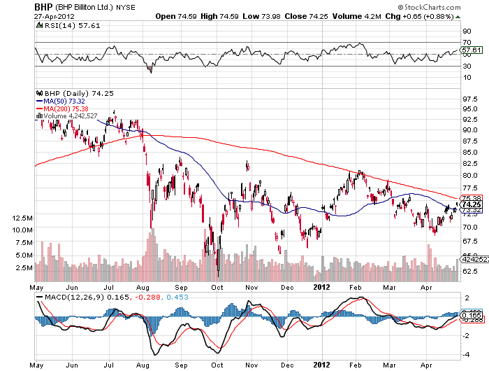 Click to enlarge
As you can see, in the last 12 months we've seen some dramatic movement in BHP. Despite the macroeconomic outlook, BHP's data have generally kept shares above the floor of $70/share, and we're finally seeing the 50 day moving average approach the 200-day average. If we see the two cross, it might signal the beginning of a longer-term uptrend for the stock. This coincides with the notion that investors will see the P/E ratio under 9 and the yield of about 3%, and forgive the stock for its dependence on the Chinese economy.
So ultimately, BHP should definitely be bought below $70/share, and it remains a fairly cheap stock in my book anywhere under $80. Even if the recovery in commodities isn't as quick as the bulls hope it will be, I have difficulty seeing huge room for U.S. dollar appreciation without some sort of black swan event in financial markets. Excluding apocalyptic scenarios, commodities should at least hold their current levels since-- as mentioned before-- we've had ample time to chew on China's slowdown.
Disclosure: I have no positions in any stocks mentioned, but may initiate a long position in BHP over the next 72 hours.