About the same time as we find Procter & Gamble (PG) floundering, one of its key rivals, Unilever (UL), continues to move up. Anglo-Dutch consumer goods giant Unilever beat market expectations with an 8.4 per cent rise in first-quarter sales, sending its shares up 3 per cent. This is far better than P&G. Let's take a look at why this is so.
Unilever may not be a name you may have heard often, but you would have certainly heard of some of its products. Hellmann's mayonnaise, Ben & Jerry's ice cream and Dove soaps are some of the brands you may recognize. The company beat first-quarter estimates, on strong volume and higher prices that overcame rising commodity costs - unlike Procter & Gamble. Unilever's ability to pass on price increases to consumers without denting sales has offset slowing growth in emerging markets and helped boost first-quarter sales at the Anglo-Dutch conglomerate.
Unilever's success over Procter & Gamble may also be as philosophical as much as it may have to do with sales. While P&G is struggling to reorganize itself, Unilever has done just that. Once, Unilever lagged behind its competition, but it is now leading the way. It works by what it uniquely calls a "Sustainable Life Program" - whereby sustained growth is the only way to do business, while it uses its products to create a positive social impact. Such programs and products are part of its continued success.
As an example, the LifeBouy line has a "Global Hand-Washing Day." Started in 2009, it is like a brand on a mission attempting in its own way to help promote children's health. The whole concept is centered on linking itself to social good. This is followed up by a product line called Clini-care 10. The point is, the company has identity and knows where it is going - and communicates that to the world!
It has challenges dealing with market issues and sluggish economies, but it also was able to raise prices without much ill-effects life Procter & Gamble. The company will continue to prove strong, but will likely struggle in Europe like most companies at present.
Click to enlarge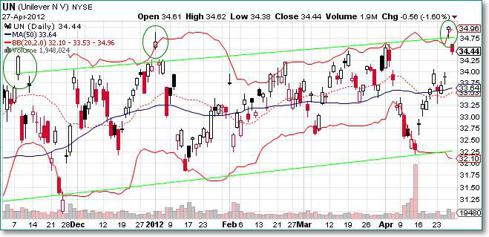 While it slowly inches its way up in a peak-and-valley pattern, we have ample opportunity for short-term income, as well as long-term investing. It is as of now coming down from a third push through its trading level. From here, it has consistently moved back down and then back up. We like a straight option buy here because the options are priced very conservatively.
Look at buying an August 2012 put with a 30 strike (priced at $0.40). As the stock continues to move down, it could conceivably hit the ($33 or $32) level on its way down. At this point, look for a resale of the option for a profit.
This stock has been consistent and we expect it to continue to perform well and move up. As it continues to move in a predictable pattern, it offers both long-term income opportunity and short-term profits through option plays.